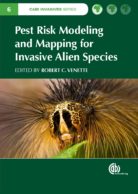 Pest Risk Modelling and Mapping for Invasive Alien Species
Edited by: Robert C Venette, USDA Forest Service, USA
March 2015 | ePub 9781789244304 | ePDF 9781780643953
March 2015 | Hardback | 252 Pages | 9781780643946
Description
Over the past century, the number of species that have been transported to areas outside their native range has increased steadily. New pests and pathogens place biological pressure on valuable resident species, but strict bans may conflict with trading and travel needs. An overview of how the conflict can be managed using pest risk mapping and modelling, this book uses worked examples to explain modelling and help development of tool kits for assessment.
Table of contents
0: Preface
1: The Challenge of Modelling and Mapping the Future Distribution and Impact of Invasive Alien Species
2: Mapping Endangered Areas for Pest Risk Analysis
3: Following the Transportation Trail to Anticipate Human-mediated Invasions in Terrestrial Ecosystems
4: Simulation Modelling of Long-distance Windborne Dispersal for Invasion Ecology
5: Using the MAXENT Program for Species Distribution Modelling to Assess Invasion Risk
6: The NCSU/APHIS Plant Pest Forecasting System (nappfast)
7: Detecting and Interpreting Patterns within Regional Pest Species Assemblages using Self-organizing Maps and Other Clustering Methods
8: Modelling the Spread of Invasive Species to Support Pest Risk Assessment: Principles and Application of a Suite of Generic Models
9: Estimating Spread Rates of Non-native Species: The Gypsy Moth as a Case Study
10: Predicting the Economic Impacts of Invasive Species: The Eradication of the Giant Sensitive Plant from Western Australia
11: Spatial Modelling Approaches for Understanding and Predicting the Impacts of Invasive Alien Species on Native Species and Ecosystems
12: Process-based Pest Risk Mapping using Bayesian Networks and GIS
13: Identifying and Assessing Critical Uncertainty Thresholds in a Forest Pest Risk Model
14: Making Invasion Models Useful for Decision Makers: Incorporating Uncertainty, Knowledge Gaps and Decision-making Preferences
15: Assessing the Quality of Pest Risk Models
Reviews
Have you read this book, or used it for one of your courses? We would love to hear your feedback. Email our reviews team to submit a review.
Like most websites we use cookies. This is to ensure that we give you the best experience possible. Continuing to use
CABI.org
means you agree to our use of cookies. If you would like to, you can learn more about the cookies we use
here
.
Privacy Overview
This website uses cookies to improve your experience while you navigate through the website. Out of these, the cookies that are categorized as necessary are stored on your browser as they are essential for the working of basic functionalities of the website. We also use third-party cookies that help us analyze and understand how you use this website. These cookies will be stored in your browser only with your consent. You also have the option to opt-out of these cookies. But opting out of some of these cookies may affect your browsing experience.