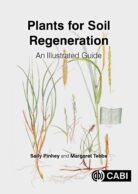 Plants for Soil Regeneration
An Illustrated Guide
By: Sally Pinhey, Institute of Analytical Plant Illustration, UK, Margaret Tebbs, Institute of Analytical Plant Illustration, UK
March 2022 | Hardback | 192 Pages | 9781789243604
February 2022 | ePDF 9781789243611 | ePub 9781789243628
Description
This book is a comprehensive, beautifully illustrated colour guide to the plants which farmers, growers and gardeners can use to improve soil structure and restore fertility without the use and expense of agrichemicals. Information based on the latest research is given on how to use soil conditioning plants to avoid soil degradation, restore soil quality and help clean polluted land.

There are 11 chapters: 1 to 6 cover soil health, nitrogen fixation, green manures and herbal leys, bacteria and other microorganisms, phytoremediators and soil mycorrhiza (plant-fungal symbiosis). Chapter 7 has plant illustrations, with climate range and soil types, along with their soil conditioning properties and each plant is presented with a comprehensive description opposite a detailed illustration, in full colour. Chapters 8 to 10 examine soil stabilisers, weeds and invasive plants, and hedges and trees and the final chapter, contains 5 case studies with the most recent data, followed by an appendix and glossary. The book allows the reader to identify the plants they need quickly and find the information necessary to begin implementation of soil regeneration.
Table of contents
Chapter 1: Soil Health
Chapter 2: Nitrogen-fixing Plants
Chapter 3: Cover Crops, Green Manures and Herbal Leys
Chapter 4: Bacteria and Other Microorganisms
Chapter 5: Mycorrhiza
Chapter 6: Phytoremediators
Chapter 7: Illustrations, with Information on Each Plant
Chapter 8: Soil Stabilizers and Coastal Plants
Chapter 9: Weeds and Invasive Plants Chapter
Chapter 10: Hedges and Trees
Chapter 11: Case Studies
Readership
Farmers and growers, soil scientists, agricultural extension workers, students of agronomy, horticulture and soil science.
Reviews
Have you read this book, or used it for one of your courses? We would love to hear your feedback. Email our reviews team to submit a review.
Sally Pinhey JP, MSc, SGM, FCPGFS, FLS, full member of the Association of Illustrators and the Institute of Analytical Plant Illustration.
Studying Mediterranean flora led to 2 silver gilt medals, and 2 silver RHS Grenfell medals. A qualified teacher, she has been the Botanical Art instructor at Kingston Maurward College since 1998, and tutored courses at the Eden Project in Cornwall from 2000-2003. She was an invited demonstrator at Art in Action in 2002, '3 and '5. She completed her MSc at Bournemouth University with merit it 2017.
Joint tutor with Margaret Tebbs since 2013, running work shops entitled "Botany for Artists" at education venues in Dorset and Hampshire.
She is a Fellow of the Chelsea Physic Garden Florilegium Society, and is passionate about providing plant illustrations for scientific archives. In 2017 she co-founded the Botanical Illustration Ecology Group (BIEG) with Margaret Tebbs.
Margaret Tebbs, FLS, member of the Institute of Analytical Plant Illustration (IAPI), and freelance botanical illustrator.
Until 1991, curator and taxonomist in the Botany Department, Natural History Museum, London, collecting plants and writing for Flora Mesoamericana; 1992- freelance botanical artist working for the RBG, Kew, Natural History Museum and foreign herbaria. In 2011, presented with the Jill Smythes medal (Linnean Society) for botanical artwork. Co-tutors (with Sally Pinhey) workshops entitled Botany for Artists, teaching basic botany and practical artwork. Tutors local art groups, and is on the art committee of the annual Burton Bradstock Music and Art Festival.
Like most websites we use cookies. This is to ensure that we give you the best experience possible. Continuing to use
CABI.org
means you agree to our use of cookies. If you would like to, you can learn more about the cookies we use
here
.
Privacy Overview
This website uses cookies to improve your experience while you navigate through the website. Out of these, the cookies that are categorized as necessary are stored on your browser as they are essential for the working of basic functionalities of the website. We also use third-party cookies that help us analyze and understand how you use this website. These cookies will be stored in your browser only with your consent. You also have the option to opt-out of these cookies. But opting out of some of these cookies may affect your browsing experience.