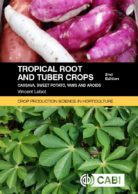 Tropical Root and Tuber Crops
Cassava, sweet potato, yams and aroids
2nd Edition
By: Vincent Lebot, CIRAD, Vanuatu
December 2019 | Paperback | 544 Pages | 9781789243369
November 2019 | ePDF 9781789243376 | ePub 9781789242560
Description
Root and tuber crops are important to agriculture, food security and income for 2.2 billion people in developing countries. These species produce large quantities of dietary energy and have stable yields under difficult environmental conditions. This second edition of Tropical Root and Tuber Crops is an authoritative treatment of four important root and tuber crops: cassava. sweet potato, yams, and aroids.
The same format is followed for each crop: Origin and History, Taxonomy and Botany, Breeding and Genetics, Developmental Physiology, Agronomy, Pests and Diseases, Post-Harvest Quality and Marketing. This new edition reviews the scientific literature produced during the last decade and presents major technical advancements. Modern molecular tools have been used to clarify the phylogeny, taxonomy and origin of these species. Similar advances have been made in physiology, agronomy, pathology and product chemistry. It is essential reading for students, researchers and horticulturists.
Table of contents
SECTION I: CASSAVA

1: ORIGIN AND HISTORY
2: TAXONOMY AND BOTANY
3: BREEDING AND GENETICS
4: DEVELOPMENTAL PHYSIOLOGY
5: AGRONOMY
6: PESTS AND DISEASES
7: POSTHARVEST QUALITY AND MARKETING

SECTION II: SWEET POTATO

8: ORIGIN AND HISTORY
9: TAXONOMY AND BOTANY
10: BREEDING AND GENETICS
11: DEVELOPMENTAL PHYSIOLOGY
12: AGRONOMY
13: PESTS AND DISEASES
14: POSTHARVEST QUALITY AND MARKETING

SECTION III: YAMS

15: ORIGIN AND HISTORY
16: TAXONOMY AND BOTANY
17: BREEDING AND GENETICS
18: DEVELOPMENTAL PHYSIOLOGY
19: AGRONOMY
20: PESTS AND DISEASES
21: POSTHARVEST QUALITY AND MARKETING

SECTION IV: AROIDS

22: ORIGIN AND HISTORY
23: TAXONOMY AND BOTANY
24: BREEDING AND GENETICS
25: DEVELOPMENTAL PHYSIOLOGY
26: AGRONOMY
27: PESTS AND DISEASES
28: POSTHARVEST QUALITY AND MARKETING
Readership
Academic and professional researchers, reference libraries, growers and producers, students
Reviews
Have you read this book, or used it for one of your courses? We would love to hear your feedback. Email our reviews team to submit a review.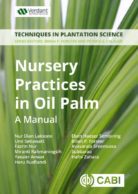 Nursery Practices in Oil Palm
By: Nur D Laksono, Umi Setiawati, Fazrin Nur, Miranti Rahmaningsih, Yassier Anwar, Heru Rusfiandi, Eben Haeser Sembiring, Brian Forster, Avasarala Sreenivasa Subbarao, Hafni Zahara
From
$35.00 | £25.00 | €30.00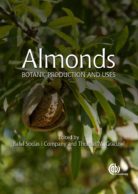 Almonds
Edited by: Rafel Socias i Company, Thomas M Gradziel
From
$211.00 | £128.99 | €169.95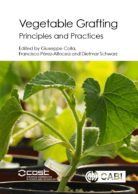 Vegetable Grafting
Edited by: Giuseppe Colla, Francisco Pérez-Alfocea, Dietmar Schwarz
From
$144.00 | £87.50 | €113.00
Like most websites we use cookies. This is to ensure that we give you the best experience possible. Continuing to use www.cabi.org means you agree to our use of cookies. If you would like to, you can learn more about the cookies we use here.