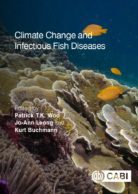 Climate Change and Infectious Fish Diseases
Edited by: Patrick T K Woo, University of Guelph, Canada, Jo-Ann Leong, University of Hawai'i at Manoa, USA, Kurt Buchmann, University of Copenhagen, Denmark
August 2020 | Hardback | 552 Pages | 9781789243277
$235.00 | £175.00 | €220.00
Description
Climate change with global warming is not disputed by the vast majority of scientists and the aquatic system is most affected. A global rise in water temperature and acidification of the aquatic environment will continue even if we can significantly reduce the current output of the two most important greenhouse gasses (carbon dioxide and methane). These and other environmental changes will affect fish health which includes infectious pathogens.

This important new text is the second volume on climate change and fish health. It covers changes to the freshwater ecosystem and their current and expected effects on selected infectious diseases of fish. The book represents contributions by over 50 experts from 18 countries. Comprehensive and thought-provoking, the book details abiotic and biotic environmental changes in temperate and tropical freshwater ecosystems, sequestrations of atmospheric carbon dioxide and effects on infectious diseases (12 microbial and 10 parasitic) in economically important fish in tropical, subtropical and temperate waters.

The text is key reading for fish disease scientists, aquatic ecologists, fish health consultants, veterinarians, policy makers and all who are interested in fish health and the environment.
Table of contents
Part I: FRESHWATER ECOSYSTEMS AND BIOLOGICAL SEQUESTRATIONS OF ATMOSPHERIC CARBON DIOXIDE
1: Freshwater Ecosystems in North America with Reference to the Great Lakes Basin. By Derrick T. de Kerckhove and Cindy Chu
2: Tropical Freshwater Ecosystems, Biota and Anthropogenic Activities with Reference to South-East Asia. By Jia Huan Liew, Rayson Bock Hing Lim, Bi Wei Low, Maxine Allayne Darlene Mowe, Ting Hui Ng, Yiwen Zeng and Darren Chong Jinn Yeo
3: Biological Sequestrations of Atmospheric Carbon Dioxide with Strategies to Enhance Storage of the Gas. By Namitha Nayak, Rajesh Mehrotra and Sandhya Mehrotra
PART II: MICROBIAL DISEASES (VIRAL, BACTERIAL AND FUNGAL INFECTIONS)
4: Rhabdovirosis (Viral Haemorrhagic Septicaemia Virus). By Carol A. Stepien, Douglas W. Leaman and Megan D. Niner
5: Nodavirosis (Striped Jack Nervous Necrosis Virus). By Sandra C. Zainathan and Nurshuhada Ariff
6: Aquatic Birnavirosis (Infectious Pancreatic Necrosis Virus). By Carlos P. Dopazo
7: Herpesvirosis (Koi Herpesvirus). By Hatem Soliman and Mansour El-Matbouli
8: Orthomyxovirosis (Tilapia Lake Virus). By Win Surachetpong and Kwanrawee Sirikanchana
9: Iridovirosis. By Hsin-Yiu Chou, Hidehiro Kondo and Qi-Wei Qin
10: Vibriosis. By Carmen Amaro, Belén Fouz, Eva Sanjuán and Jesús L. Romalde
11: Aeromoniosis (Aeromonas salmonicida). By Margaret Crumlish and Brian Austin
12: Edwardsiellosis. By Matt J. Griffin, Esteban Soto and David J. Wise
13: Fish Mycobacteriosis. By Christopher M. Whipps, David T. Gauthier and Michael L. Kent
14: Piscirickettsiosis (Piscirickettsia salmonis). By Pedro A. Smith and Fernando O. Mardones
15: Epizootic Ulcerative Syndrome (Aphanomyces invadans). By Dibyendu Kamilya and Kollanoor Riji John
PART III: PARASITIC DISEASES (PROTOZOAN AND METAZOAN INFECTIONS)
16: Amoebiosis (Neoparamoeba perurans). By Jadwiga Sokolowska and Barbara F. Nowak
17: Scuticociliatosis. By Jesús Lamas and José Manuel Leiro
18: Ichthyophthiriosis (Ichthyophthirius multifiliis). By Louise von Gersdorff Jørgensen and Kurt Buchmann
19: Microsporidiosis (Loma salmonae). By David J. Speare
20: Myxoboliosis (Myxobolus cerebralis). By Julie D. Alexander and Jerri L. Bartholomew
21: Gyrodactylosis (Gyrodactylus salaris). By Tor Atle Mo
22: Eubothriosis. By Ken MacKenzie
23: Diplostomiasis (Diplostomum spathaceum and Related Species). By Anssi T. Karvonen and David J. Marcogliese
24: Anisakiosis (Anisakis simplex s.l.). By Arne Levsen, Paolo Cipriani, Miguel Bao, Lucilla Giulietti and Simonetta Mattiucci
25: Lepeophtheirosis (Lepeophtheirus salmonis). By Mark D. Fast and Sussie Dalvin
Readership
Aquatic ecologists, environmentalists; research scientists in industry and universities working on fish pathogens/diseases; fish health specialists and consultants; hatchery managers and supervisors in aquaculture facilities; veterinary specialists in commercial aquaria and hatcheries.
Reviews
Have you read this book, or used it for one of your courses? We would love to hear your feedback. Email our reviews team to submit a review.
Editor Bio
Patrick has been a faculty member at the University of Guelph since 1974 (Assistant Professor, 1974; Associate Professor, 1978; Professor, 1984). He was also Professor (1993) of Collaborative International Development, and was Director (2002), Axelrod Institute of Ichthyology. The University Senate elected him University Professor Emeritus, and it was conferred at convocation (2006) by The Honorable LM Alexander, Chancellor.

Major Academic Appointments @ University of Guelph (1974 – present):
Faculty member since 1974 (Assistant Professor, 1974; Associate Professor, 1978; Professor, 1984). Professor (1993), Collaborative International Development; and Director (2002), Axelrod Institute of Ichthyology. Senate elected him University Professor Emeritus and it was conferred at convocation (2006) by The Honorable LM Alexander, Chancellor.
Selected Research Awards before 1974:
*MRC Post-Doctoral Fellow and Ballard Fellow @ Ontario Veterinary College, Canada
*FAO Andre Mayer Research Fellow: @ East African Trypanosomiasis Research Organization,
Uganda; and @ Serengeti Research Institute, Tanzania
*IDRC Consultant and Visiting Scientist @ Nigerian Institute for Trypanosomiasis Research, Nigeria

Selected External Appointments and Initiatives (1974 – 2017):
*NUS Research Professor, National University of Singapore, Singapore
*CNPq Scholar, Universidade Federal do Rio de Janerio, Brazil
*MEC Research Fellow, Instituto de Acuicultura de Torre de la Sal, Spain
*Research Fellow, Universiti Malaysia Terengganu, Malaysia
*Short-term (< 2 months): Visiting Professor @ 7 universities; Visiting Scientist @ 5 research institutes/universities
*Assessor/Examiner: 3 Academic Programs; 15 Appointment/Promotion Exercises; 19 PhD theses
*Consultancies (12 X) – industry, universities, government agencies
*Research Publications: 198 papers; 33 invited reviews; 53 abstracts
*Editor: 12 books; 3 journals; 1 'special journal issue'
*Founding Treasurer and Trustee, Zoological Education Trust
*Founder, The Roy Anderson Memorial Lecture in Parasitology
*Elected: Fellow, 'Royal Society of Tropical Medicine and Hygiene', UK; Professional Member, The New York Academy of Sciences, USA
*Invited Presentations: 18 Plenary/Keynote and 32 Symposium Lectures @ Conferences
*Recipient, The Robert Wardle Award "… for contributions to Parasitology"
Dr. Jo-Ann C. Leong is Director Emeritus of the Hawai'i Institute of Marine Biology in the School of Ocean & Earth Science & Technology at the University of Hawai'i at Manoa. Dr. Leong is also Distinguished Professor Emeritus at Oregon State University and the former Chairman of the Department of Microbiology. At OSU, she held the Emile Pernot Endowed Professorship. She is an elected member of the American Academy of Microbiology, served as the Chairman of the Board of Directors for the Center of Tropical and Subtropical Aquaculture in Hawai'i, is Past President of the National Association of Marine Laboratories, and co-chair of the Ecosystem Science and Management Working Group for the NOAA Scientific Advisory Board. She served on the Executive Secretariat, US National Climate Assessment, and authored "Hawai'i & US Affiliated Pacific Islands" for the Third National Climate Assessment, 2013. She was Viral Disease editor for Diseases of Aquatic Organisms and served on the Editorial Board of Marine Molecular Biology and Biotechnology, Journal of Marine Biotechnology. Dr. Leong published over 150 research papers from the work of 18 doctoral and 6 M.S. students. She holds 3 patents for the first fish viral vaccine and the first DNA vaccine for aquacultured species in the U.S. Her laboratory described a new genus of Rhabdoviridae, the Novirhabdovirus, and the type virus, Infectious Hematopoietic Necrosis Virus, kills millions of salmonid fish each year. She has devoted much of her career to the development of vaccines and control strategies for diseases of aquatic organisms.
Professor, M.Sc., Ph.D., D.V.Sc.
Leader of the Research School and network of researchers SCOFDA (2001-2012)
Leader of the Research Network Fishnet (www.fishnet.dk) (May 2003-January 2004)
Leader of the Danish Fish Immunology Research Centre and Network DAFINET (www.dafinet.dk) from January 2009-2013
Department of Veterinary and Animal Sciences
Faculty of Health and Medical Sciences
University of Copenhagen
Research topics:
Fish parasitology, Fish Pathology, Fish vaccinology, Fish Immunology
1984-1986 Technical University of Denmark, Technological Laboratory
1986-2007 Royal Veterinary and Agricultural University, Denmark
2007-2012 University of Copenhagen, Faculty of Life Sciences, Denmark
2012-2018 University of Copenhagen, Faculty of Health and Medical Sciences, Denmark

Kurt Buchmann has a formal education in teaching from 1984. Teaching and/or responsible for 18 university M.Sc. and 31 Ph.D. courses for veterinarians, biologists and animal science students.

Publications:
More than 240 scientific articles in international and peer-reviewed scientific journals. Five books and six chapters in books. More than 550 popular scientific articles. Several research reports and a D.V. Sc. dissertation and a Ph.D. thesis. H-index: 37 (More than 37 papers with more than 37 citations recorded in Science citation index).

International collaborators:
Scientific network with more than 80 international research groups.
Referee and review tasks: for 14 international research councils, referee-work for 51 scientific journals and editorial memberships of 5 scientific journals
Like most websites we use cookies. This is to ensure that we give you the best experience possible. Continuing to use www.cabi.org means you agree to our use of cookies. If you would like to, you can learn more about the cookies we use here.