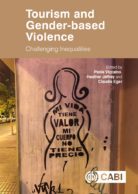 Tourism and Gender-based Violence
Challenging Inequalities
Edited by: Paola Vizcaino-Suárez, Bournemouth University, UK, Heather Jeffrey, Middlesex University, Dubai, UAE, Claudia Eger, Copenhagen Business School, Denmark
August 2020 | Hardback | 208 Pages | 9781789243215
August 2020 | ePDF 9781789243222 | ePub 9781789243239
£87.15 | €97.40 | $117.85
Description
Gender based violence (GBV) in travel and tourism is embedded within wider social structures of gender inequalities and discrimination. This book focuses on the multiple and interconnected manifestations of violence that women and girls encounter in tourism consumption and production, such as physical, sexual, emotional or socio-economic abuse. The book adopts a multidisciplinary perspective in its critical examination of the theoretical landscape of GBV, and its engagement with case studies on GBV and sexual harassment. It draws on feminist, intersectional and post-colonial frameworks, bringing together contributions from academics and practitioners across the globe.

This book:
Provides a critical approach to gender-based violence as part of broader social structures of inequality and discrimination in the tourism and hospitality industries.
Draws on a range of disciplinary approaches, includinggender studies, geography, international relations, law, sociology and tourism studies.
Brings together work by scholars who are engaging with the concept of gender-based violence in a wide range of tourism settings and practices.
Includes profiles of organisations and initiatives that are attempting to tackle GBV in tourism, hospitality and beyond.

Exploring an important topic of current times, this book will be of interest to researchers and practitioners in the areas of tourism, hospitality, gender studies, international relations, law, geography and sociology.
Table of contents
-: Introducing Critical Debates on Gender-based Violence in Tourism
Chapter 1: Gender-Based Violence: A Systematic Review of Causes and Intersections with Tourism
Chapter 2: Gender-Based Harassment in Tourism Academia: Organisational Collusion, Coercion and Compliance
Chapter 3: The Silenced Phenomenon: Sexual harassment in the Hospitality and Tourism Workplace
Chapter 4: Labour Force Participation and Violence: A Research about Female Tourism Workers in Turkey
Chapter 5: Sexual Harassment and Wellbeing in Tourism Workplaces: The Perspectives of Female Tour Guides
Chapter 6: Trafficking in Human Beings in the Tourism Industry: Trends and Approaches
Chapter 7: Embodying Gender and Risk: Mountain Bike Tourism in Mexico
Chapter 8: An Autoethnography of Respectful Tourism: The Double-Bind of a Female Traveller in Morocco
Chapter 9: "Danger Men" - Effects of a Post-Chauvinism Campaign Aimed at Tourists in Spain
Chapter 10: #MeToo: A Feminist Hashtag Analysis of Gender-Based Violence Against Solo Female Travellers
Readership
Researchers and practitioners in the areas of tourism, hospitality, gender studies, development, international relations, geography and sociology.
Reviews
Have you read this book, or used it for one of your courses? We would love to hear your feedback. Email our reviews team to submit a review.
Like most websites we use cookies. This is to ensure that we give you the best experience possible. Continuing to use
CABI.org
means you agree to our use of cookies. If you would like to, you can learn more about the cookies we use
here
.
Privacy Overview
This website uses cookies to improve your experience while you navigate through the website. Out of these, the cookies that are categorized as necessary are stored on your browser as they are essential for the working of basic functionalities of the website. We also use third-party cookies that help us analyze and understand how you use this website. These cookies will be stored in your browser only with your consent. You also have the option to opt-out of these cookies. But opting out of some of these cookies may affect your browsing experience.