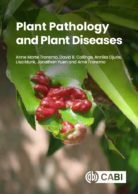 Plant Pathology and Plant Diseases
By: Anne Marte Tronsmo, Norwegian University of Life Sciences, Norway, David B Collinge, University of Copenhagen, Denmark, Annika Djurle, Swedish University of Agricultural Sciences, Sweden, Lisa Munk, University of Copenhagen, Denmark, Jonathan Yuen, Swedish University of Agricultural Sciences, Sweden, Arne Tronsmo, Norwegian University of Life Sciences, Norway
October 2020 | Paperback | 464 Pages | 9781789243178
October 2020 | Hardback | 464 Pages | 9781789243185
October 2020 | ePDF 9781789243192 | ePub 9781789243208
Description
This textbook provides a comprehensive introduction to all aspects of plant diseases, including pathogens, plant-pathogen interactions, their management, and future perspectives. Plant diseases limit potential crop production and are responsible for considerable losses in agriculture, horticulture and forestry. Our global food production systems are under increasing pressure from global trade, climate change and urbanization. If we could alleviate the losses due to plant diseases, we would be able to produce roughly 20% more food - enough to feed the predicted world population in 2050.

Co-authored by a group of international teachers of plant pathology who have collaborated for many years, this book gives expert and seamless coverage. Plant Pathology and Plant Diseases: Addresses major advances in plant-pathogen interactions, classification of plant pathogens, and the methods of managing or controlling disease Is relevant for a global audience; it covers many examples of diseases with an impact worldwide but with an emphasis on disease of particular importance in a temperate context Features over 400 striking figures and colour photographs It is suitable for graduate students and advanced undergraduates studying plant pathology, biology, agriculture and horticulture.
Table of contents
PART 1: GENERAL PLANT PATHOLOGY

Chapter 1: WHAT IS A PLANT DISEASE?
Chapter 2: HISTORY OF PLANT PATHOLOGY
Chapter 3: THE DISEASE CYCLE AND LIFE STYLE
Chapter 4: FUNGAL PLANT PATHOGENS
Chapter 5: FUNGAL-LIKE PLANT PATHOGENS
Chapter 6: BACTERIAL PLANT PATHOGENS
Chapter 7: PLANT VIRUSES
Chapter 8: NEMATODES CAUSING PLANT DISEASES
Chapter 9: DIAGNOSIS OF PLANT DISEASES

PART 3: PLANT-PATHOGEN INTERACTIONS FROM GENES TO POPULATIONS

Chapter 10: MECHANISMS OF PATHOGENICITY
Chapter 11: PLANT DEFENCE AGAINST PATHOGENS
Chapter 12: RACE SPECIFICITY AND PLANT IMMUNITY
Chapter 13: POPULATION GENETICS IN PLANT-PATHOGEN INTERACTIONS
Chapter 14: EPIDEMIOLOGY – DISEASE IN PLANT POPULATIONS

PART 4: DISEASE MANAGEMENT

Chapter 15: CULTURAL PRACTICES FOR DISEASE MANAGEMENT
Chapter 16: CHEMICAL PLANT DISEASE CONTROL
Chapter 17: BIOLOGICAL CONTROL OF PLANT DISEASES
Chapter 18: DISEASE MANAGEMENT STRATEGIES USING HOST RESISTANCE
Chapter 19: BIOTECHNOLOGY FOR PLANT DISEASE CONTROL
Chapter 20: FROM DISEASE ASSESSMENT TO DECISION SUPPORT SYSTEMS
Chapter 21: INTEGRATED PEST MANAGEMENT
Chapter 22: PLANT HEALTH LEGISLATION
PART 5: PERSPECTIVES
Chapter 23: PLANT PATHOLOGY IN A CHANGING WORLD
Readership
This book is for advanced undergraduates studying plant pathology, as part of their biology, agriculture or horticulture course. MSc students studying plant pathology.
Reviews
A wonderful introduction to plant pathology and plant disease giving a broad encompassing coverage of the discipline. Engaging, easy to read and navigate. - Calum R Wilson, Professor of Plant Pathology, University of Tasmania, Australia
Refreshing to see a textbook written from a slightly different perspective... Particularly notable in the book is the quality of the figures and diagrams... a stand-out feature. - Plant Pathology, Matt Dickinson, University of Nottingham, UK
We have been waiting for a general textbook on plant pathology for a very long time... Plant Pathology and Plant Diseases is one such landmark. The book will remain for many years to come. It constitutes a major achievement, and represents an important contribution to education in plant pathology worldwide. For teachers, students, and professionals in the field, this is a must-read and a must-have. - International Society for Plant Pathology, Serge Savary
This book summarizes important recent information about plant pathology and plant pathogens, and in my view, is one of the best and most comprehensive textbooks in this field published in recent decades. It represents a highly valuable contribution to plant pathology, and will be of significant interest to university teachers, students in master and Ph.D. degree university programs, as well as professionals in phytopathology, plant protection and plant disease management. - Aleš Lebeda, Plant Protection Science
Anne Marte Tronsmo was educated at the universities of Bergen and Tromsø, followed by PhD from Norwegian University of Agriculture (now Norwegian University of Life Sciences; NMBU), Norway. She has held positions at the Norwegian Plant Protection Institute (now NIBIO) and the Norwegian University of Life Science. She is professor emerita in plant pathology at NMBU, where she taught plant pathology from BSc to PhD level for 35 years. She served as elected pro-rector for the Norwegian University of Life Sciences 2002-2005. Her research includes physiological and genetic aspects of induced and natural resistance to fungal diseases in various crops, as well as resistance to winter injury in grasses and cereals. She has supervised about 15 PhD students and published over 100 scientific papers. She has also been president of the Norwegian Society for Plant Pathology, and associate editor for the journal "European Journal of Plant Pathology". She has served as member of the Plant Health Panel in the Norwegian Scientific Committee for Food Safety (2004- 2018) and member of FACCE-JPI Scientific Advisory board (2014-2019).
David B. Collinge was educated at the universities of Liverpool and Newcastle Upon Tyne. He has been Associate Prof since 1987 and, since 2002 Professor of Plant Pathology at Copenhagen University where he teaches on several plant pathology, microbiology and genetics courses from BSc to PhD level. His research areas include defence mechanisms in plants, biological control, plant biotechnology and more recently endophytes. He is currently in the presidency of the British Society of Plant Pathology, has supervised over 30 PhD students and published over 100 scientific papers and book contributions. He is associate editor for the journals "Plant Pathology" and "European Journal of Plant Pathology".
Annika Djurle had her undergraduate and PhD education at the Swedish University of Agricultural Sciences, where she worked as a senior lecturer in plant pathology. She has organized courses in plant pathology and been teaching in plant pathology courses, as well as crop production, and ecology courses since the 1980's at basic, advanced, and PhD levels. For several years she served as Director of studies. Her main research area has been plant disease epidemiology in agricultural crops, in a Swedish, European and International perspective. The transformation of scientific information to practical applications has been a recurring theme in her work.
Lisa Munk: Associate professor emerita, PhD, in plant pathology at University of Copenhagen, Denmark. She has been teaching plant pathology at bachelor, master and PhD level for 35 years, and has been supervised more than 130 MSc- and other undergraduate assignments and 11 PhD studies. Her main research area has been host resistance and other strategies for managing fungal diseases in agricultural crops. She has been Department Head (1991-2004), President for European Foundation for Plant Pathology (2004-2006) and is currently (2016- ) President of the Danish Society for Plant Diseases and pests.
Jonathan Yuen received his undergraduate degree from the University of Chicago, and a PhD from Cornell University, both in the USA. He has held positions at the Asian Vegetable Research and Development Center in Taiwan, the University of Hawaii, and Uppsala University, before joining the Swedish University of Agricultural Sciences, first working in the extension services, but subsequently as Professor in Plant Pathology, with a specialization in epidemiology. His research interests covers areas from human disease epidemiology to the factors affecting plant disease management decisions. A recurring theme has been the role of plant diseases with respect to food security in both developed and developing countries. He has served as the Chairman of the epidemiology committee of the ISPP and has had editor positions with the journal Phytopathology. He is currently on the editorial board of CABI Agriculture and Biosciences. While he has retired from the Swedish University of Agricultlural Sciences, he serves on the Panel on Plant Health at the European Food Safety Authority.
Arne Tronsmo received his undergraduate degrees from the Universities of Bergen and Tromsø, followed by dr. agric at the Norwegian University of Life Science, (NMBU). He is professor emeritus in Applied Microbiology at NMBU. He has been teaching microbiology and mycology from bachelor to PhD level for 42 years. His main research area has been Biological control of plant diseases with antagonistic microorganisms or natural products (Biopesticides). He has been president of the Norwegian society for Microbiology and active in teaching administration at the University. He has supervised 15 PhD students, and published more than 50 scientific and 90 applied papers in addition to a textbook in Microbiology.
Like most websites we use cookies. This is to ensure that we give you the best experience possible. Continuing to use
CABI.org
means you agree to our use of cookies. If you would like to, you can learn more about the cookies we use
here
.
Privacy Overview
This website uses cookies to improve your experience while you navigate through the website. Out of these, the cookies that are categorized as necessary are stored on your browser as they are essential for the working of basic functionalities of the website. We also use third-party cookies that help us analyze and understand how you use this website. These cookies will be stored in your browser only with your consent. You also have the option to opt-out of these cookies. But opting out of some of these cookies may affect your browsing experience.