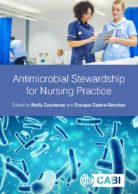 Antimicrobial Stewardship for Nursing Practice
Edited by: Molly Courtenay, Cardiff University, UK, Enrique Castro-Sánchez, Imperial College London, UK
January 2020 | Paperback | 160 Pages | 9781789242690
Description
Multi-drug resistant infections are one of the greatest threats to human health, and with resistance on the rise, appropriate antimicrobial stewardship (AMS) is more important than ever. This book, written by nurses for nurses, provides a clear and concise approach to good practice in this vital area. It explores all aspects of AMS, explaining the practices that ensure the optimal use of antibiotics for the best clinical outcome, with both minimal toxicity to the patient and minimal impact on subsequent antimicrobial resistance. Written by a global team of experts, it covers infection prevention and control, antimicrobial resistance, diagnosis of infection and appropriate antimicrobial use, patient engagement, collaboration between professions and how to implement AMS in nursing practice. The first AMS textbook applied directly to nursing practice, and underpinned by a competency framework designed by the editor team, it includes learning tools such as objectives, practical case studies and questions throughout.
Table of contents
Chapter 1: Introduction- Molly Courtenay
Chapter 2: Infection prevention and control- Bri?tte du Toit, Yolanda van Zyl
Chapter 3: Antimicrobials and antimicrobial resistance- Maria Clara Padoveze, Ligia Maria Abraão, Rosely Moralez de Figueiredo
Chapter 4: The diagnosis of infection and the use of antibiotics- Jo McEwen, Heather Kennedy, Nykoma Hamilton
Chapter 5: Antimicrobial prescribing practice- Enrique Castro-Sánchez
Chapter 6: Person-centred care- Emma Burnett, Valerie Ness
Chapter 7: Interprofessional collaborative practice - Fiona Gotterson, Elizabeth Manias
Chapter 8: Leading and supporting antimicrobial stewardship- Rose Gallagher, Rita Olans, Susie Singleton, Joanne Bosanquet
Readership
Covering all the key aspects, and written by a clear and concise nurse practitioner team, this book is an essential read for undergraduate nurse students worldwide
Reviews
Have you read this book, or used it for one of your courses? We would love to hear your feedback. Email our reviews team to submit a review.
Like most websites we use cookies. This is to ensure that we give you the best experience possible. Continuing to use www.cabi.org means you agree to our use of cookies. If you would like to, you can learn more about the cookies we use here.