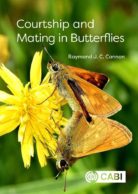 Courtship and Mating in Butterflies
By: Raymond J C Cannon, formerly of the Food and Environment Research Agency, UK
December 2019 | Hardback | 392 Pages | 9781789242638
January 2020 | ePDF 9781789242645 | ePub 9781789242652
£97.40 | €117.85 | $138.40
Description
This book presents a readable account of butterfly behaviour, based on field observations, great photographs and the latest research. The main focus is on courtship and mating - including perching, searching and territorial behaviour - but to understand these subjects it is necessary to explain how mates are chosen and this requires sections on wing colours and patterns. A chapter on butterfly vision is also essential in terms of how butterflies see the world and each other. There have been exciting discoveries in all of these fields in recent years, including: butterfly vision (butterfly photoreceptors), wing patterns (molecular biology), wing colouration (structural colours and nano-architecture), mating strategies and female choice (ecology and behaviour).
Table of contents
1: Introduction
2: Sexual selection and mate choice
3: Strategies for locating a mate
4: Seeing and being seen
5: Courtship behaviour
6: Body language
7: The Mating Game
8: The inside story
9: Scents – chemical communications
10: Wing colours and iridescence
11: Glossary
12: Summing Up
13: Annex 1.
14: References
Readership
The book covers many different areas of biology and these will be of great interest to the academic reader, students of behavioural ecology, and amateur lepidopterists and naturalists.
Reviews
It's well worth getting your hands on, though, as, next time you see butterflies indulging in some strange behaviour, you will know exactly where to go in order to find out what it was all about. In the process, your knowledge of, and fascination for, this iconic insect group cannot fail to be enhanced. - Richard Harrington, Antenna
Great to find a nature book whose author delves to the very core of its subject then endeavours to present the rigorous facts in a way that's accessible to the layperson. Ray Cannon's beautiful study of butterfly courtship does precisely that. One for those long summer days under the garden shade. A fabulous book. - Mark Cocker
...everyone interested in butterflies should read this really monumental book. I recommend the book as an important manual and source of knowledge for anybody interested in the lives of butter?ies, from amateurs to a wide spectrum of professionals studying either butter?ies or generally interested in behaviour, ethology or reproduction. - Z. Faltýnek Fric, European Journal of Entomology
...a great books and a fantastic review of a fascinating area. Raymond Cannon somehow succeeds in not only covering but also synthesising this massive subject area. It is the most comprehensive book on mating behaviour and butterfly behaviour in general. - Richard H. ffrench-Constant, Atropos
Prior to his retirement in 2012, Ray Cannon was Principal Scientific Officer at the Food & Environment Research Agency (Fera) in York, UK, providing advice and guidance on alien, invasive pests, to the UK government. He also carried out research on plant health issues, pest control, invasive pests, climate change, and the use of microbial insecticides. His education was at Imperial College (BSc) and Cranfield University (PhD). Ray's interests are writing, blogging, painting and photography.
Like most websites we use cookies. This is to ensure that we give you the best experience possible. Continuing to use
CABI.org
means you agree to our use of cookies. If you would like to, you can learn more about the cookies we use
here
.
Privacy Overview
This website uses cookies to improve your experience while you navigate through the website. Out of these, the cookies that are categorized as necessary are stored on your browser as they are essential for the working of basic functionalities of the website. We also use third-party cookies that help us analyze and understand how you use this website. These cookies will be stored in your browser only with your consent. You also have the option to opt-out of these cookies. But opting out of some of these cookies may affect your browsing experience.