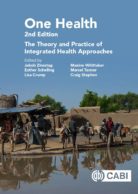 One Health
The Theory and Practice of Integrated Health Approaches
2nd Edition
Edited by: Jakob Zinsstag, Swiss Tropical and Public Health Institute, Switzerland, Esther Schelling, Vétérinaires Sans Frontières Suisse, Switzerland, Lisa Crump, Swiss Tropical and Public Health Institute, Switzerland, Maxine Whittaker, James Cook University, Australia, Marcel Tanner, Swiss Tropical and Public Health Institute, Switzerland, Craig Stephen, University of Saskatchewan and University of British Columbia, Canada
September 2020 | ePDF 9781789242584 | ePub 9781789242591
October 2020 | Hardback | 464 Pages | 9781789242577
£128.15 | €148.65 | $174.25
*eBook purchase will take you away from cabi.org
Description
One Health, the concept of combined veterinary and human health, has now expanded beyond emerging infectious diseases and zoonoses to incorporate a wider suite of health issues. Retaining its interdisciplinary focus which combines theory with practice, this new edition illustrates the contribution of One Health collaborations to real-world issues such as sanitation, economics, food security and vaccination programmes. It includes more non-infectious disease issues and climate change discussion alongside revised case studies and expanded methodology chapters to draw out implications for practice. Promoting an action-based, solutions-oriented approach, One Health: The Theory and Practice of Integrated Health Approaches highlights the lessons learned for both human and animal health professionals and students.
Table of contents
Section 1: Theoretical Foundations

Chapter 1: One Health in History
Chapter 2: Theoretical issues of One Health
Chapter 3: An ecological and conservation perspective
Chapter 4: Grappling with complexity: The context for One Health and the ecohealth approach
Chapter 5: Toward a healthy concept of health

Section 2: Methods, Skills and Perspectives for the Practice of One Health

Chapter 6: Transdisciplinary research and One Health
Chapter 7: The role of social sciences in One Health – reciprocal benefits
Chapter 8: One Health study designs
Chapter 9: Surveillance and response conducted in a One Health context
Chapter 10: One Health economics
Chapter 11: A Legal Framework of One Health: the human animal relationship
Chapter 12: Animal-human transmission models
Chapter 13: A One Health Perspective for Integrated Human and Animal Sanitation, Nutrient Recycling, and Climate Change
Chapter 14: Reaping One Health Benefits through Cross-Sectoral Services
Chapter 15: One Health Leadership and Team Building Training

Section 3: One Health in Practice

Chapter 16: The Practice of One Health: Lessons Learned
Chapter 17: Climate change: the ultimate One Health challenge

Section 3a: Infectious Disease

Chapter 18: Emergence of antimicrobial resistance and interaction between humans, animals and environment
Chapter 19: Integrated rabies control
Chapter 20: Brucellosis surveillance and control: a case for One Health
Chapter 21: Human and animal African trypanosomiasis
Chapter 22: Bovine tuberculosis at the human-livestock-wildlife interface in sub-Saharan Africa

Section 3b: Non-communicable Disease

Chapter 23: The Role of Companion Animals in Supporting Human Patients with Non-communicable Diseases
Chapter 24: Towards Resilience: The One Health Approach in Disasters
Chapter 25: Food security and nutrition
Chapter 26: Benefits of Human–Animal Interactions for Mental Health and Well-being
Chapter 27: The Spiritual Dimension of Health

Section 4: Governance and capacity building

Chapter 28: Academic and Institutional 'One Health' Research Capacity Building
Chapter 29: One Health in Policy Development: Options to prevent rabies in cattle in Bhutan
Chapter 30: One Health into action: Integrating global health governance with national priorities in a globalised world
Chapter 31: Measuring added value from integrated methods: Towards a Game Theory of One Health
Chapter 32: Summary and outlook: One Health in practice
Readership
Human and animal health professionals and students, as well as social and cultural sciences, economics, environmental sciences and engineering and conservation
Reviews
It is a very important book on a forward-looking concept that integrates human, veterinary and environmental health sciences. This great book is worthwhile reading for every physician and healthcare worker trying to see Health in its wider context and to acting accordingly. - Kesselring Jürg, Swiss Archives of Neurology, Psychiatry and Psychotherapy
Like most websites we use cookies. This is to ensure that we give you the best experience possible. Continuing to use
CABI.org
means you agree to our use of cookies. If you would like to, you can learn more about the cookies we use
here
.
Privacy Overview
This website uses cookies to improve your experience while you navigate through the website. Out of these, the cookies that are categorized as necessary are stored on your browser as they are essential for the working of basic functionalities of the website. We also use third-party cookies that help us analyze and understand how you use this website. These cookies will be stored in your browser only with your consent. You also have the option to opt-out of these cookies. But opting out of some of these cookies may affect your browsing experience.