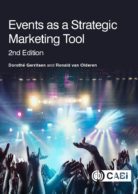 Events as a Strategic Marketing Tool
2nd Edition
By: Dorothé Gerritsen, NHTV Breda University of Applied Sciences, The Netherlands, Ronald van Olderen, NHTV Breda University of Applied Sciences, The Netherlands
April 2020 | Paperback | 312 Pages | 9781789242300
Description
Events have come to play an ever-growing role in marketing; by connecting products and services with experiences and vice versa, producers can create important added value. This text describes how events can be used as a strategic tool in marketing practices.

Fully updated throughout, the new edition reviews the way organizations utilize events to connect with their visitors. It covers the development of the experience economy, the step from strategy to concept, event design and touchpoints. Written in an accessible style, it also considers the areas of marketing within which experiences play a role, such as branding, relationship marketing and city marketing. Concluding with a chapter on effect measurement and evaluation. Including a wealth of internationally relevant examples, it gives a thorough insight into the way events can help reach strategic marketing goals. It will provide an engaging resource for both students and professionals interested in Leisure, tourism and events.
Table of contents
PART I: PLAN
1: Introduction: Using Events as a Strategic Marketing Tool
2: Trends and Developments: Consumers' Pursuit of Happiness
3: Event Marketing
4: Events and Customer Relationship Marketing
5: Events and Marketing Communication
6: Events and Branding
7: Events and City Marketing: The Role of Events in Cities
PART II: DO
8: The Translation of Strategy into Concept
9: Touchpoints
Appendices to Chapter 9: Touchpoint Models for Trade Fairs and Corporate Events
Appendix 1: Touchpoint Model for Trade Fairs
Appendix 2: Touchpoint Model for Corporate Events
PART III: CHECK
10: Effect Measurement and Evaluation
Appendices to Chapter 10: Effect Measurement and Evaluation
Appendix 1: The ROI Model of Jack Phillips
Appendix 2: Economic Impact Study – World
Readership
Students and professionals of marketing in the field of Leisure, Tourism and Events.
Reviews
Have you read this book, or used it for one of your courses? We would love to hear your feedback. Email our reviews team to submit a review.
Like most websites we use cookies. This is to ensure that we give you the best experience possible. Continuing to use www.cabi.org means you agree to our use of cookies. If you would like to, you can learn more about the cookies we use here.