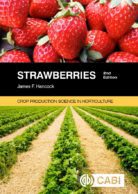 Strawberries
2nd Edition
By: James Hancock, Michigan State University, USA
September 2020 | ePDF 9781789242287 | ePub 9781789242294
September 2020 | Paperback | 288 Pages | 9781789242270
Description
This new and updated edition of a popular text provides a broad, balanced review of the scientific knowledge of strawberries and their cultivation. The worldwide strawberry industry has grown substantially since the original book was published, and methods of culture have undergone extensive modifications. This volume incorporates important changes to the taxonomy of strawberries and new understanding of how its ancestors evolved. It includes coverage of new disease and pest control methods and recent developments in genomic information. These advancements have greatly improved our understanding of how flowering and fruiting is regulated, and will revolutionize the breeding of strawberries.Drawing on extensive research and practical experience, the author presents an essential text that:Includes new content on genomic data, trait genetics, and marker-assisted strategies for varietal improvement.Provides a thorough review of the evolution of the strawberry and the history of strawberry cultivation.Contains an up-to-date comparison of the cultural systems employed across the world and the physiology behind these practices.Presented in full-colour throughout, this is a core guide for academic and professional researchers, breeders and growers, advisors, extension personnel and students of horticulture.
Table of contents
1: The Strawberry Species
2: History of Strawberry Domestication
3: Cultural Systems
4: Worldwide Strawberry Industry
5: Structural and Developmental Physiology
6: Fruiting and Postharvest Physiology
7: Pest and Disease Management
8: Breeding and Genetics
Readership
Academic and professional researchers, reference libraries, breeders and growers, advisors, extension personnel, students.
Reviews
Have you read this book, or used it for one of your courses? We would love to hear your feedback. Email our reviews team to submit a review.
James F. Hancock received his BS in Biology from Baldwin Wallace College (Berea, Ohio), a MS in Botany at Miami University (Oxford, Ohio) and a Ph.D. in Genetics at the University of California, Davis. After a short stint in the Biology Department at the University of South Carolina, he moved to Michigan State University (MSU) as an assistant professor of Horticulture, where he has been for over thirty years, being promoted to Professor in 1986. He was the Director of the Plant Breeding and Genetics Program at MSU from 2004 to 2009, and is currently the Director of the MSU Plant Biotechnology Resource Center. The emphasis of his research has been on the breeding and genetics of blueberries and strawberries, and he has published prodigiously in these areas. His previous books have been "The Strawberry" and "Plant Evolution and the Origin of Crop Species", and he has edited books on "The Highbush Production Guide" (with Marvin Pritts), "Temperate Fruit Crop Genetics: Germplasm to Genomics", and "Environmental Biosafety" (with Rebecca Grumet, Karim Maredia and Cholani Weebadde). He has lectured and consulted on blueberry growing and breeding in Chile, China, France, Germany, Great Britain, Latvia, Mexico Poland, Spain, Portugal and Scotland. Most notably he had a six month stay at the Universidad de Talca in 1992 on a Fulbright Fellowship to study and lecture on small fruits. He has guided the programs of about 20 graduate students and 3 post-doctoral Fellows.
Like most websites we use cookies. This is to ensure that we give you the best experience possible. Continuing to use www.cabi.org means you agree to our use of cookies. If you would like to, you can learn more about the cookies we use here.