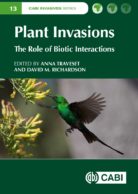 Plant Invasions
The Role of Biotic Interactions
Edited by: Anna Traveset, Institut Mediterrani d'Estudis Avançats (CSIC-UIB), Spain, David M Richardson, Centre for Invasion Biology, South Africa
January 2021 | Hardback | 480 Pages | 9781789242171
November 2020 | ePDF 9781789242188 | ePub 9781789242195
Series : CABI Invasives Series
£115.00 | €130.00 | $155.00
Description
There are many books on aspects of plant invasions, but none that focus on the key role of species interactions in mediating invasions. This book reviews exciting new findings and explores how new methods and tools are shedding new light on crucial processes in plant invasions.
In 23 chapters, with contributions from 51 authors, the book addresses:

· the main theories and hypotheses in plant invasion ecology that invoke species interactions;
· plant invasions that are facilitated by, or benefit from, by mutualistic interactions and release from enemies;
· antagonistic interactions that prevent or hinder plant invasions;
· impacts of plant invasions on native species interactions and ecosystem functioning;
· the interaction-network approach to understanding plant invasions;
· the importance of considering species interactions in managing plant invasions
Table of contents
Chapter 1: Plant invasions: the role of biotic interactions – An overview
Chapter 2: The role of biotic interactions in invasion ecology: theories and hypotheses

Part II: Positive and negative interactions in the soil

Chapter 3: Soil biota and non-native plant invasions

Part III: Mutualistic interactions that promote plant invasions

Chapter 4: Pollination interactions promoting plant invasions-
Chapter 5: Seed dispersal interactions promoting plant invasions
Chapter 6: Ungulates as dispersal vectors of non-native plants
Chapter 7: The role of plant-plant facilitation in non-native plant invasions
Chapter 8: How direct and indirect non-native interactions can promote plant invasions, lead to invasional meltdown, and inform management decisions

Part IV: Antagonistic interactions that hinder plant invasions

Chapter 9: Biotic resistance to plant invasions
Chapter 10: EICA 2.0: A general model of enemy release and defence in plant and animal invasions
Chapter 11: The role of pathogens in plant invasions
Chapter 12: Direct and indirect effects of herbivores influencing plant invasions

Part V: Consequences of plant invasions for biotic interactions among native species

Chapter 13: Impacts of non-native plants on plant-pollinator interactions
Chapter 14: The effect of non-native plant invasions on seed dispersal of native plants
Chapter 15: Allelopathic disruptions of biotic interactions due to non-native plants
Chapter 16: Competition between native and non-native plants
Chapter 17: Indirect biotic interactions between non-native plants and native plants and animals

Part VI: Novel techniques and experimental approaches in the study of plant invasions

Chapter 18: How a network approach has advanced the field of plant invasion ecology
Chapter 19: Molecular ecology of plant-microbial interactions during invasions: progress and challenges

Part VII: Biotic interactions and the management of ecosystems invaded by non-native plants

Chapter 20: How can progress in the understanding of antagonistic interactions be applied to improve biological control of plant invasions?
Chapter 21: Restoration of pollination interactions in communities invaded by non-native plants
Chapter 22: Restoration of seed dispersal interactions in communities invaded by non-native plants
Chapter 23: Multiple feedbacks due to biotic interactions across trophic levels can lead to persistent novel conditions that hinder restoration
Readership
This book will be of interest to academics and students of ecology, researchers engaged in developing management solutions, scientific managers of natural ecosystems, and policy-makers.
Reviews
Have you read this book, or used it for one of your courses? We would love to hear your feedback. Email our reviews team to submit a review.
– Anna Traveset is a Research Professor of the Spanish Research Council based at the Mediterranean Institute of Advanced studies in Mallorca, Balearic Islands, Spain. Her research focuses on species interactions, mostly on island ecosystems, and how these are influenced by different drivers of global change. She has published more than 200 papers in scientific journals and as book chapters, and has edited several special issues, one in Journal of Biogeography (2012) and the other in AoB PLANTS (2015). She belongs to the editorial board of five scientific journals. In 2017, she was awarded the Prize King Jaume I in the category of 'Environmental Protection'.
– Dave Richardson is Director of the DST-NRF Centre of Excellence for Invasion Biology and is a Distinguished Professor at Stellenbosch University, South Africa. His research focuses on plant invasions. He is author/co-author of about 420 journal papers and book chapters, has edited six books, including Fifty years of invasion ecology (Wiley-Blackwell, 2011), and is co-author of Invasion Dynamics (OUP; 2017). He was Editor-in-Chief of Diversity and Distributions between 1998 and 2015. He was awarded the Hans Sigrist Prize for 2006 by the University of Bern, Switzerland, and in 2012 received the John F.W. Herschel Medal, the senior medal of the Royal Society of South Africa.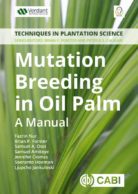 Mutation Breeding in Oil Palm
By: Fazrin Nur, Brian Forster, Samual A. Osei, Samuel Amiteye, Jennifer Ciomas, Soeranto Hoeman, Ljupcho Jankuloski
From
£20.50 | €25.65 | $30.75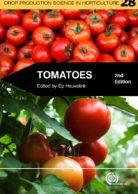 Tomatoes
Edited by: Ep Heuvelink
From
£46.15 | €61.50 | $76.90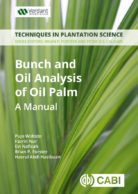 Bunch and Oil Analysis of Oil Palm
By: Pujo Widodo, Fazrin Nur, Evi Nafisah, Brian Forster, Hasrul Abdi Hasibuan
From
£20.50 | €25.65 | $30.75
Like most websites we use cookies. This is to ensure that we give you the best experience possible. Continuing to use
CABI.org
means you agree to our use of cookies. If you would like to, you can learn more about the cookies we use
here
.
Privacy Overview
This website uses cookies to improve your experience while you navigate through the website. Out of these, the cookies that are categorized as necessary are stored on your browser as they are essential for the working of basic functionalities of the website. We also use third-party cookies that help us analyze and understand how you use this website. These cookies will be stored in your browser only with your consent. You also have the option to opt-out of these cookies. But opting out of some of these cookies may affect your browsing experience.