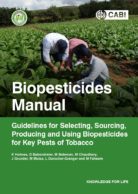 Biopesticides Manual
Guidelines for Selecting, Sourcing, Producing and Using Biopesticides for Key Pests of Tobacco
By: Keith A Holmes, CABI, Switzerland, Dirk Babendreier, CABI, Switzerland, Melanie Bateman, CABI, Switzerland, Malvika Chaudhary, CABI, India, Julien Grunder, CABI, Switzerland, Margaret Mulaa, CABI, Kenya, Léna Durocher-Granger, CABI, UK, Muhammad Faheem, CABI, Pakistan
February 2019 | Paperback | 158 Pages | 9781789242027
December 2018 | ePDF 9781789242010 | ePub 9781789249613
Description
The Biopesticides Manual provides information resources and technical advice in order to support the deployment of biopesticides. It is a one-stop-shop to address the information needs of the key groups who are responsible for selecting, sourcing and using biopesticides in the tobacco production system.

Biopesticides are a key component of integrated pest management (IPM) in tobacco. IPM seeks to reduce the risk of harm to people and the environment. When used in conjunction with good crop management, biopesticides can help to keep pest levels under control, reducing the need to apply conventional pesticides.
Table of contents
1: Introduction to the Biopesticides Manual
2: Selecting Biopesticides
3: Sourcing Biopesticides
4: Training Guide for Field Technicians and Farmers: Biopesticides and How to Work with Them
Reviews
Have you read this book, or used it for one of your courses? We would love to hear your feedback. Email our reviews team to submit a review.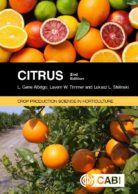 Citrus
By: L. Gene Albrigo, Lukasz L Stelinski, Lavern Timmer
From
£51.25 | €61.50 | $71.75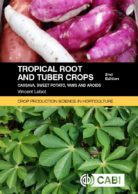 Tropical Root and Tuber Crops
By: Vincent Lebot
From
£61.50 | €71.75 | $87.15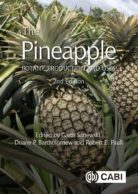 The Pineapple
Edited by: Garth M Sanewski, Duane Bartholomew, Robert E Paull
From
£117.90 | €153.75 | $194.75
Like most websites we use cookies. This is to ensure that we give you the best experience possible. Continuing to use
CABI.org
means you agree to our use of cookies. If you would like to, you can learn more about the cookies we use
here
.
Privacy Overview
This website uses cookies to improve your experience while you navigate through the website. Out of these, the cookies that are categorized as necessary are stored on your browser as they are essential for the working of basic functionalities of the website. We also use third-party cookies that help us analyze and understand how you use this website. These cookies will be stored in your browser only with your consent. You also have the option to opt-out of these cookies. But opting out of some of these cookies may affect your browsing experience.