Dark Tourism and Pilgrimage
Edited by: Daniel H Olsen, Brigham Young University, USA, Maximiliano Korstanje, University of Palermo, Argentina
December 2019 | Hardback | 274 Pages | 9781789241877
$160.00 | £95.00 | €125.00
Description
In recent years there has been a growth in both the practice and research of dark tourism; the phenomenon of visiting sites of tragedy or disaster. Expanding on this trend, this book examines dark tourism through the new lens of pilgrimage. It focuses on dark tourism sites as pilgrimage destinations, dark tourists as pilgrims, and pilgrimage as a form of dark tourism. Taking a broad definition of pilgrimage so as to consider aspects of both religious and non-religious travel that might be considered pilgrimage-like, it covers theories and histories of dark tourism and pilgrimage, pilgrimage to dark tourism sites, and experience design. A key resource for researchers and students of heritage, tourism and pilgrimage, this book will also be of great interest to those studying anthropology, religious studies and related social science subjects.
Table of contents
Chapter 1: Negotiating Dark Tourism and Pilgrimage
Chapter 2: The "Dark" Is Still Dark? The Evolution of Dark Tourism to Pilgrimage Destinations
Chapter 3: Interpreting the Sacred in Dark Tourism
Chapter 4: The Convergence of Dark Tourism and Pilgrimage Tourism: The Case of Phnom Sampeau, Cambodia
Chapter 5: Pilgrimages to Terror: The Role of Heritage in Dark Sites
Chapter 6: Dark Heritage as a Basis for Dark Tourism Development in Slovenia
Chapter 7: Im(possible) Dark Tourism in Bulgaria
Chapter 8: From Burial Spaces to Pilgrimage Sites: Changing Role of European Cemeteries
Chapter 9: The Sublime Darker Heritage Tourism Aspects at St John's Co-Cathedral in Valletta, Malta
Chapter 10: Martyrdom and Dark Tourism in Carthage, Illinois
Chapter 11: Lost in the Sea of Trees: Japan's Aokigahara, Suicide, and Dark Tourism
Chapter 12: Recreating the Dead: Darkest Tourism and Pilgrimage in Mormon Handcart Pioneer Trek Re-Enactments
Chapter 13: Visiting Post Disaster Ruins: A Journey to Meaningful Experiences
Chapter 14: Museums as In Populo Dark Tourism Sites: A case study of visitor Experience
Chapter 15: The 10-Year Anniversary of the Civil Rights Pilgrimage: An Experiential Exploration into History, Diversity, Equality, and Equity
Chapter 16: "Though I Walk Through the Valley": Teaching Richard Wright through Experiential Learning
Chapter 17: Dark Tourism or Pilgrimage in the Museum? Considering the Case of Emmett Till's Casket
Chapter 18: Finding Roots: Pop Culture Pilgrimage and the Affective Geographies of Kunta Kinteh Island
Chapter 19: A Mass Grave and a Massacre: Encounters with Remembrances of Death at the Wounded Knee, South Dakota
Chapter 20: Borough of the Dead: The Weight of Hip Hop's History and Tourism's Dark Pilgrimage to The Bronx
Chapter 21: Dark Visits
Chapter 22: Designing Experiences at Holocaust Memorial Sites
Readership
Suitable for: Researchers and academics interested in heritage, tourism and pilgrimage and students of heritage, tourism and pilgrimage.
Reviews
Have you read this book, or used it for one of your courses? We would love to hear your feedback. Email our reviews team to submit a review.
Editor Bio
is editor in chief of International Journal of Safety and Security in Tourism (UP Argentina) and International Journal of Cyber Warfare and Terrorism (IGI-GlobalUS). Besides being Senior Researcher in the Department of Economics at University of Palermo, Argentina, he is a global affiliate of the Tourism Crisis Management Institute (University of Florida, US), the Centre for Ethnicity and Racism Studies (University of Leeds), The Forge (University of Lancaster and University of Leeds UK) and The International Society for Philosophers, hosted in Sheffield UK. With more than 700 published papers and 25 books, Korstanje was awarded as Outstanding Reviewer 2012, International Journal of Disaster Resilience in the Built Environment, University of Salford, UK; Outstanding Reviewer 2013, Journal of Place Management and Development, Institute of Place, Manchester Metropolitan University, UK and Reviewer Certificate of Acknowledgement 2014, International Journal of Contemporary Hospitality Management (IJCHM), University of Central Florida, US. Now he co-edits almost 10 specialized journals in such themes as human rights, mobility, tourism and terrorism. Korstanje is subject to biographical records for Marquis Who's Who in the World since 2009. He has been nominated for 5 honorary doctorates for his contribution in the study of the effects of terrorism in tourism. In 2015 he was awarded Visiting Research Fellow at the School of Sociology and Social Policy, University of Leeds, UK and the University of La Habana, Cuba. In 2017 he was elected as Foreign Faculty Member of AMIT, Mexican Academy in the study of Tourism, which is the most prominent institution dedicated to tourism research in Mexico. Now he works as an editorial advisory board member of Cambridge Scholar Publishing UK and IGI Global US.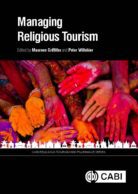 Managing Religious Tourism
Edited by: Maureen Griffiths, Peter Wiltshier
$135.00 | £95.00 | €115.00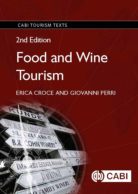 Food and Wine Tourism
By: Erica Croce, Giovanni Perri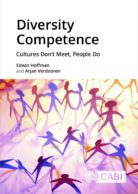 Diversity Competence
By: Edwin Hoffman, Arjan Verdooren
Like most websites we use cookies. This is to ensure that we give you the best experience possible. Continuing to use www.cabi.org means you agree to our use of cookies. If you would like to, you can learn more about the cookies we use here.