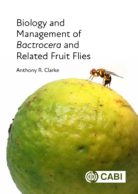 Biology and Management of Bactrocera and Related Fruit Flies
By: Anthony R Clarke, Queensland University of Technology, Australia
July 2019 | Hardback | 268 Pages | 9781789241822
July 2019 | ePDF 9781789241839 | ePub 9781789241846
$105.00 | £75.00 | €90.00
Description
Throughout Asia, Australia and the Pacific, and increasingly in Africa, the primary horticultural insect pests are fruit flies belonging to the genera Bactrocera, Zeugodacus and Dacus (Diptera: Tephritidae: Dacini). The Dacini is a hugely diverse clade of nearly 900 species endemic to the rainforests of Asia, Australia and the western Pacific, and the savannas and woodlands of Africa. All these species lay their eggs into fleshy fruits and vegetables, where the maggots feed, therefore destroying the fruit. In addition to being crop pests, dacines are also invasive pests of major quarantine importance and their presence in production areas can significantly impact market access opportunities.

This broad text provides a rapid introduction to this economically and ecologically important group, which includes species such as the Oriental fruit fly (B. dorsalis), Melon fly (Z. cucurbitae), Queensland fruit fly (B. tryoni) and the Olive fly (B. oleae). Broken into three primary sections, it first explores the evolutionary history, systematic relationships, taxonomy and species-level diagnosis of the Dacini flies. The following biology section covers their life history, population demography, behaviour and ecology, and natural enemies. The final section of the book covers the management of these flies, with chapters on pre-harvest, post-harvest and regulatory controls. Each chapter concludes with a list of key monographs, papers or book chapters for further reading.

This book will be of interest to field entomologists, extension officers, quarantine officers and market access negotiators, as well as students of applied entomology and pest management.
Table of contents
1: General Introduction
2: Systematics and Taxonomy
3: Evolutionary Biogeography and Biodiversity
4: Basic Biology and Demographic Ecology
5: Reproductive Biology and Mating Behaviour
6: Host Use
7: <i>Bactrocera</i> as Invasive Organisms
8: Natural Enemies
9: Pre-harvest Management
10: Phytosanitary Measures
11: Regulatory Controls
12: Looking Forward
Reviews
Have you read this book, or used it for one of your courses? We would love to hear your feedback. Email our reviews team to submit a review.
Tony Clarke completed his PhD in entomology from The University of Queensland in 1992. After graduating, he spent 10 years as a research fellow working on insect ecology at the University of Tasmania, The University of Queensland and Griffith University. At Griffith University (1999-2001) he worked on fruit flies for the first time, under the mentorship of Prof R.A.I. Drew. In 2002 he took up a tenured position as a lecturer in ecology with the Queensland University of Technology, Brisbane, where he now holds the title of Professor and Chair of Fruit Fly Biology and Management. Most of his research has focused on the science underpinning sustainable insect pest management, with an emphasis on forestry and horticultural systems. His exclusive research focus for the last ten years has been on tropical fruit flies of the genus Bactrocera, which are the primary horticultural insect pests of Asia, Australia and the Pacific, and increasingly of Africa following the 2003 invasion by Oriental fruit fly. He has participated in numerous international fruit fly projects which have seen him work with colleagues around the world, including countries such as Papua New Guinea and Bhutan. Tony is the author or co-author of over 130 refereed publications (80 on tephritids) and he has graduated 20 research higher degree students and is currently supervising a further six. He is an elected fellow of the Royal Entomological Society of London, and in 2014 was winner of the Australian Entomological Society's Mackerras Medal for excellence in entomology.
Like most websites we use cookies. This is to ensure that we give you the best experience possible. Continuing to use www.cabi.org means you agree to our use of cookies. If you would like to, you can learn more about the cookies we use here.