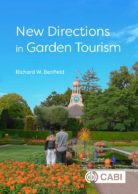 New Directions in Garden Tourism
By: Richard W Benfield, Central Connecticut State University, USA
December 2020 | ePub 9781789241785 | ePDF 9781789241778
December 2020 | Hardback | 208 Pages | 9781789241761
December 2020 | Paperback | 208 Pages | 9781789241754
Description
Following on from the success of Garden Tourism this latest offering New Directions in Garden Tourism provides an update on the statistics and growth of the global phenomenon of garden visitation. It delves in to new themes and contemporary trends, from art and culture, to psychographic profiling of visitors and how social media and semiotics are used to enrich visitor experience and fuel motivation.

In addition to new topics, the book also provides expansion of chapters previously touched upon in Garden Tourism such as the continued rise in urban gardens, events, and garden economics.

· Update on visitor statistics
· New case studies throughout
· Full colour images

This new book provides a wealth of information for garden managers and tourism students. It is written in an engaging-style that will also appeal to casual readers interested in gardens.
Readership
Practitioners, students and researchers interested in visitor attractions, gardens and tourism
Reviews
Have you read this book, or used it for one of your courses? We would love to hear your feedback. Email our reviews team to submit a review.