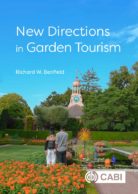 New Directions in Garden Tourism
By: Richard W Benfield, Formerly Central Connecticut State University, USA
December 2020 | Paperback | 216 Pages | 9781789241754
December 2020 | Hardback | 216 Pages | 9781789241761
December 2020 | ePDF 9781789241778 | ePub 9781789241785
Description
Following on from the success of Garden Tourism this latest offering New Directions in Garden Tourism provides an update on the statistics and growth of the global phenomenon of garden visitation. It delves in to new themes and contemporary trends, from art and culture, to psychographic profiling of visitors and how social media and semiotics are used to enrich visitor experience and fuel motivation.

In addition to new topics, the book also provides expansion of chapters previously touched upon in Garden Tourism such as the continued rise in urban gardens, events, and garden economics.

· Update on visitor statistics
· New case studies throughout
· Full colour images

This new book provides a wealth of information for garden managers and tourism students. It is written in an engaging-style that will also appeal to casual readers interested in gardens.
Table of contents
1: Introduction: Philosophy of New Directions in Garden Tourism
2: Gardens Around the World, 2013–2019
3: New Directions in Gardens
4: New Audiences for Gardens
5: The New Media Landscape
6: Tourists in the Garden; Human Health and Happiness and the Semiotics of Garden Visiting
7: Events and Festivals
8: Impacts of Botanic Gardens: Economic, Social, Environmental and Health
9: Urban Garden Tourism
10: Gardens and Historic Homes; New Directions in Historic Garden Tourism
11: Future Directions
12: The Effect of the Coronavirus on Garden Tourism
Readership
Practitioners, students and researchers interested in visitor attractions, gardens and tourism
Reviews
Have you read this book, or used it for one of your courses? We would love to hear your feedback. Email our reviews team to submit a review.
Like most websites we use cookies. This is to ensure that we give you the best experience possible. Continuing to use
CABI.org
means you agree to our use of cookies. If you would like to, you can learn more about the cookies we use
here
.
Privacy Overview
This website uses cookies to improve your experience while you navigate through the website. Out of these, the cookies that are categorized as necessary are stored on your browser as they are essential for the working of basic functionalities of the website. We also use third-party cookies that help us analyze and understand how you use this website. These cookies will be stored in your browser only with your consent. You also have the option to opt-out of these cookies. But opting out of some of these cookies may affect your browsing experience.