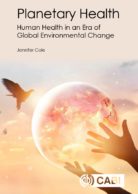 Planetary Health
Human Health in an Era of Global Environmental Change
By: Jennifer Cole, Royal Holloway, University of London UK
June 2019 | Paperback | 168 Pages | 9781789241648
June 2019 | ePDF 9781789241655 | ePub 9781789241662
Description
Planetary Health - the idea that human health and the health of the environment are inextricably linked - encourages the preservation and sustainability of natural systems for the benefit of human health. Drawing from disciplines such as public health, environmental science, evolutionary anthropology, welfare economics, geography, policy and organizational theory, it addresses the challenges of the modern world, where human health and well-being is threatened by increasing pollution and climate change.

A comprehensive publication covering key concepts in this emerging field, Planetary Health reviews ideas and approaches to the subject such as natural capital, ecological resilience, evolutionary biology, One Earth and transhumanism. It also sets out through case study chapters the main links between human health and environmental change, covering:

- Climate change, land use and waterborne infectious diseases.
- Sanitation, clean energy and fertilizer use.
- Trees, well-being and urban greening.
- Livestock, antibiotics and greenhouse gas emissions.

Providing an extensive overview of key theories and literature for academics and practitioners who are new to the field, this engaging and informative read also offers an important resource for students of a diverse range of subjects, including environmental sciences, animal sciences, geography and health.
Table of contents
Part 1: Introduction and Key Concepts

1: Introduction to Planetary Health
2: Key Concepts in Planetary Health

Part 2: Conceptual Frameworks for Planetary Health

3: The Evolutionary Biology Approach: a Natural Baseline for Human Health
4: The Natural Capital Approach: Opportunities and Challenges
5: The One Earth Approach: Planetary Health in an Era of Limits
6: The Transhuman Approach: Technoscience and Nature

Part 3: Human Health in an Era of Global Environmental Change

7: Trends in Human Health
8: The Demographic Transition
9: The Epidemiological Transition
10: The Ecological Transition
11: Agriculture: Land Use, Food Systems and Biodiversity
12: Urbanization, Living Standards and Sustainability
13: Energy Use, Greenhouse Gas Emissions and Global Warming
14: Environmental Protection: a Key Tool for Planetary Health
15: Conclusions: Equity, Distribution and Planetary Health

Part 4: Case Studies of Planetary Health

16: Climate Change, Land Use and Waterborne Infectious Disease
17: Sanitation, Clean Energy and Fertilizer
18: Trees, Well-being and Urban Greening
19: Livestock, Antibiotics and Greenhouse Gas Emissions
Readership
Suitable for policy makers and students interested in planetary health, as well as researchers of connected areas such as environmental science, animal science and health who are looking for an integrated overview of how these sectors intersect.
Reviews
Have you read this book, or used it for one of your courses? We would love to hear your feedback. Email our reviews team to submit a review.
Jennifer Cole studied biological anthropology at Cambridge University and has a PhD in Computer Science from Royal Holloway University of London. She worked in publishing from 1994-2007 and then as a Senior Research Fellow in a policy think tank from 2007-2017, where her portfolio covered cyber security, pandemic response and crisis communications. She returned to academic full-time in 2017 first with Oxford University and then Royal Holloway, where she is now based in the Geography Department, School of Life Sciences and the Environment. She has moderated major online disease outbreak discussion forums for Ebola, Zika, Nipah virus and COVID-19, is a regular media commentator, and was part of the first cohort to undertake World Health Organization Infodemic Manager training 2020.
Like most websites we use cookies. This is to ensure that we give you the best experience possible. Continuing to use
CABI.org
means you agree to our use of cookies. If you would like to, you can learn more about the cookies we use
here
.
Privacy Overview
This website uses cookies to improve your experience while you navigate through the website. Out of these, the cookies that are categorized as necessary are stored on your browser as they are essential for the working of basic functionalities of the website. We also use third-party cookies that help us analyze and understand how you use this website. These cookies will be stored in your browser only with your consent. You also have the option to opt-out of these cookies. But opting out of some of these cookies may affect your browsing experience.