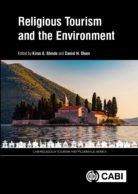 Religious Tourism and the Environment
Edited by: Kiran A Shinde, La Trobe University, Melbourne, Australia, Daniel H Olsen, Brigham Young University, USA
September 2020 | Hardback | 208 Pages | 9781789241600
$130.00 | £95.00 | €110.00
Description
The remarkable growth in religious tourism across the world has generated considerable interest in the impacts of this type of tourism. Focusing here on environmental issues, this book moves beyond the documentation of environmental impacts to examine in greater depth the intersections between religious tourism and the environment. Beginning with an in-depth introduction that highlights the intersections between religion, tourism, and the environment, the book then focuses on the environment as a resource or generator for religious tourism and as a recipient of the impacts of religious tourism. Chapters included discuss such important areas as theological views, environmental responsibility, and host perspectives.

Covering as many cultural and environmental regions as possible, this book provides:

-An in-depth yet holistic view of the relationships between religious tourism and the environment;
-A conceptual framework that goes beyond listing potential environment impacts;
-A strong focus on explaining the universality of the deeper environmental issues surrounding sacredness and sacred places;
-A discussion of the role of disease and health-related issues at mass religious gatherings.

From a global writing team and featuring case studies spanning Europe and Asia, this book will be of great interest to researchers and students of tourism and religious studies, as well as those studying environmental issues.
Table of contents
Chapter 1: The Environmental Impacts of Religious Tourism
Chapter 2: Pilgrimage, Religious Tourism, Biodiversity, and Natural Sacred Sites
Chapter 3: Managing the Environment in Religious Tourism Destinations: A Conceptual Model
Chapter 4: Human Sanctuaries Can Be Created Everywhere: Pilgrimage, Tourism, and Conservation in Vrindavan, India
Chapter 5: The Beyul: Sherpa Perspectives on Landscapes Characteristics and Tourism Development in Khumbu (Everest), Nepal
Chapter 6: Religious Tourism and Environmental Conservation in Lumbini, the Birthplace of Lord Buddha, World Heritage Site, Nepal
Chapter 7: Interreligious Dialogue: Trees, Stones, Water, and Interfaith Ritual Experiences in Lebanon
Chapter 8: Mimicking Mountains: Antoni Gaudí's Sagrada Família and the Mountain of Montserrat
Chapter 9: Disease and Health-Related Issues at Mass Religious Gatherings
Chapter 10: The Natural Environment and Waste Management at the Hajj
Chapter 11: The Effects of Natural Disasters on Religious Tourism Sites: Earthquakes in the Spiritual Heart of Italy
Chapter 12: Religion, the Environment, and Sacred Places: Lessons Learned and Future Directions
Reviews
Have you read this book, or used it for one of your courses? We would love to hear your feedback. Email our reviews team to submit a review.
Editor Bio
Dr Kiran A. Shinde is currently teaching at the University of Melbourne, Australia. He has been working in the field of religious tourism for more than 15 years. He has published over 40 scholarly papers on various aspects related to religious tourism including the environmental issues and spatiality of religious tourism, planning and management of destinations, cultural heritage and policies and governance. His papers appear in high-ranking journals including Urban Studies, Current Issues in Tourism, International Journal of Tourism Research, GeoForum, Space and Culture, and so on. He has contributed chapters in books published by reputable presses such as Elsevier, Routledge, SUNY Press, CABI, etc. Upon invitation by UNWTO, he has contributed to the Bethlehem Charter on Religious tourism. He is also on the Editorial Board of the International Journal of Religious Tourism and Pilgrimage. His qualifications include a PhD from Monash University, Australia; two Masters Degrees – one in Urban Management from Asian Institute of Technology, Thailand and one in Urban Planning from CEPT University, India. He has Bachelor's degree in Architecture from Pune University, India. He has worked in multidisciplinary areas and taught at several institutions in Australia, Thailand, Cambodia and India. He has presented his research at conferences in Canada, Turkey, Australia, Portugal, Singapore, UK, and US.
Dr Daniel H. Olsen is an Associate Professor in the Department of Geography at Brigham Young University in Provo, Utah, USA. His research interests revolve around religious and spiritual tourism, heritage tourism, and the management of sacred sites, with secondary research interests in tourism in peripheral areas and tourism and disabilities. He is co-editor of Religion, Tourism, and Spiritual Journeys (Routledge, 2006) and Religious Pilgrimage Routes and Trails (CABI, 2018), and has published over 40 journal articles and book chapters.
Like most websites we use cookies. This is to ensure that we give you the best experience possible. Continuing to use www.cabi.org means you agree to our use of cookies. If you would like to, you can learn more about the cookies we use here.