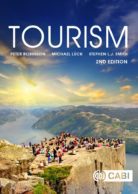 Tourism
2nd Edition
By: Peter Robinson, Leeds Beckett University, UK, Michael Lück, AUT University Auckland, New Zealand, Stephen Smith, University of Guelph, Canada
April 2020 | Hardback | 480 Pages | 9781789241488
$135.00 | £95.00 | €115.00
Description
Fully revised Tourism, 2nd edition covers aspects of tourism from a modern perspective, providing students with a range of theoretical and research-based explanations, supported by examples, case studies and unique insights from industry representatives.

The many facets of tourism management are presented in a style that is as relevant for 1st year students as it is for postgraduate students; offering introductory definitions and detailed discussions of contemporary issues recognising current teaching practice around the world.

Covering topics such as policy and planning, heritage management, leisure management, event management and hospitality management, the book tackles the practical elements of academic tourism such as infrastructure management and economic development, together with other important contemporary issues such as sustainable development and post tourists.
Table of contents
PART I: THE TOURISM INDUSTRY

Chapter 1: The Tourism Industry
Chapter 2: Economics of Tourism
Chapter 3: Tourism Employees
Chapter 4: The Tourist
Chapter 5: Tourism & Society
Chapter 6: The Travel Industry
Chapter 7: Tourism Geography
Chapter 8: The Tourism Destination
Chapter 9: Tourism Products

PART IV: TOURISM MANAGEMENT

Chapter 10: Business Management
Chapter 11: Managing Tourism
Chapter 12: Tourism Marketing
Chapter 13: Tourism Strategy

PART V: TOURISM DEVELOPMENT

Chapter 14: Tourism Policy & Planning
Chapter 15: Sustainable Development
Chapter 16: Tourism Futures
Readership
Fully revised major, all-encompassing undergraduate textbook on tourism and related industries.
Reviews
Have you read this book, or used it for one of your courses? We would love to hear your feedback. Email our reviews team to submit a review.
Editor Bio
Peter Robinson is Head of the Centre for Tourism and Hospitality Management at Leeds Beckett University. Prior to entering academia Peter gained experience in the public, private and voluntary sectors within tourism, hospitality and events management, including senior management roles with The National Trust and Derby University as Tourism Projects Manager overseeing a range of EU funded business support projects.

Peter has worked as a business development consultant (mainly within the leisure sector) with a number of high profile clients across the UK. Peter has gained experience developing businesses in the tourism, events, automotive, retail and IT sectors. He is currently a Trustee of the Carpet Museum in Kidderminster and Elvaston Castle and Gardens Trust.

He is a Member of The Tourism Society and The Tourism Management Institute, and a fellow of the Higher Education Academy The Institute for Travel and Tourism Management (and a member of the ITT Education an Training Committee). Peter is a Principal Fellow of the Higher Education Academy
– Michael Lück is a professor in the School of Hospitality and Tourism, and associate director for the coastal and marine tourism research programme at the New Zealand Tourism Research Institute, both at Auckland University of Technology, New Zealand. He is founding co-chair of the International Coastal & Marine Tourism Society (ICMTS). Michael has more than 10 years work experience in the tourism industry and his research interests include (marine) wildlife tourism, the cruise industry, ecotourism, interpretation and education on wildlife tours, the impacts of tourism, and aviation/transport. He has published in a number of international journals, is founding editor-in-chief of the academic journal Tourism in Marine Environments, Associate Editor of the Journal of Ecotourism and Human Dimensions of Wildlife, and editorial board member of Marine Policy and Frontiers. Michael has edited or co-edited ten volumes on ecotourism, marine and polar tourism, events and low cost airlines, as well as the Encyclopedia of Tourism and Recreation in Marine Environments (CABI), and co-authored the introductory text Tourism (CABI).
Stephen is a Professor of Tourism in the School of Hospitality, Food, and Tourism Management at the University of Guelph, Guelph, Ontario, Canada. He is also Professor Emeritus, University of Waterloo, Canada. His research interests include tourism statistics and economics, tourism informatics, tourism policy, and culinary tourism. He advises graduate students who are doing research in these areas and teaches research methods. He works with empirical ("quantitative"), subjective ("qualitative"), and mixed research designs. Steve is the author of numerous articles in scholarly journals as well as several books. He is past-Chair of the Canadian Tourism Commission's Research Committee and past-Chair of the Canadian Tourism Human Resources Council's Research Committee. He is an Elected Fellow of the International Statistical institute, past-Chair of their Committee on Statistics in Travel and Tourism, an Elected Fellow of the International Academy for the Study of Tourism, and a member Travel and Tourism International Research Association, and Slow Food International. Stephen consults with various local provincial, national, and international government and not-for-profit agencies.
Like most websites we use cookies. This is to ensure that we give you the best experience possible. Continuing to use www.cabi.org means you agree to our use of cookies. If you would like to, you can learn more about the cookies we use here.