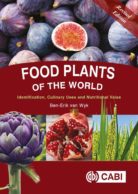 Food Plants of the World
Identification, Culinary Uses and Nutritional Value
By: Ben-Erik van Wyk, University of Johannesburg, South Africa
July 2019 | Hardback | 520 Pages | 9781789241303
Description
Food Plants of the World is a comprehensive overview of the commercially important plants that provide us with food, beverages, spices and flavours. It includes descriptions of around 380 food and flavour plants and their close relatives. For each plant, the following information is given: plant description, origin & history, cultivation & harvesting, culinary uses & properties, and nutritional value.

This revised edition is thoroughly updated throughout, and includes around 30 additional species, as well as an introduction to functional foods.

This is an indispensable reference guide for anyone interested in the botanical origin of food ingredients and flavours.
Table of contents
0: (Contents of current edition)
1: Preface
2: Intro
3: Regions of origin
4: Cereals
5: Pulses (legumes)
6: Nuts and seeds
7: Fruits
8: Vegetables
9: Culinary herbs
10: Sugars, gums, gels and starches
11: Beverages
12: Spices and flavours
13: The plants in alphabetical order
14: Nutrients, diets and health
15: Quick guide to food plants
16: Glossary
17: Further reading
Readership
Suitable for researchers and students in botany, horticulture and food science, as well as anyone interested in plants and / or food who may want to use the book as an illustrated mini encyclopaedia.
Reviews
Have you read this book, or used it for one of your courses? We would love to hear your feedback. Email our reviews team to submit a review.
Like most websites we use cookies. This is to ensure that we give you the best experience possible. Continuing to use
CABI.org
means you agree to our use of cookies. If you would like to, you can learn more about the cookies we use
here
.
Privacy Overview
This website uses cookies to improve your experience while you navigate through the website. Out of these, the cookies that are categorized as necessary are stored on your browser as they are essential for the working of basic functionalities of the website. We also use third-party cookies that help us analyze and understand how you use this website. These cookies will be stored in your browser only with your consent. You also have the option to opt-out of these cookies. But opting out of some of these cookies may affect your browsing experience.