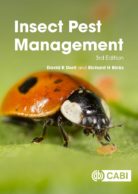 Insect Pest Management
3rd Edition
By: David Dent, Dent Associates Ltd, UK, Richard Binks, FreshTec, UK
November 2020 | ePub 9781789241075 | ePDF 9781789241068
November 2020 | Hardback | 378 Pages | 9781789241051
November 2020 | Paperback | 378 Pages | 9781789241044
Description
An undergraduate and postgraduate textbook covering the key principles, methodologies, approaches and practical examples of insect pest management in agricultural, post harvest systems, horticulture, insect vectors and medical and veterinary entomology. The book covers the underpinning monitoring and forecasting of pest outbreaks, yield loss and impact assessments and all of the latest methods of control and management of insects from insecticides, host manipulation, plant resistance, biological control, use of interference, agronomic and precision control methods as well as socio-economic and research management aspects of developing integrated approaches to pest management. The new edition also reflects the key advances made in the disciplines of molecular biology, biochemistry and genomics related to insects and their management, as well as the importance and role of biodiversity, climate change, precision agriculture, data management and sustainability of production and supply in delivering integrated management solutions.
Table of contents
1: Introduction
2: Sampling, Monitoring and Forecasting
3: Yield Loss
4: Insecticides
5: Host Plant Resistance
6: Biological Control
7: Cultural and Interference Methods
8: Legislation, Codes of Conduct and Conventions
9: Programme Design, Management and Implementation
10: Driving Forces and Future Prospects for IPM
Readership
Final year undergraduate and postgraduate students (MSc and PhD) of entomology, crop protection and sustainable pest management; academics involved in sustainable and integrated pest management in agriculture, horticulture, post harvest storage, medical and verterinary entomology.
Reviews
Have you read this book, or used it for one of your courses? We would love to hear your feedback. Email our reviews team to submit a review.
David trained as an agricultural ecologist/entomologist, has invented and commercialized a herbicide adjuvant, managed the development and licensing of the biopesticide Green Muscle for locust control, established the spin-out company Conidia Bioscience Ltd to develop a diagnostic kit for the airline fuel fungus and realized the commercial opportunity offered by a nitrogen fixing endophytic bacteria for substitution of nitrogen fertilizer that lead to the founding of Azotic Technologies Ltd. A former MD of CABI Bioscience, David has a wealth of experience managing international science-based and commercial projects, establishing, raising funds for, and working in spin-out companies, as well advising governments and business on science, technology and innovation.
Richard trained as an applied biologist and has spent over 25 years working as an IPM specialist and entomologist in horticulture and agriculture. This included 6 years working with ADAS as an entomologist and crop advisor. Richard is the Managing Director of FreshTec, an Agrotec consultancy business based near Cambridge in the UK. Richard works with international companies that support farmers and growers including Koppert Biological Systems (UK) Ltd where he works with horticultural businesses, helping growers manage and develop bespoke Integrated Pest Management systems. Richard also works with a range of businesses involved in the food chain including fresh produce businesses that supply food retailers.
Like most websites we use cookies. This is to ensure that we give you the best experience possible. Continuing to use
CABI.org
means you agree to our use of cookies. If you would like to, you can learn more about the cookies we use
here
.
Privacy Overview
This website uses cookies to improve your experience while you navigate through the website. Out of these, the cookies that are categorized as necessary are stored on your browser as they are essential for the working of basic functionalities of the website. We also use third-party cookies that help us analyze and understand how you use this website. These cookies will be stored in your browser only with your consent. You also have the option to opt-out of these cookies. But opting out of some of these cookies may affect your browsing experience.