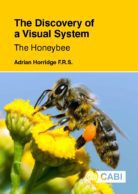 The Discovery of a Visual System - The Honeybee
By: Adrian Horridge, Formerly of The Australian National University, Canberra
May 2019 | Hardback | 296 Pages | 9781789240894
May 2019 | ePDF 9781789240900 | ePub 9781789240917
£87.15 | €102.50 | $123.00
Description
This book is the only account of what honeybees actually see. Bees detect some visual features such as edges and colours, but there is no sign that they reconstruct patterns or put together features to form objects. Bees detect motion but have no perception of what it is that moves, and certainly they do not recognize "things" by their shapes. Yet they clearly see well enough to fly and find food with a minute brain. Bee vision is therefore relevant to the construction of simple artificial visual systems, for example for mobile robots. The surprising conclusion is that bee vision is adapted to the recognition of places, not things. In this volume, Adrian Horridge also sets out the curious and contentious history of how bee vision came to be understood, with an account of a century of neglect of old experimental results, errors of interpretation, sharp disagreements, and failures of the scientific method. The design of the experiments and the methods of making inferences from observations are also critically examined, with the conclusion that scientists are often hesitant, imperfect and misleading, ignore the work of others, and fail to consider alternative explanations. The erratic path to understanding makes interesting reading for anyone with an interest in the workings of science but particularly those researching insect vision and invertebrate sensory systems.
Table of contents
1: The Difficult Birth of Honeybee Colour Vision
2: No Way to Untie the Spell
3: Innovation, Deep Thought and Hard Work
4: The Fundamentals of the Insect Compound Eye
5: How Bees Distinguish Colours and Modulation
6: Feature Detectors, Cues, Resolution, Preferences and Coincidences
7: Symmetry and Asymmetry: Signposts in Route Finding
8: Bee Vision is Not Adapted for Pattern or Shape
9: The Visual Control of Flight
10: The Route to the Goal and Back Again
11: What Was Not Mentioned
12: What We Learned
Readership
Suitable for Insect physiologists working on vision. Entomologists generally and invertebrate zoologist.
Reviews
Have you read this book, or used it for one of your courses? We would love to hear your feedback. Email our reviews team to submit a review.
Like most websites we use cookies. This is to ensure that we give you the best experience possible. Continuing to use
CABI.org
means you agree to our use of cookies. If you would like to, you can learn more about the cookies we use
here
.
Privacy Overview
This website uses cookies to improve your experience while you navigate through the website. Out of these, the cookies that are categorized as necessary are stored on your browser as they are essential for the working of basic functionalities of the website. We also use third-party cookies that help us analyze and understand how you use this website. These cookies will be stored in your browser only with your consent. You also have the option to opt-out of these cookies. But opting out of some of these cookies may affect your browsing experience.