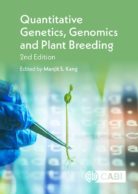 Quantitative Genetics, Genomics and Plant Breeding
2nd Edition
Edited by: Manjit Kang, Kansas State University, USA
March 2020 | Hardback | 416 Pages | 9781789240214
$175.00 | £125.00 | €150.00
Description
Since the first edition of this book was published in 2002, the field of quantitative genetics, genomics and breeding has changed markedly. In response, only four chapters have been updated for this new edition, and the remaining 16 chapters are entirely new.

This book presents state-of-the-art, authoritative chapters on contemporary issues in the broad areas of quantitative genetics, genomics and plant breeding. Section 1 (Chapters 2 to 12) emphasizes the application of genomics, and genome and epigenome editing techniques, in plant breeding; bioinformatics; quantitative trait loci mapping; and the latest approaches of examining and exploiting genotype-environment interactions. Section 2 (Chapters 13 to 20) represents the intersection of breeding, genetics and genomics. This section describes the use of cutting-edge molecular breeding and quantitative genetics techniques in wheat, rice, maize, root and tuber crops and pearl millet. Overall, the book focuses on using genomic information to help evaluate traits that can combat biotic/abiotic stresses, genome-wide association mapping, high-throughput genotyping/phenotyping, biofortification, use of big data, orphan crops, and gene editing techniques. The examples featured are taken from across crop science research and cover a wide geographical base.

This book contains:
chapters by expert authors from six continents;
state-of-the-art information on topical areas relative to crop improvement;
coverage of genome-editing techniques.
Table of contents
1: Vignettes of the History of Genetics

Part I: Quantitative Genetics, Genomics and Bioinformatics

2: Developments in Genomics Relative to Abiotic Stress-Tolerance Breeding in Maize during the Past Decade
3: Quantitative Genetics, Molecular Techniques and Agronomic Performance of Provitamin-A Maize in sub-Saharan Africa
4: Quantitative Genetics in Improving Root and Tuber Crops
5: Novel Breeding Approaches for Developing Climate-resilient Rice
6: Genomic Selection in Rice: Empirical Results and Implications for Breeding
7: Exploiting Alien Genetic Variation for Germplasm Enhancement in Brassica Oilseeds
8: Advances in QTL Mapping and Cloning
9: Bioinformatics and Plant Breeding
10: The Importance of Plant Pan-genomes in Breeding
11: Bioinformatics Approaches for Pathway Reconstruction in Orphan Crops — A New Paradigm
Part II: Breeding, Genome - Epigenome Editing and G × E Interaction
12: Food and Health: The Role of Plant Breeding
13: Biofortified Pearl Millet Cultivars Offer Potential Solution to Tackle Malnutrition in India
14: Genome Editing Technologies for Crop Improvement
15: Epigenome Editing in Crop Improvement
16: Genotype–Environment Interaction and Stability Analyses: An Update
17: Prediction with Big Data in the Genomic and High-throughput Phenotyping Era: A Case Study with Wheat Data
18: Design and Analysis of Multi-Year Field Trials for Annual Crops
19: Advances in the Definition of Adaptation Strategies and Yield-stability Targets in Plant Breeding
20: Biplot Analysis of Multi-environment Trial Data
Readership
Researchers and teachers and graduate/post-graduate students engaged in genetics/crop breeding/genomics/quantitative genetics
Reviews
Have you read this book, or used it for one of your courses? We would love to hear your feedback. Email our reviews team to submit a review.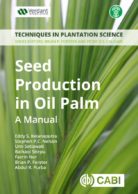 Seed Production in Oil Palm
By: Eddy S Kelanaputra, Stephen P. C. Nelson, Umi Setiawati, Baihaqi Sitepu, Fazrin Nur, Brian Forster, Abdul R. Purba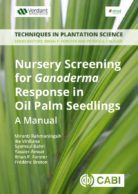 Nursery Screening for Ganoderma Response in Oil Palm Seedlings
By: Miranti Rahmaningsih, Ike Virdiana, Syamsul Bahri, Yassier Anwar, Brian Forster, Frédéric Breton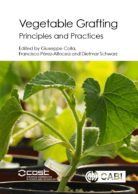 Vegetable Grafting
Edited by: Giuseppe Colla, Francisco Pérez-Alfocea, Dietmar Schwarz
$144.00 | £87.50 | €113.00
Like most websites we use cookies. This is to ensure that we give you the best experience possible. Continuing to use www.cabi.org means you agree to our use of cookies. If you would like to, you can learn more about the cookies we use here.