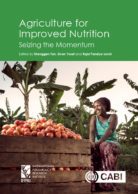 Agriculture for Improved Nutrition
Seizing the Momentum
Edited by: Shenggen Fan, International Food Policy Research Institute (IFPRI), Sivan Yosef, IFPRI, Rajul Pandya-Lorch
January 2019 | Hardback | 232 Pages | 9781786399311
March 2019 | ePDF 9781786399328 | ePub 9781786399335
£87.15 | €112.75 | $143.50
Description
Agriculture's vast potential to improve nutrition is just beginning to be tapped. New ideas, research, and initiatives developed over the past decade have created an opportunity for reimagining and redesigning agricultural and food systems for the benefit of nutrition. To support this transformation, this book reviews the latest findings, results from on-the-ground programs and interventions, and recent policy experiences from countries around the world that are bringing the agriculture and nutrition sectors closer together. Drawing on IFPRI's own work and that of the growing agriculture-nutrition community, this book strengthens the evidence base for, and expands our vision of, how agriculture can contribute to nutrition. Chapters cover an array of issues that link agriculture and nutrition, including food value chains, nutrition-sensitive programs and policies, government policies, and private sector investments. By highlighting both achievements and setbacks, Agriculture for Improved Nutrition seeks to inspire those who want to scale up successes that can transform food systems and improve the nutrition of billions of people.

Key features:
-Investigates the latest evidence on the relationship between agriculture and nutrition.
-Includes insights from internationally renowned researchers.
-Presents data from real-world settings that is highly relevant to the challenges faced by developing countries.

This book is ideal for policy-makers, practitioners, and students working in agriculture, international development and nutrition.
Table of contents
1: Seizing the Momentum to Reshape Agriculture for Nutrition
2: Agriculture for Nutrition: Direct and Indirect Effects
3: Food Value Chains for Nutrition
4: Biodiversity: an Essential Natural Resource for Improving Diets and Nutrition
5: Improving Nutrition Through Biofortification
6: Women in Agriculture and the Implications for Nutrition
7: Nutritional Ecology: Understanding the Intersection of Climate/Environmental Change, Food Systems and Health
8: Reshaping Agriculture to Reduce Obesity
9: New Evidence on Nutrition-sensitive Agricultural Programs
10: Safety Nets for Agriculture and Nutrition
11: How Can Businesses Operating in the Food System Accelerate Improvements in Nutrition?
12: Governance and Leadership in Agri-food Systems and Nutrition
13: Building Capacity to Link Agriculture and Nutrition
14: Big Data in Agriculture and Nutrition
15: Diversifying Rice-centric Agriculture and Diets: the Bangladesh Experience
16: Moving Towards Nutrition-sensitive Agriculture Strategies and Programming in Ethiopia
17: Unraveling India's Malnutrition Dilemma: a Path Toward Nutrition-sensitive Agriculture
18: Moving Beyond Maize: the Evolution of Malawi's Agriculture–Nutrition Policy Dialogue
19: China's Road to a Nutrition-driven Agricultural and Food System
20: The Way Forward for Nutrition-driven Agriculture
Reviews
Have you read this book, or used it for one of your courses? We would love to hear your feedback. Email our reviews team to submit a review.
Shenggen Fan has been director general of the International Food Policy Research Institute (IFPRI) since 2009. Dr. Fan joined IFPRI in 1995 as a research fellow, conducting extensive research on pro-poor development strategies in Africa, Asia, and the Middle East. He led IFPRI's program on public investment before becoming the director of the Institute's Development Strategy and Governance Division in 2005. He is one of the Champions of Target 12.3 of the Sustainable Development Goals, dedicated to inspiring ambition, mobilizing action, and accelerating progress toward cutting global food loss and waste. He serves as a member of the Lead Group for the Scaling Up Nutrition (SUN) Movement appointed by UN Secretary General Ban Ki Moon. He advises many national governments (including China and Vietnam) on agriculture, food security and nutrition. In 2014, Dr. Fan received the World Food Program Hunger Hero Award from the UN Secretary General.
Sivan Yosef is a senior program manager at IFPRI. She joined IFPRI in 2008 and works on special projects through the Director General's Office. These included 2020 Vision Initiative's global policy conferences, including "Leveraging Agriculture for Improving Nutrition and Health" (New Delhi 2011) and "Building Resilience for Food & Nutrition Security (Addis Ababa 2014). Other projects include the IFPRI 2013-2018 Strategy, Global Food Policy Reports, Transform Nutrition, LANSA, and the Knowledge for Implementation and Impact Initiative.
Rajul Pandya-Lorch has been chief of staff in the Director General's Office of IFPRI since 2005 and currently also serves as acting director of IFPRI's Communications and Knowledge Management division. From 1998 to 2017, Rajul served as head of IFPRI's 2020 Vision for Food, Agriculture, and the Environment Initiative, a global initiative that seeks to identify solutions for meeting world food needs while reducing poverty and protecting the environment. She has facilitated five major international conferences. Other major projects she has led include "Millions Fed: Proven Successes in Agricultural Development" for which she received the Agricultural and Applied Economics Association (AAEA)'s 2010 Quality of Communication Award. She has also received the American Agricultural Economics Association's 2002 award for Distinguished Policy Contribution.
Like most websites we use cookies. This is to ensure that we give you the best experience possible. Continuing to use
CABI.org
means you agree to our use of cookies. If you would like to, you can learn more about the cookies we use
here
.
Privacy Overview
This website uses cookies to improve your experience while you navigate through the website. Out of these, the cookies that are categorized as necessary are stored on your browser as they are essential for the working of basic functionalities of the website. We also use third-party cookies that help us analyze and understand how you use this website. These cookies will be stored in your browser only with your consent. You also have the option to opt-out of these cookies. But opting out of some of these cookies may affect your browsing experience.