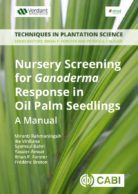 Nursery Screening for Ganoderma Response in Oil Palm Seedlings
A Manual
By: Miranti Rahmaningsih, Verdant Bioscience, Indonesia, Ike Virdiana, Verdant Bioscience, Indonesia, Syamsul Bahri, Verdant Bioscience, Indonesia, Yassier Anwar, Verdant Bioscience, Indonesia, Brian Forster, Verdant Bioscience, Indonesia, Frédéric Breton, Cirad, France
September 2018 | Paperback | 96 Pages | 9781786396242
September 2018 | ePDF 9781786396259 | ePub 9781786396266
Series : Techniques in Plantation Science
Description
This is a hands-on, practical guide covering seedling screening for disease response in oil palm for pathology, breeding and genetics. Oil palm is the top oil crop in the world and Ganoderma is the most devastating disease of oil palm. The authors are all actively engaged in oil palm seed production and breeding and bring together the many aspects of seedling disease testing in to one integrated manual.

Presenting sound practices based on scientific innovation and knowledge, this guide provides techniques integrated with expertise and also looks towards future possibilities. Promoting green, eco-friendly agriculture, this book covers:

Health and safety considerations
Media preparation for in vitro culture
Collecting isolates and culture preparation
Preparation of Ganoderma inoculum
Nursery inoculation
Scoring response

Based on experience and protocols, this is an invaluable manual for students and researchers in agriculture, plant breeders, growers, traders and production companies interested in the practicalities of oil palm pathology. It provides a resource for training, a knowledge base for people new to oil palm and a reference guide for managers, to ensure best practices in maximising sustainability and production of this important crop.
Table of contents
1: Introduction
2: Health and Safety Considerations
3: Media Preparation for In Vitro Culture of Ganoderma
4: Collecting Ganoderma Isolates and Culture Preparation
5: Preparation of Ganoderma Inoculum
6: Nursery Inoculation
7: Scoring Response to Ganoderma
8: Future Possibilities
Readership
Suitable for oil palm pathologist, breeders, seed producers and plantation companies, oil palm traders, academics, oil palm seed producing companies and research institutes
Reviews
Have you read this book, or used it for one of your courses? We would love to hear your feedback. Email our reviews team to submit a review.
Like most websites we use cookies. This is to ensure that we give you the best experience possible. Continuing to use
CABI.org
means you agree to our use of cookies. If you would like to, you can learn more about the cookies we use
here
.
Privacy Overview
This website uses cookies to improve your experience while you navigate through the website. Out of these, the cookies that are categorized as necessary are stored on your browser as they are essential for the working of basic functionalities of the website. We also use third-party cookies that help us analyze and understand how you use this website. These cookies will be stored in your browser only with your consent. You also have the option to opt-out of these cookies. But opting out of some of these cookies may affect your browsing experience.