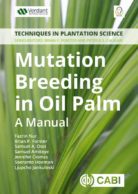 Mutation Breeding in Oil Palm
A Manual
By: Fazrin Nur, Verdant Bioscience, Indonesia, Brian Forster, Verdant Bioscience, Indonesia, Samual A. Osei, Oil Palm Research Institute, Ghana, Samuel Amiteye, Ghana Atomic Energy Commission, Ghana, Jennifer Ciomas, Verdant Bioscience, Indonesia, Soeranto Hoeman, National Nuclear Energy Agency (BATAN), Indonesia, Ljupcho Jankuloski, FAO/IAEA, Austria
September 2018 | Paperback | 96 Pages | 9781786396211
September 2018 | ePDF 9781786396228 | ePub 9781786396235
Series : Techniques in Plantation Science
Description
This is a practical guide to mutation breeding in oil palm, representing completely novel work supported by the Plant Breeding and Genetics Section of the Joint FAO/IAEA Division (Vienna, Austria). Oil palm is the top oil crop and the only major crop and only oil crop not to have been improved by plant mutation breeding. The manual is hands-on, providing step-by-step illustrated methods in mutation induction, mutation detection and mutant line development for oil palm improvement.

Presenting sound practices based on scientific innovation and knowledge, this guide provides techniques integrated with expertise and is authored by practitioners actively engaged in oil palm seed production and breeding. Promoting green, eco-friendly agriculture, this book features coverage of:

Radio-sensitivity testing

Challenges and opportunities for mutation breeding

Protocol for developing mutant generations for mutant screening

Services in irradiation treatments

The only available resource containing protocols and guidelines on how oil palm can be manipulated for mutation breeding, this book is essential reading for oil palm breeders, seed producers and plantation companies, oil palm traders, students and research institutes across the world. It provides a resource for training, a knowledge base for people new to oil palm and a reference guide for managers, to ensure best practices in maximising sustainability and production of this important crop.
.
Table of contents
1: Introduction
2: Health and Safety Considerations and Guidelines
3: Radio-sensitivity Testing
4: Options for Mutation Breeding in Oil Palm
5: Protocol for Developing Mutant Generations for Mutant Selection
6: Services in Irradiation Treatments
Readership
Suitable for Oil palm breeders, seed producers and plantation companies, oil palm traders, academics and research institutes
Reviews
Have you read this book, or used it for one of your courses? We would love to hear your feedback. Email our reviews team to submit a review.
Ljupcho Jankuloski is currently Technical Officer in Plant Breeding and Genetics at the Joint FAO/IAEA Division of the United Nations. Ljupcho is a plant breeder / geneticist, and prior his IAEA role he was Associate Professor of Plant Genetics and Breeding at Ss. Cyril and Methodius University in Skopje, North Macedonia.
Like most websites we use cookies. This is to ensure that we give you the best experience possible. Continuing to use
CABI.org
means you agree to our use of cookies. If you would like to, you can learn more about the cookies we use
here
.
Privacy Overview
This website uses cookies to improve your experience while you navigate through the website. Out of these, the cookies that are categorized as necessary are stored on your browser as they are essential for the working of basic functionalities of the website. We also use third-party cookies that help us analyze and understand how you use this website. These cookies will be stored in your browser only with your consent. You also have the option to opt-out of these cookies. But opting out of some of these cookies may affect your browsing experience.