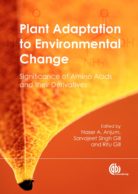 Plant Adaptation to Environmental Change
Significance of Amino Acids and their Derivatives
Edited by: Naser A Anjum, Sarvajeet Singh Gill, MD University, India, Ritu Gill, MD University, India
October 2019 | Paperback | 344 Pages | 9781786395252
January 2014 | Hardback | 344 Pages | 9781780642734
Description
Plants constantly cope with unfavourable ecosystem conditions, which often prevent them reaching their full genetic potential in terms of growth, development and productivity. This book covers plants' responses to these environmental changes, namely, the modulation of amino acids, peptides and amines to combat both biotic and abiotic stress factors. Bringing together the most recent developments, this book is an important resource for researchers and students of crop stress and plant physiology.
Table of contents
Part I: Introduction
1: Environmental Change, and Plant Amino Acids and their Derivatives – An Introduction
Part II: Amino Acids and Peptides, and Plant Stress Adaptation
2: 5-Aminolevulinic Acid (5-ALA) – A Multifunctional Amino Acid as a Plant Growth Stimulator and Stress Tolerance Factor
3: Cysteine – Jack of All Glutathione-based Plant Stress Defence Trades
4: Amino Acids and Drought Stress in Lotus: Use of Transcriptomics and Plastidic Glutamine Synthetase Mutants for New Insights in Proline Metabolism
5: Modulation of Proline: Implications in Plant Stress Tolerance and Development
6: Target Osmoprotectants for Abiotic Stress Tolerance in Crop Plants – Glycine Betaine and Proline
Part III: Amines and Brassinosteroids, and Plant Stress Adaptation
7: Polyamines as Indicators and as Modulators of the Abiotic Stress in Plants
8: Polyamines in Stress Protection – Applications in Agriculture
9: Functional Role of Polyamines and Polyamine-metabolizing Enzymes during Salinity, Drought and Cold Stresses
10: Regulatory Role of Polyamines in Growth, Development and Abiotic Stress Tolerance in Plants
11: Polyamines – Involvement in Plant Stress Tolerance and Adaptation
12: Role of Polyamines in Plant–Pathogen Interactions
13: Role of Polyamines in Stress Management
14: Polyamines in Plant In Vitro Culture
15: Betaines and Related Osmoprotectants – Significance in Metabolic Engineering of Plant Stress Resistance
16: Brassinosteroids' Role for Amino Acids, Peptides and Amines Modulation in Stressed Plants – A Review
Part IV: Appraisal and Perspectives
17: Plant Adaptation to Environmental Change, and Significance of Amino Acids and their Derivatives – Appraisal and Perspectives"
Reviews
Have you read this book, or used it for one of your courses? We would love to hear your feedback. Email our reviews team to submit a review.
Like most websites we use cookies. This is to ensure that we give you the best experience possible. Continuing to use www.cabi.org means you agree to our use of cookies. If you would like to, you can learn more about the cookies we use here.