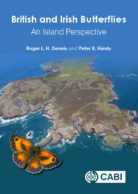 British and Irish Butterflies
An Island Perspective
By: Roger L H Dennis, Oxford Brookes University, Staffordshire University and NERC Centre for Ecology and Hydrology, UK, Peter B Hardy, Greater Manchester Regional Recorder for Butterfly Conservation, UK
July 2018 | Hardback | 406 Pages | 9781786395061
$125.00 | £75.00 | €100.00
Description
Islands are special places; they can be havens for unique plants and animals and refuges for wildlife. This book investigates the biogeography of butterfly species over the British islands, particularly the factors that influence their presence on the islands and that have made each island's butterfly fauna distinctive. The book contains a full log of records of species on the islands and much supporting information. The first three chapters set the scene, illustrating the basics of island biogeography theory, their changing circumstances during the current Holocene interglacial, and studies of natural history of British butterflies that mark the islands as the most intensively studied region for wildlife in the world. The book advances by increasing resolution downscale from a European continental perspective, through patterns and changes on the British mainland, a comparison of the two dominant islands of Britain and Ireland, to a close inspection of the dynamics of species on the multitude of offshore islands. Detailed investigations include contrasts in species' richness on the islands and then of the incidences of each species. Case studies highlight the continual turnover of species on islands. Attention is then given to evolutionary changes since the time that glaciers enveloped Europe. A powerful message is conveyed for the maintenance of butterfly species on the smaller British islands now experiencing population losses at a rate unprecedented since the spread of the last ice sheets: the incontrovertible importance of maintaining populations of species on nearby mainland sources for islands as pools for future migrants.

This book is enhanced with supporting material. To access the Online Supplementary Appendices below, please visit: http://www.cabi.org/openresources/95061.

Supplementary Appendices Chapter 3
3.1a A copy of Dennis and Shreeve (1996) Butterflies on British and Irish Offshore Islands: Ecology and
Biogeography. Gem Publishing Company, Wallingford, Oxon
3.1b The main data file for British and Irish offshore islands
3.2 Basic ecological and life history data used to build the indices for migration capacity and colonization ability

Supplementary Appendices Chapter 4
4.1 Contemporary Geography Study of British Butterflies: Data
4.2 Contemporary Geography Study of British Butterflies:
Analyses

Supplementary Appendices Chapter 5
5.1a The European Islands Data File: Recent Sources
5.1b The European Islands Data File: Butterfly Records
5.1c The European Islands Data File: Geographical Data
5.2 Comparison of British and Irish Species Distributions

Supplementary Appendices Chapter 6
6.1a Species Incidences on Offshore Islands:
Logit Regression Analyses
6.1b Species Incidences on Offshore Islands: Discriminant Function Analyses
6.2 Species Richness and Incidences on Offshore Islands: Predictions

Supplementary Appendix Chapter 7
7.1 Records and Data for the Isle of Man
Table of contents
1: Basics of Island Biogeography
2: The British Islands: a Geological and Historical Outline
3: Island Butterflies: Understanding and Interpreting Records
4: British and Irish Butterfly Species: Links and Gradients
5: Island Associations and Species Affinities: Geographical Influences
6: Assessing the Status of Individual Species on Islands: from Geography to Ecology
7: Changing Patterns of Species Incidences on Islands
8: British and Irish Islands: an Evolutionary Vantage
9: Island Studies: a Glance Back and the View Ahead
Readership
Suitable for entomologists, ecologists and conservationists at graduate student, researcher and pracitioner level. and amateur entomologists/naturalists and butterfly enthusiasts.
Reviews
This is an excellent book. The authors should be congratulated for producing such an in-depth analysis of the British and Irish butterfly fauna. This book is not only for anyone interested in British and Irish butterflies but should also be essential reading for students of island ecology and biogeography. - Geoff Martin
Dennis and Hardy express their aim as to encourage thorough observations on butterflies and provide material for future research. They envisage their book as little more than a starting point, but it is of course so much more than this. It will be impossible to look at island butterflies in the same way after reading this book. It is a must for anyone interested in butterflies. - Adrian Spalding
There is a tremendous amount to be learnt from this book, not just about island faunas, but about butterflies and their ecology altogether, with the bonus of all those interesting case studies and other snippets. - Charles Turner
...overall it's an epic piece of work that adds massive value to our understanding of British butterflies and more importantly island biogeography as a whole... It will now take pride of place on my butterfly bookshelves! - Richard H. ffrench-Constant
The text is very readable for such a technical book and is clearly presented. Delightful, comprehensive, colourful and really understandable figures compliment the text. This book is a major contribution to studies of the diurnal Lepidoptera of the greater British Isles. - Trevor Wilson FLS
Editor Bio
– Roger Dennis has spent 50 years researching into butterfly ecology, biogeography and conservation during which he has produced over 220 publications. His previous book on a 'Resource-based View for Conservation' received the British Ecological Society's Book of the Year in 2012. A Fellow of the Linnean Society and the Royal Entomological Society, he is currently an Honorary Research Fellow at the NERC's Centre for Ecology and Hydrology, Wallingford, and an Honorary Professor at Staffordshire University and at Oxford Brookes University.
– Peter Hardy is a retired civil servant and has travelled widely in his passion for Lepidoptera that developed in his school days. He is the Greater Manchester regional co-ordinator for Butterfly Conservation's Butterflies for the New Millennium atlas recording scheme, for which he received a Butterfly Conservation Outstanding Volunteer Award in 2014, and is author of some 50 scientific papers on butterfly ecology, including a book on the butterflies of Greater Manchester and, as the leading author, a book on the butterflies of the Philippines, where he lived from 2000 to 2002.
Like most websites we use cookies. This is to ensure that we give you the best experience possible. Continuing to use www.cabi.org means you agree to our use of cookies. If you would like to, you can learn more about the cookies we use here.