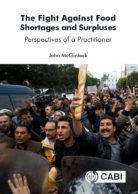 The Fight Against Food Shortages and Surpluses
Perspectives of a Practitioner
By: John McClintock, ACTION for Food Reserves, Belgium
October 2020 | Hardback | 200 Pages | 9781786394842
November 2021 | Paperback | 200 Pages | 9781800621213
October 2020 | ePDF 9781786394859 | ePub 9781786394866
£97.40 | €112.75 | $133.25
Description
The price of food commodities - such as wheat, corn and rice - is unstable. It can suddenly shoot up, making food unaffordable for millions of people around the world, bringing hunger and famine. A shortage may be due to bad weather or to a human pandemic which disrupts the food system. The other side of the volatility coin is a grain surplus - too much grain on the market. A grain surplus can cause food prices to rapidly fall, wiping out the profits of farming families and jeopardising their livelihoods. The whole world would be better off if commodity prices were more stable.

The challenge is for governments to manage food and farming so that there are neither food shortages nor food surpluses. This book explores how governments can do this and uses theory and evidence to address major ideologies and global problems anew by:
- Exploring the causes, consequence and potential for moderation of food price volatility.
- Evaluating the various policy tools that have been proposed to eliminate hunger and reduce volatility.
- Concluding with a practical strategy to moderate volatility - grain buffer stocks.
In so doing the book addresses a core question: how can prices be managed for the benefit of consumers and farmers without impairing the efficiency of the market?

Authored by an agricultural economist with thirty years of practical experience in farm policy, this book will assist governments in the design of their food and agricultural policies. Requiring no prior knowledge of economics, it is essential reading for students, researchers and policy makers in the areas of economics, international and sustainable development, agriculture, and food security.
Table of contents
Chapter 1: Introduction
Chapter 2: Grain in the world
Chapter 3: The pattern of grain prices
Chapter 4: The root cause of unstable grain prices
Chapter 5: Unstable grain prices – who wins? who loses?
Chapter 6: Stabilising grain prices in a closed economy
Chapter 7: A model of the international grain market
Chapter 8: Stabilising grain prices in an open economy
Chapter 9: Buffer stocks – technical and legal aspects
Chapter 10: Attitudes towards price stabilisation and buffer stocks
Chapter 11: Conclusion
Readership
Suitable for students, academics and practitioners of economics, economic development, trade, sustainable development, agriculture, food studies and security, food policy, agricultural economics, international economics and international relations.
Reviews
Have you read this book, or used it for one of your courses? We would love to hear your feedback. Email our reviews team to submit a review.
John McClintock is an agricultural economist (Reading and Oxford universities, Ecole Nationale Supérieure Agronomique, Montpellier). He has worked in a number of developing and European countries and for the European Commission. He is the founder of ACTION for Food Reserves, a non-governmental organisation in Brussels that seeks to promote stable grain prices and the use of buffer stocks.
Like most websites we use cookies. This is to ensure that we give you the best experience possible. Continuing to use
CABI.org
means you agree to our use of cookies. If you would like to, you can learn more about the cookies we use
here
.
Privacy Overview
This website uses cookies to improve your experience while you navigate through the website. Out of these, the cookies that are categorized as necessary are stored on your browser as they are essential for the working of basic functionalities of the website. We also use third-party cookies that help us analyze and understand how you use this website. These cookies will be stored in your browser only with your consent. You also have the option to opt-out of these cookies. But opting out of some of these cookies may affect your browsing experience.