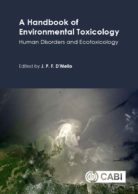 Handbook of Environmental Toxicology, A
Human Disorders and Ecotoxicology
Edited by: J P F D'Mello, formerly Scottish Agricultural College, UK
December 2019 | Hardback | 608 Pages | 9781786394675
December 2019 | ePDF 9781786394682 | ePub 9781786394699
£199.90 | €261.40 | $328.00
Description
A Handbook of Environmental Toxicology focuses on two key aspects: human disorders and ecotoxicology as affected by major toxins originating from biological sources and pollutants, as well as radiation generated spontaneously or as a result of anthropogenic activity. A diverse array of these potentially harmful agents regularly appear in the atmosphere, soil, water and food, compromising both human health and biodiversity in natural and managed ecosystems. This book:
- provides authoritative reviews together with specialist short communications to complement the main chapters and address contemporary issues with important case studies;
- explores the cutting edge of research and also indicates the likely direction of future developments;
- contains extensive coverage of toxicants that are of significant current interest and will be of increasing concern for many years to come; and
- encourages international cooperation in future research on pollution and other environmental agents causing harm to human health and degradation of natural habitats in the ecosystem.

Written by an international team of authors from a range of educational, medical and research establishments, this book is an essential reference for advanced students and researchers in the areas of environmental sciences, ecology, agriculture, environmental health and medicine, in addition to industry and government personnel responsible for environmental regulations and directives.
Table of contents
PART I: BIOGENIC COMPOUNDS
1: Phytotoxins
2: Mycotoxins
3: Cyanobacterial Toxins
4: Amino Acids and Peptides as Mediators of Abiotic Stress Tolerance in Higher Plants
PART II: AMBIENT GASES AFFECTING HUMAN HEALTH AND ADAPTATION IN HIGHER PLANTS
5: Ozone I. Human Disorders: an Overview
6: Ozone II. Biophysical Observations
7: Nitrogen Dioxide: Ambient Exposure in Human Disorders
8: Sulfur Dioxide and Human Disorders
9: Plant Response to Acid Rain Stress
PART III: PERSISTENT ORGANIC POLLUTANTS
10: Polycyclic Aromatic Hydrocarbons: Ecotoxicity in the Aquatic Environment and Implications for Human Health
11: The Developmental Neurotoxicity of Polychlorinated Biphenyls: a Continuing Environmental Health Concern
12: Dioxins I. Dynamics and Legal Directives in Europe
13: Dioxins II. Human Exposure and Health Risks
14: Dioxins III. Relationship to Pre-Diabetes, Diabetes and Diabetic Nephropathy
15: Environmental Endocrine-Disrupting Chemicals and Human Health
16: Organochlorine Insecticides: Neurotoxicity
17: Organophosphates I. Human Health Effects and Implications for the Environment: an Overview
18: Organophosphates II. Neurobehavioural Problems Following Low-Level Exposure: Methodological Considerations for Future Research
19: Glyphosate as a Glycine Analogue
PART IV: PETROLEUM POLLUTION
20: Crude Oil Pollution I. Deepwater Horizon Contamination: Human Health Effects and Health Risk Assessments, a Case Study
21: Crude Oil Pollution II. Effects of the Deepwater Horizon Contamination on Sediment Toxicity in the Gulf of Mexico
22: Crude Oil Pollution III. Exxon Valdez Contamination: Ecological Recovery, a Case Study
23: Review of Studies of Composition, Toxicology and Human Health Impacts of Wastewater from Unconventional Oil and Gas Development from Shale
PART V: TOXICOLOGY OF HEAVY METALS
24: Minamata Disease and Methylmercury Exposure
25: Lead Poisoning
26: Cadmium I. Exposure and Human Health Effects: an Overview
27: Cadmium II. Cardiovascular Effects of Human Exposure to Cadmium: Left Ventricular Structure and Function
PART VI: PARTICULATES AND PLASTICS
28: Particulates from Combustion Sources: Formation, Characteristics and Toxic Hazards
29: Assessment of the Ecotoxicity of Airborne Particulate Matter
30: Toxicity of Microplastics in the Marine Environment
PART VII: RADIATION RISKS
31: UV Exposure and Skin Protective Effects of Plant Polyphenols
32: Radon I. Lung Cancer Risks
33: Radon II. Leukaemia or CNS Cancer Risks Among Children
34: Fukushima Nuclear Accident: Potential Health Effects Inferred from Butterfly and Human Cases
PART VIII: REMEDIATION
35: Microbial Remediation of Contaminated Soils
36: Metallic Iron for Environmental Remediation: Prospects and Limitations
37: Remediation of Contaminated Soil by Biochar
PART IX: OUTLOOK AND CONCLUSIONS
38: Environmental Regulations in China
39: 21st Century Toxicology: Methods for Environmental Toxicology and Monitoring
40: Unequivocal Evidence Associating Environmental Contaminants and Pollutants with Human Morbidity and Ecological Degradation
Readership
Suitable for advanced students and researchers in the areas of environmental sciences, ecology, agriculture, environmental health, medicine and geography.
Reviews
Have you read this book, or used it for one of your courses? We would love to hear your feedback. Email our reviews team to submit a review.
J.P.F. D'Mello is a double graduate of the University of Nottingham, obtaining a BSc Honours in 1964 and a PhD in 1967, both in the Department of Applied Biochemistry. He began work at the Edinburgh School of Agriculture in 1968, lecturing to students and commencing research with grants from the Agricultural Research Council, Tropical Products Institute (ODA), BP and ICI. He has supervised a number of Honours, MSc and PhD students during his years at Edinburgh, published extensively in refereed journals, and took charge of the Environmental Protection and Management degree course for four years until retirement. Since retiring, he has edited 5 books for CABI, with A Handbook of Environmental Toxicology: Human Disorders and Ecotoxicology published in December 2019 and the authored text Introduction to Environmental Toxicology publishing in late 2020.
Like most websites we use cookies. This is to ensure that we give you the best experience possible. Continuing to use
CABI.org
means you agree to our use of cookies. If you would like to, you can learn more about the cookies we use
here
.
Privacy Overview
This website uses cookies to improve your experience while you navigate through the website. Out of these, the cookies that are categorized as necessary are stored on your browser as they are essential for the working of basic functionalities of the website. We also use third-party cookies that help us analyze and understand how you use this website. These cookies will be stored in your browser only with your consent. You also have the option to opt-out of these cookies. But opting out of some of these cookies may affect your browsing experience.