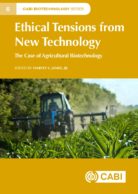 Ethical Tensions from New Technology
The Case of Agricultural Biotechnology
Edited by: Harvey S James, Jr, University of Missouri, USA
August 2018 | Hardback | 194 Pages | 9781786394644
Series : Biotechnology Series
$140.00 | £85.00 | €110.00
Description
The introduction of new technologies can be controversial, especially when they create ethical tensions as well as winners and losers among stakeholders and interest groups. While ethical tensions resulting from the genetic modification of crops and plants and their supportive gene technologies have been apparent for decades, persistent challenges remain. This book explores the contemporary nature, type, extent and implications of ethical tensions resulting from agricultural biotechnology specifically and technology generally. There are four main arenas of ethical tensions: public opinion, policy and regulation, technology as solutions to problems, and older versus new technologies. Contributions focus on one or more of these arenas by identifying the ethical tensions technology creates and articulating emerging fault lines and, where possible, viable solutions. Key features include: Focusing on contemporary challenges created by new and emerging technologies, especially agricultural biotechnology. Identifying a unique perspective by considering the problem of ethical tensions created or enhanced by new technologies. Providing an interdisciplinary perspective by including perspectives from sociologists, economists, philosophers and other social scientists. This book will be of interest to academics in agricultural economics, sociology and philosophy and policymakers concerned with introducing new technology into agriculture.
Table of contents
Introduction: Ethical Tensions and New Technology: An Overview in the Context of Agricultural Biotechnology
PART 1: PUBLIC OPINION AND INTEREST

1: Ethical Tensions from a 'Science Alone' Approach in Communicating Genetic Engineering Science to Consumers
2: Against the (GM) Grain: Ethical Tensions and Agrobiotechnology Activism in the USA
3: The Use and Abuse of the Term 'GMO' in the 'Common Weal Rhetoric' Against the Application of Modern Biotechnology in Agriculture
4: Collaborating with the Enemy? A View from Down Under on GM Research Partnerships

PART 2: POLICY AND REGULATION

5: Three Models of Public Opinion and Public Interest for Agricultural Biotechnology: Precautionary, Conventional and Accommodative
6: Genetically Modified Organisms in Food: Ethical Tensions and the Labeling Initiative
7: Ethical Tensions in Regulation of Agricultural Biotechnology and their Impact on Policy Outcomes: Evidence from the USA and India

PART 3: TECHNOLOGICAL FIX CRITICISM

8: Technological Pragmatism: Navigating the Ethical Tensions Created by Agricultural Biotechnology
9: Absolute Hogwash: Assemblage and the New Breed of Animal Biotechnology

PART 4: NEW VERSUS OLD TECHNOLOGY

10: Nature-identical Outcomes, Artificial Processes: Governance of CRISPR/Cas Genome Editing as an Ethical Challenge
11: New Technology, Cognitive Bias and Ethical Tensions in Entrepreneurial Commercialization: The Case of CRISPR

PART 5: MEDIATING ETHICAL TENSIONS

12: New Technology, Ethical Tensions and the Mediating Role of Translational Research
Reviews
Have you read this book, or used it for one of your courses? We would love to hear your feedback. Email our reviews team to submit a review.
Harvey James is Professor of Applied Economics, Chair of the Department of Agricultural and Applied Economics, and the Department's Director of Graduate Studies, at the University of Missouri, in Columbia, Missouri. Dr. James is also editor-in-chief of the journal Agriculture and Human Values and a member of the editorial board at Business Ethics Quarterly. Dr. James has a BA in economics and an MS in sociology from Brigham Young University, and an MA and PhD in economics from Washington University in St. Louis. Dr. James teaches courses in microeconomics and agricultural ethics for undergraduates and research methodology for graduate students. His research focuses on applied ethics and the economic foundations of trust and ethical behavior. Dr. James has produced two edited books: The Ethics and Economics of Agrifood Competition (2013) examines the question of whether there is adequate competition in the agrifood industry, while New Ideas in Contracting and Organizational Economics Research (2005) explores emerging research on business organization. He also co-authored the book, When Businesses Cross International Borders: Strategic Alliances and Their Alternatives (with the late Murray Weidenbaum, former chairman of the Council of Economic Advisors under U.S. President Ronald Reagan). Dr. James has published more than 100 academic articles and book chapters. He is a member of the American Economic Association; the Agricultural and Applied Economics Association; the Association for Social Economics; the Agriculture, Food and Human Values Society; and the Society for Business Ethics.
Like most websites we use cookies. This is to ensure that we give you the best experience possible. Continuing to use www.cabi.org means you agree to our use of cookies. If you would like to, you can learn more about the cookies we use here.