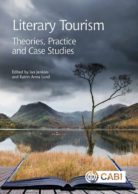 Literary Tourism
Theories, Practice and Case Studies
Edited by: Ian Jenkins, University of Iceland, Iceland, Katrín Anna Lund, University of Iceland, Iceland
July 2019 | Hardback | 210 Pages | 9781786394590
July 2019 | ePDF 9781786394606 | ePub 9781786394613
£85.00 | €100.00 | $120.00
Description
Literary tourism is a nascent field in tourism studies, yet tourists often travel in the footsteps of well-known authors and stories. Providing a wide-ranging cornucopia of literary tourism topics, this book fully explores the interconnections between the written word and travel. It includes tourism stories using guidebooks, films, television and electronic media, and recognises that stories, texts and narratives, even if they cannot be classified as traditional travel writing, can become journeys in themselves and take us on imaginary voyages. Furthermore, the book:

- Provides a grounding in the theoretical perspectives on literature and the tourist experience;
- Explores practical applications of literary tourism, such as destination promotion and creation, responsible tourism and learning benefits;
- Uses global case studies to study literary tourism in action.

Appealing to a wide audience of different disciplines, it encompasses subjects such as business literary writing, historical journeys and the poetry of Dylan Thomas. The use of these different perspectives demonstrates how heavily and widely literature influences travel, tourists and tourism, making it an important read for researchers and students of tourism, social science and literature.
Table of contents
Part 1: Theory Relating to Literature and the Tourist Experience
1: Travelling Against Time: Flemish Authors Travelling to Italy in the Interwar Period
2: 'Magic Realism' Of Vilnius: Conceptualization of Literary Tourist Gaze Based On <i>Tales Of The Old Vilnius</i> by Max Frei
3: Visionary Trends in Jules Verne's <i>The Floating Island</i>
4: Connecting Temporalities: Walking Through Narratives of Guilt and Passion
5: Frontier Travel Narratives: Imagining the American West Through Novels
6: The Making of the Literary City: Edinburgh, Barcelona and Óbidos
Part 2: Practical Applications of Literature to the Tourist Experience and Tourist Industry
7: Reimagining Emulative Journeys: From Classical Texts to Contemporary Travel Writing in the Digital Age
8: Response and Responsibility: Poets as Guides for Tourists
9: Learning at Literary Festivals
10: Library Tourism
Part 3: Case Studies of Literary Tourism and their Effects on the Tourist
11: The Hay Festival: A Longitudinal Study on its Attributes and the Sustainable Impacts on a Small Welsh Town
12: Literary Tourism in the Indian Sub-Continent
13: Making Literary Places
14: Tourism of Literary Writing: The Brazilian Author as an International Tourist in the Amores Expressos Collection
15: Stay Eat Love: Travel Books, Italy and the Emotional Geographies of Place
16: Literary Tourism: Conclusions and Practical Applications
Readership
Suitable for researchers and students of tourism studies and related subjects such as social science and literature.
Reviews
As a whole, it is a very complete ... exposition on the topic. It will be particularly useful as chapter downloads for researchers. - Jonathan Skinner, Annals of Tourism Research
Dr Ian Jenkins is a geographer who has worked in the tourism and leisure industries for the last twenty seven years as a researcher, senior lecturer, consultant and director of several research units. His work has resulted in numerous publications including industry reports, conference papers, academic articles and book chapters; he has also been a peer reviewer for journal articles. Some of the research projects he has been involved with have resulted in legislative change and improved industry standards. In addition, he has undertaken work for prestigious organisations such as UNESCO, British Council, British Standards Institute, Health and Safety Executive, VisitWales and CEN. His research and consultancy expertise covers subjects such as: responsible/sustainable tourism, niche tourism development, risk and safety management and adventure tourism. Ian is currently an examiner for the University of South Wales and has recently been an external examiner for the University of Birmingham at both undergraduate and postgraduate level and also a PhD examiner at Cranfield University. Ian has been the co-editor of a special edition of the Laureate Hospitality Journal.
Professor Katrín Anna Lund is an anthropologist who has worked at the Department of Tourism and Geography, University of Iceland, for the past 10 years. Previously she has researched and lectured at Victoria University, Wellington, New Zealand, University of Aberdeen and Queens University, Belfast. She has done research in Spain, Scotland and Iceland. Her research has focused on tourism, travel and the perception of landscape but landscape studies have been central in her work on travel and tourism with a special emphasis on walking and narratives. Recently she has been studying destination making in tourism with a special focus on Arctic peripheries as well as Northern Light tourism. Katrín is the co-editor, with Professor Karl Benediktsson, of Conversations with Landscape that was published by Ashgate 2010 and Green Ice: Tourism Ecologies in the European High North, with Dr. Simone Abram, published by Palgrave Pivot. She has also published journal articles in a variety of journals, as well as book chapters.
Like most websites we use cookies. This is to ensure that we give you the best experience possible. Continuing to use
CABI.org
means you agree to our use of cookies. If you would like to, you can learn more about the cookies we use
here
.
Privacy Overview
This website uses cookies to improve your experience while you navigate through the website. Out of these, the cookies that are categorized as necessary are stored on your browser as they are essential for the working of basic functionalities of the website. We also use third-party cookies that help us analyze and understand how you use this website. These cookies will be stored in your browser only with your consent. You also have the option to opt-out of these cookies. But opting out of some of these cookies may affect your browsing experience.