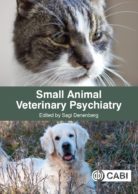 Small Animal Veterinary Psychiatry
Edited by: Sagi Denenberg, Langford Vets, UK
January 2021 | Hardback | 424 Pages | 9781786394552
December 2020 | ePDF 9781786394569 | ePub 9781786394576
£95.00 | €110.00 | $130.00
Description
Problem behaviours are often the result of how an animal thinks and feels, genetics and environmental influences. Steering away from just description diagnoses and focusing instead on emotional and cognitive causes, this book provides a practical approach to diagnosing, treating, and managing behaviour pathologies in dogs and cats.

Beginning by addressing cases in the first opinion practice, this book then considers physical disorders that may lead to or exacerbate abnormal behavior. From there, the focus shifts to mental and emotional health, from an assessment of normal behavior and giving juveniles an optimal start in life, to diagnosing mental and emotional disorders, addressing emotions such as anxiety and frustration, and how to manage these issues - by modifying behavior, managing the animal's environment, training, and, when necessary, the use of medications. The second half of the book then addresses owner concerns, including management problems, aggression, affective disorder, elimination disorder, abnormal and repetitive behaviours and ageing-related problems.

With an emphasis on helping first line veterinarians identify common presentations and offer help to owners, this book:
- Addresses both normal and abnormal behaviour in cats and dogs from an emotion and cognition perspective;
- Provides behaviour modification protocols, and drug doses and indications;
- Includes handouts to be used both within the practice and with clients to help the veterinary surgeon manage the case.

Written by international experts, the book translates their insights and experience into approaches taken in behavioural medicine. Also including the most up-to-date drugs, it is an important resource for both small animal veterinarians and students of veterinary medicine or animal behaviour.
Table of contents
1: Addressing Mental and Emotional Health in the Veterinary Practice.
2: Ruling Out Physical Disorders Leading to Behavioural Changes.
3: Addressing Pain in Veterinary Psychiatry.
4: Normal Behaviour – Cats.
5: Normal Behaviour – Dogs.
6: Raising Mentally and Emotionally Healthy Pets.
7: Diagnosis.
8: Learning Principles and Behaviour Modification.
9: Psychopharmacology.
10: Problem Behaviours and Management.
11: Aggression – Cats.
12: Aggression – Dogs.
13: Affective Disorders in Cats and Dogs.
14: Elimination Problems in Cats and Dogs.
15: Abnormal and Repetitive Behaviours in Cats and Dogs.
16: Ageing-related Problems in Cats and Dogs.
Readership
Suitable for small animal veterinarians and students of veterinary medicine and animal behaviour.
Reviews
Have you read this book, or used it for one of your courses? We would love to hear your feedback. Email our reviews team to submit a review.
Dr. Sagi Denenberg graduated with Excellence in Academic Achievement from the Kosice Veterinary College in Slovakia. He relocated from Israel to Canada in 2003 and passed the North American veterinary licensing examination. Sagi provides behaviour consults for owners with their pets including dogs, cats, horses, parrots and other exotic mammals. He is a diplomate of the American College of Veterinary Behaviorists, the European College of Animal Welfare and Behavioural Medicine and has passed his members certificate with the Australian College of Veterinary Scientists (Veterinary Behaviour).
Sagi has done a number of behavioural studies including the effects of pheromones on learning and socialisation in puppies and a study of play toy preference in cats for which he was awarded the American Veterinary Society of Animal Behavior Excellence in Research Award. He also authored a number of articles and book chapters including the behaviour chapters in the Merck Veterinary Manual, senior pet behaviour and cognitive decline in the British Small Animal Veterinary Association manual and more. Sagi is a consultant on the Veterinary Information Network (VIN) providing other veterinarians with advice.
In addition to clinical duties Sagi is frequent speaker in veterinary conferences in Europe and North America.
Like most websites we use cookies. This is to ensure that we give you the best experience possible. Continuing to use
CABI.org
means you agree to our use of cookies. If you would like to, you can learn more about the cookies we use
here
.
Privacy Overview
This website uses cookies to improve your experience while you navigate through the website. Out of these, the cookies that are categorized as necessary are stored on your browser as they are essential for the working of basic functionalities of the website. We also use third-party cookies that help us analyze and understand how you use this website. These cookies will be stored in your browser only with your consent. You also have the option to opt-out of these cookies. But opting out of some of these cookies may affect your browsing experience.