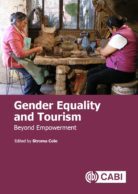 Gender Equality and Tourism
Beyond Empowerment
Edited by: Stroma Cole, University of the West of England, UK
July 2018 | Paperback | 112 Pages | 9781786394422
Description
Does tourism empower women working in and producing tourism? How are women using the transformations tourism brings to their advantage? How do women, despite prejudice and stereotypes, break free, resist and renegotiate gender norms at the personal and societal levels? When does tourism increase women's autonomy, agency and authority? The first of its kind this book delivers:

A critical approach to gender and tourism development from different stakeholder perspectives, from INGOs, national governments, and managers as well as workers in a variety of fields producing tourism.

Stories of individual women working across the world in many aspects of tourism.

A foreword by Margaret Bryne Swain and contributions from academics and practitions from across the globe.

A lively and accessible style of writing that links academic debates with lived realities while offering hope and practical suggestions for improving gender equality in tourism.

Gender Equality and Tourism: Beyond Empowerment, a critical gendered analysis that questions the extent to which tourism brings women empowerment, is an engaging and thought-provoking read for students, researchers and practitioners in the areas of tourism, gender studies, development and anthropology.

To access a presentation delivered by Stroma Cole as well as an interview with her, please visit http://www.cabi.org/openresources/94422
Table of contents
1: Introduction: Gender Equality and Tourism – Beyond Empowerment
2: Gender Equality and Tourism: The Global Policy Context
3: Feminist Perspectives in the Development of Action Plans for Tourism
4: 'An Uneasy Truth?': Female Tourism Managers and Organizational Gender Equality Measures in Portugal
5: Tourism as Empowerment: Women Artisan's Experiences in Central Mexico
6: Trekking to Women's Empowerment: A Case Study of a Female-Operated Travel Company in Ladakh
7: Women and Tourism in the Township: Tourism for Empowerment?
8: Journeys of Emancipation: Disrupting Poverty in Nepal
9: Tourism and Women's Rights in Tunisia
10: Tourism Entrepreneurship and Gender in the Global South: The Mexican Experience
11: Tourism, Dolls and Dreams: The Last Generation?
12: Conclusions: Beyond Empowerment
Readership
Will be an engaging and thought-provoking read to students and researchers in the areas of tourism, gender studies, development and anthropology.
Reviews
Have you read this book, or used it for one of your courses? We would love to hear your feedback. Email our reviews team to submit a review.
Editor Bio
is a senior lecturer in Tourism Geography at the University of the West of England. Stroma combines her academic career with action research and consultancy, most recently looking at tourism and water rights in Indonesia. She is a director of Equality in Tourism and was the Chair of Tourism Concern (2006-2012). Stroma is an activist researcher critiquing the consequences of tourism development.
Like most websites we use cookies. This is to ensure that we give you the best experience possible. Continuing to use www.cabi.org means you agree to our use of cookies. If you would like to, you can learn more about the cookies we use here.