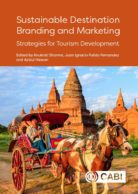 Sustainable Destination Branding and Marketing
Strategies for Tourism Development
Edited by: Anukrati Sharma, University of Kota, India, Juan Ignacio Pulido-Fernández, University of Jaén, Spain, Azizul Hassan, Tourism Consultants Network, Tourism Society, London, UK.
December 2019 | Hardback | 260 Pages | 9781786394286
December 2019 | ePDF 9781786394293 | ePub 9781786394309
£97.40 | €128.15 | $164.00
Description
Destination branding and marketing form the backbone of tourism industry growth, but it is increasingly important that the strategies employed consider and promote sustainable solutions. This book provides a comprehensive set of tools and techniques for branding and marketing for sustainable tourism development. It blends tourism and marketing strategies with practical, innovative information technology solutions and a psychological perspective, providing illustrative case studies and examples to aid understanding. Addressing opportunities and challenges across the field, it also reviews how different types of tourism such as community based, accessible, film, agricultural and cultural-heritage tourism entail unique issues for development.

Competition between destinations has led to a real need for different strategies in order to differentiate the tourism product. This book:
- Uniquely covers both marketing and branding of a destination from a sustainability perspective;
- Considers the role of emotions and experiences when advertising a destination;
- Brings together a set of global authors to provide a varied and universally applicable approach to the subject.

A thought-provoking read for anyone interested in questions of sustainability in destinations, this book provides an invaluable resource for researchers of tourism, marketing and international development studies as well as destination managers.
Table of contents
1: BRAND DUBAI: SUSTAINING ITS LUXURY IMAGE
2: BRANDING OF SPANISH CIVIL WAR SITES TO PROMOTE SUSTAINABLE RURAL TOURISM
3: THE RELATIONSHIP OF FOOD, TOURISM, DESTINATION BRANDING AND MARKETING – MALAWI
4: A THEORETICAL APPROACH TO STRATEGIES OF MARKETING IN THE SCOPE OF TOURISM DESTINATION TYPES
5: ENHANCING A DESTINATION'S MARKETING AND PROMOTION: LESSONS FROM MALAYSIA
6: SETTING A BRAND IMAGE THROUGH FILM TOURISM
7: ETHICAL COMMENTS REVOLVING AROUND POST DISASTER MARKETING
8: RURAL TOURISM DEVELOPMENT IN EGYPT: CONTEMPORARY INSIGHTS- EGYPT.
9: THE ROLE OF POLICIES IN SUSTAINABLE TOURISM DEVELOPMENT: A CASE OF LUX* RESORTS AND HOTELS- MAURITIUS
10: WORLD HERITAGE SITES AND THEIR IMPACTS IN THE CONTEXT OF DESTINATION MARKETING- MALATYA
11: ACCESSIBLE TOURISM: AN INSEPARABLE PART OF SUSTAINABLE TOURISM- TURKEY
12: INVESTIGATING THE FACTORS AFFECTING TOURISM DEVELOPMENT IN VICTORIA FALLS, ZIMBABWE
13: INFLUENCE OF GOVERNMENT POLICY ON SUSTAINABLE TOURISM DEVELOPMENT IN MALAWI
14: ENVIRONMENTAL SUSTAINABILITY ON TOURISM BUSINESS ENTERPRISE: MODEL AND CASE- CARDIFF, UK, INDIA , INDONESIA
15: KEYS STRATEGIES TO PROMOTE THE INCORPORATION OF SUSTAINABILITY IN TOURIST'S BEHAVIOR- SPAIN
16: RURAL TOURISM : AN ASSEST FOR SUSTAINABLE DEVELOPMENT - MERSIN UNIVERSITY
17: DARK TOURISM IN TERMS OF LOCAL PEOPLE EMOTIONS AND EXPERIENCES: A CASE OF GALLIPOLI
18: DIGITAL MARKETING AND VIRTUAL TOURISM TO ENHANCE DESTINATION ACCESSIBILITY
19: SECURITY ISSUES AND THE IMAGE OF TOURIST DESTINATION
20: EXPLORING THE FUTURE OF SUSTAINABLE TOURISM
Readership
This book is suitable for researchers of tourism, especially those interested in destination marketing and branding, and sustainability. It will also be of interest to researchers within marketing and international development studies.
Reviews
Have you read this book, or used it for one of your courses? We would love to hear your feedback. Email our reviews team to submit a review.
Dr Sharma is an Associate Professor in the Department of Commerce and Management, University of Kota, Kota, Rajasthan, India. In 2015, she received a Research Award from the University Grants Commission (UGC), New Delhi, for her project "Analysis of the Status of Tourism in Hadoti and Shekhawati Region/Circuit (Rajasthan): Opportunities, Challenges, and Future Prospects." Her doctorate from the University of Rajasthan is in Tourism Marketing, and she completed her dissertation research on Tourism in Rajasthan – Progress & Prospects. She has two postgraduate degree specialties: International Business (Master of International Business) and Business Administration (Master of Commerce). Her particular interest areas are Tourism, Tourism Marketing, Strategic Management, and International Business Management. She has edited six books to date and authored a further two. A member of 17 professional bodies, she has attended a number of national and international conferences and presented 45 papers, and has been invited as a keynote speaker to events in Sri Lanka, Nepal, Uzbekistan and Turkey. Dr Sharma also handles training sessions at the Rajasthan Police Academy in Jaipur, on such topics as Change Management, Communication Skills, Gender Discrimination, and Personality Development.
Like most websites we use cookies. This is to ensure that we give you the best experience possible. Continuing to use
CABI.org
means you agree to our use of cookies. If you would like to, you can learn more about the cookies we use
here
.
Privacy Overview
This website uses cookies to improve your experience while you navigate through the website. Out of these, the cookies that are categorized as necessary are stored on your browser as they are essential for the working of basic functionalities of the website. We also use third-party cookies that help us analyze and understand how you use this website. These cookies will be stored in your browser only with your consent. You also have the option to opt-out of these cookies. But opting out of some of these cookies may affect your browsing experience.