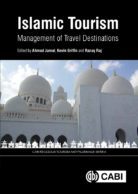 Islamic Tourism
Management of Travel Destinations
Edited by: Ahmad Jamal, Cardiff University, UK, Kevin Griffin, Technological University Dublin, Ireland, Razaq Raj, Leeds Beckett University, UK
December 2018 | Hardback | 272 Pages | 9781786394132
December 2018 | ePDF 9781786394149 | ePub 9781786394156
Description
Islamic tourism is not purely motivated by religion; it also includes participants pursuing similar leisure experiences to non-Muslims, within the parameters set by Islam. Destinations are therefore not necessarily locations where Shari'a or full Islamic law is enforced.

Demand for Islamic tourism destinations is increasing as the Muslim population expands, with the market forecast to be worth around US$238 billion. This book explores the ever-widening gap between the religious, tourism, management and education sectors. It provides practical applications, models and illustrations of religious tourism and pilgrimage management from a variety of international perspectives, and introduces theories and models in an accessible structure. The book:

- Includes a range of contemporary case studies of religious and pilgrimage activities.
- Covers ancient, sacred and emerging tourist destinations.
- Reviews new forms of pilgrimage, faith systems and quasi-religious activities.

This book offers an engaging assessment of the linkages and interconnections between Muslim consumers and the places they visit. It provides an important analysis for researchers of religious tourism, pilgrimage and related subjects.
Table of contents
Part 1: Theoretical Framework and Development of Islamic Tourism

1: Introduction to Islamic Tourism
2: Islamic Tourism: The Role of Culture and Religiosity
3: Religion and Islamic Tourism Destinations
4: Marketing Approaches and Problems of Islamic Destinations

Part 2: Management and Development of Destinations

5: The Impact of Hajj Satisfaction on Islamic Religious Commitment: A Theoretical Framework
6: Islamic Tourism and Use of Social Media
7: Islamic Customer Relationship Marketing (ICRM) and Inspirations for Religious Tourism
8: The Impact of Umrah Quality Attributes on Religious Tourist Loyalty in Saudi Arabia
9: Sufi Tourism: The Impact of Sufi Heritage on Islamic Religious Tourism

Part 3: Challenges and Issues – Global Case Studies

10: Religious Tourism in the Sultanate of Oman: The Potential for Mosque Tourism to Thrive
11: An Opportunity Unexploited: A Pilgrim's Observations on the Potential of Muslim Pilgrimage (Hajj)
12: Halal Tourism: Insights from Experts in the Field
13: Battlefield Tourism: The Potential of Badr, Uhud, and the Trench (Khandaq) Battles for Islamic Tourism
14: Holy Foods and Religious Tourism: Konya and Mevlevi Cuisine
15: The Halal Tourism: A Business Model Opportunity
16: Religious Practices and Performance in Syrian Shi'ite Religious Tourism
17: Constructs of Foot Pilgrimage in Islam: The Case of Arbaeen Ziyara
18: Tablighi Jamaat: A Multidimensional Movement of Religious Travellers
Readership
Suitable for researchers of religious tourism, pilgrimage and related subjects (religious studies, management).
Reviews
Have you read this book, or used it for one of your courses? We would love to hear your feedback. Email our reviews team to submit a review.
Dr Ahmad Jamal is actively involved in conducting academic research in marketing related areas. He has considerable experience in teaching and research and has established a significant reputation nationally and internationally within my area of specialism. Jamal's areas of research include consumer behaviour, ethnic marketing, branding and applications of self-concept. Jamal has published widely in acclaimed academic journals, and has reviewed for a number of academic journals including the European Journal of Marketing, Journal of Strategic Marketing, International Journal of Bank Marketing, Journal of Consumer Behaviour, Journal of Retailing and Consumer Services and Journal of Global Business Advancement.
Dr.Kevin Griffin Bed, MA, PhD. Having studied teaching then tourism organisation and historic settlement I worked in a number of Geography Departments in the Dublin / Kildare area. Since 2001 I have worked at the DIT where I am actively involved in teaching and researching a broad range of tourism topics with particular specialism in both heritage and sustainable tourism.
Editor in Chief, International Journal of Religious Tourism and Pilgrimage
Editor in Chief, International Journal of Tour Guiding Research
Editor in Chief, International Journal of Islands Research
Series Editor, CABI Religious Tourism and Pilgrimage Book Series
Research Interests My main areas of academic interest include:
* Tourism and Sustainability / Environmental Issues
* Heritage Tourism
* Religious Tourism / Pilgrimage
* Social Tourism
* Teaching Methodologies and Tourism
* Local History / Heritage
Dr Razaq Raj is Principal Lecturer in the Leeds Business School. His research interests include community events, outdoor events, economic impacts, religious tourism, cultural festivals and sustainable tourism, cultural diversity in events management and international tourism.
Dr Razaq Raj is the author of the textbooks Religious Tourism and Pilgrimage Management: An International Perspective, Event Management: An integrated and practical approach and Event Management and Sustainability.
Dr Razaq Raj is also a board member of international journals and academic associations.
Editor of International Journal of Religious Tourism and Pilgrimage
Editor of International Journal of Islands Research
Editor of International Journal of Islamic Tourism
Series Editor, CABI Religious Tourism and Pilgrimage Book Series
Like most websites we use cookies. This is to ensure that we give you the best experience possible. Continuing to use
CABI.org
means you agree to our use of cookies. If you would like to, you can learn more about the cookies we use
here
.
Privacy Overview
This website uses cookies to improve your experience while you navigate through the website. Out of these, the cookies that are categorized as necessary are stored on your browser as they are essential for the working of basic functionalities of the website. We also use third-party cookies that help us analyze and understand how you use this website. These cookies will be stored in your browser only with your consent. You also have the option to opt-out of these cookies. But opting out of some of these cookies may affect your browsing experience.