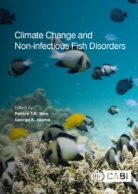 Climate Change and Non-infectious Fish Disorders
Edited by: Patrick T K Woo, University of Guelph, Canada, George K Iwama, University of British Columbia, Canada
December 2019 | Hardback | 258 Pages | 9781786393982
January 2020 | ePDF 9781786393999 | ePub 9781786394002
£97.40 | €128.15 | $164.00
Description
Freshwater, brackish and marine ecosystems are particularly impacted by the effects of climate change and global warming. A global rise in water temperature and acidification of the aquatic environment will continue even if we can significantly reduce the current output of greenhouse gasses. Increases in water temperature will affect the life cycle, physiology, behaviours, distribution and community structure of aquatic organisms, especially fish.

This important new text on climate change, and its effects on selected non-infectious disorders of fish, contains contributions by internationally recognized experts who have contributed significantly to our knowledge in this area. Comprehensive and thought provoking, the text details abiotic and biotic environmental changes associated with climate change and their effects on fish in tropical, subtropical and temperate waters. It proceeds to cover in detail developmental, physiological and metabolic disorders of fish.

Outlining both current and expected changes in aquaculture systems due to climate change, plus suggestions for further studies, this contemporary text is key reading for biologists, aquatic ecologists, fish health consultants, veterinarians, policy makers and all those involved in fish health and the environment.
Table of contents
Section I: Climate Change

Chapter 1: An Overview with Discussions on Freshwater and Marine Ecosystems in North America
Chapter 2: Tropical Marine and Brackish Ecosystems

Section II: Developmental and Physiological Fish Disorders

Chapter 3: Skeletal Abnormalies
Chapter 4: Neoplasms
Chapter 5: Feeding and its Regulation
Chapter 6: Nutritional and Metabolic Disorders
Chapter 7: Behaviour including Fish Migration
Chapter 8: Stress in Response to Environmental Changes
Chapter 9: Ionic Regulation
Chapter 10: Excess Dissolved Gases and Gas Bubble Disease
Chapter 11: The Immune System: Effects of Water Temperature and Acidification
Readership
Suitable for biologists, aquatic ecologists, environmentalists, fish health consultants/specialists, veterinarians, physiologists, pathologists, immunologists
Reviews
Have you read this book, or used it for one of your courses? We would love to hear your feedback. Email our reviews team to submit a review.
Patrick has been a faculty member at the University of Guelph since 1974 (Assistant Professor, 1974; Associate Professor, 1978; Professor, 1984). He was also Professor (1993) of Collaborative International Development, and was Director (2002), Axelrod Institute of Ichthyology. The University Senate elected him University Professor Emeritus, and it was conferred at convocation (2006) by The Honorable LM Alexander, Chancellor.
Selected Research Awards before 1974:
*MRC Post-Doctoral Fellow and Ballard Fellow @ Ontario Veterinary College, Canada
*FAO Andre Mayer Research Fellow: @ East African Trypanosomiasis Research Organization,
Uganda; and @ Serengeti Research Institute, Tanzania
*IDRC Consultant and Visiting Scientist @ Nigerian Institute for Trypanosomiasis Research, Nigeria
Selected External Appointments and Initiatives (1974 – 2017):
*NUS Research Professor, National University of Singapore, Singapore
*CNPq Scholar, Universidade Federal do Rio de Janerio, Brazil
*MEC Research Fellow, Instituto de Acuicultura de Torre de la Sal, Spain
*Research Fellow, Universiti Malaysia Terengganu, Malaysia
*Short-term (< 2 months): Visiting Professor @ 7 universities; Visiting Scientist @ 5 research institutes/universities
*Assessor/Examiner: 3 Academic Programs; 15 Appointment/Promotion Exercises; 19 PhD theses
*Consultancies (12 X) – industry, universities, government agencies
*Research Publications: 198 papers; 33 invited reviews; 53 abstracts
*Editor: 12 books; 3 journals; 1 'special journal issue'
*Founding Treasurer and Trustee, Zoological Education Trust
*Founder, The Roy Anderson Memorial Lecture in Parasitology
*Elected: Fellow, 'Royal Society of Tropical Medicine and Hygiene', UK; Professional Member, The New York Academy of Sciences, USA
*Invited Presentations: 18 Plenary/Keynote and 32 Symposium Lectures @ Conferences
*Recipient, The Robert Wardle Award "… for contributions to Parasitology"
George began his academic career at the University of British Columbia (UBC) as an Assistant Professor (1987), Associate Professor (1991) and Professor (1996). He went on to serve the National Research Council of Canada as Director General of the Institute of Marine Biosciences in Halifax (2000). During his tenure there, he led the initiation of NRC's newest Institute on Prince Edward Island, the Institute of Nutrisciences and Health (2003). He returned to Academia in 2004 in senior administrative roles at Acadia University (Dean of Science, 2004; Vice President Academic 2006) and Carleton University (Dean of Science 2007). George served the University of Northern British Columbia as President and Vice-Chancellor (2009). Most recently, George was the Executive Vice President at the Okinawa Institute of Science and Technology Graduate University (2014). He has returned to Canada where he is an Adjunct Professor of Zoology at UBC and consults in tertiary education. His work has been supported by a variety of public and private funding sources. Support from the Natural Sciences and Engineering Research Council and the Killam Foundation are gratefully acknowledged. George was awarded the Queen Elizabeth II Diamond Jubilee Medal in 2013. He has published 141 papers, 1 letter, 45 conference proceedings and edited 2 books. He has applied the outcomes of this research to areas such as aquaculture and environmental issues.
Like most websites we use cookies. This is to ensure that we give you the best experience possible. Continuing to use
CABI.org
means you agree to our use of cookies. If you would like to, you can learn more about the cookies we use
here
.
Privacy Overview
This website uses cookies to improve your experience while you navigate through the website. Out of these, the cookies that are categorized as necessary are stored on your browser as they are essential for the working of basic functionalities of the website. We also use third-party cookies that help us analyze and understand how you use this website. These cookies will be stored in your browser only with your consent. You also have the option to opt-out of these cookies. But opting out of some of these cookies may affect your browsing experience.