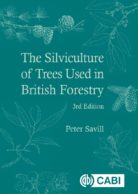 The Silviculture of Trees Used in British Forestry
3rd Edition
By: Peter Savill, Chairman of the Trustees of the Sylva Foundation
April 2019 | Hardback | 384 Pages | 9781786393920
April 2019 | ePDF 9781786393937 | ePub 9781786393944
£97.40 | €117.85 | $138.40
Description
British woodlands and forests are often located on sites and in regions that are marginal for agriculture; many are at high elevations and exposed, with short growing seasons. Wherever forests are located, site and climatic conditions must dictate species choice in forest management. This book provides a detailed guide to the biological suitability of different sites and soils for all important native trees and the most extensively used exotics. Apart from physical difficulties such as steepness and stoniness, forest soils also frequently have problems associated with them. They can be waterlogged or drought-prone, suffer from extremes of acidity or alkalinity, or have compacted layers.

The book provides information on species' suitability for different purposes. It includes details of species' origin and introduction (where applicable), as well as their climatic and soil requirements and other silvicultural characteristics. Information about provenance, yield and timber is also provided. Fully updated throughout, this 3rd edition puts more emphasis on species suitable for changing climatic conditions, with accounts of several species that may become more prominent in British forests: including several silver firs, hickories, eucalypts, spruces, poplars and wingnuts. The book concludes with simple keys for identifying the trees most likely to be encountered in British forests. It is an essential resource for students, researchers and forestry professionals.
Readership
Suitable for students on agricultural courses, farmers, members of wildlife trusts and natural history societies. Amateur naturalists interested in trees.
Reviews
This publication represents a significant step forward from previous editions. This is a book that will remain current for years, if not decades, and can be heartily recommended as a vital and essential resource for scientists, forest managers and anyone concerned with woodland conservation at the present time. - Edward Wilson
Like most websites we use cookies. This is to ensure that we give you the best experience possible. Continuing to use
CABI.org
means you agree to our use of cookies. If you would like to, you can learn more about the cookies we use
here
.
Privacy Overview
This website uses cookies to improve your experience while you navigate through the website. Out of these, the cookies that are categorized as necessary are stored on your browser as they are essential for the working of basic functionalities of the website. We also use third-party cookies that help us analyze and understand how you use this website. These cookies will be stored in your browser only with your consent. You also have the option to opt-out of these cookies. But opting out of some of these cookies may affect your browsing experience.