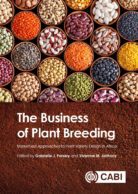 The Business of Plant Breeding
Market led Approaches to Plant Variety Design in Africa
Edited by: Gabrielle Persley, Global Change Institute, University of Queensland, Australia, and The Doyle Foundation, UK, Vivienne M Anthony, Syngenta Foundation for Sustainable Agriculture, Switzerland
November 2017 | Hardback | 216 Pages | 9781786393814
April 2019 | ePDF 9781786393838 | ePub 9781786393821
£84.55 | €110.70 | $142.45
Description
The Business of Plant Breeding is the result of a study on demand-led plant variety design for markets in Africa, sharing best practices from private and public sector breeding programmes worldwide that are applicable to improving tropical crops in Africa.

Beginning with an overview of the principles of demand-led plant breeding, the book then discusses aspects such as understanding the demands of clients and markets in rural and urban areas, foresight in setting product profiles and breeding targets, and determining breeding strategy and stage plans. It also covers measuring success and making the business case for future investments in breeding programmes that will deliver new varieties to meet market demands. The book:

- Brings together the experience of plant breeders around the world, representing universities, national plant breeding programmes, regional and international agricultural research institutes, and private seed companies, showcasing how to respond to changing market demands;
- Provides educational resource materials within each chapter;
- Includes templates for use as planning tools by plant breeding programs for determining priority traits that meet market demands.

An important read for professionals and students of plant breeding and genetics, this book is also a useful resource for anyone interested in developing and disseminating new, market-led technologies to increase productivity and profitability in tropical agriculture.

The study was sponsored by the Australian Centre for International Agricultural Research, the Crawford Fund and the Syngenta Foundation for Sustainable Agriculture, and managed by the University of Queensland.
Table of contents
1: Principles of Demand-led Plant Variety Design
2: Visioning and Foresight for Setting Breeding Goals
3: Understanding Clients' Needs
4: New Variety Design and Product Profiling
5: Variety Development Strategy and Stage Plan
6: Monitoring, Evaluation and Learning
7: The Business Case for Investment in New Variety Development
Readership
Professionals in plant breeding and areas such as seed production who have interests in developing and disseminating using new plant varieties as a way to increase productivity and profitability in crop agriculture. The book is also intended for use as a resource book for the education of post-graduate scholars in plant breeding and genetics and for continuing professional development of plant breeders.
Reviews
Have you read this book, or used it for one of your courses? We would love to hear your feedback. Email our reviews team to submit a review.
Gabrielle Persley has worked both as a researcher and as a senior strategic science leader, with some of the world's leading agricultural and development agencies, including several years as the Word Bank's Biotechnology advisor. Currently she is the Research Director of the Crawford Fund Australia, based at the Global Change Institute, University of Queensland. Professor Persley is also the Founder and Chair of the Doyle Foundation, Scotland, which advocates the role of science and technology in development, especially in Africa. She is a senior advisor to the International Livestock Research Institute and the Biosciences eastern and central Africa (BecA) in Kenya. Professor Persley has a PhD in Microbiology from the University of Queensland, based on her research on bacterial diseases of cassava in Africa. The University of Queensland awarded Professor Persley the Vice Chancellor's Award for Excellence in 2014 for her work in international science and technology in relation to food security.
Like most websites we use cookies. This is to ensure that we give you the best experience possible. Continuing to use
CABI.org
means you agree to our use of cookies. If you would like to, you can learn more about the cookies we use
here
.
Privacy Overview
This website uses cookies to improve your experience while you navigate through the website. Out of these, the cookies that are categorized as necessary are stored on your browser as they are essential for the working of basic functionalities of the website. We also use third-party cookies that help us analyze and understand how you use this website. These cookies will be stored in your browser only with your consent. You also have the option to opt-out of these cookies. But opting out of some of these cookies may affect your browsing experience.