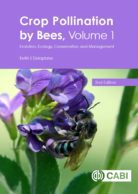 Crop Pollination by Bees, Volume 1
Evolution, Ecology, Conservation, and Management
2nd Edition
By: Keith Delaplane, University of Georgia, USA
August 2021 | Paperback | 192 Pages | 9781786393494
July 2021 | ePDF 9781786393500 | ePub 9781786393517
Description
Since the second half of the 20th Century, our agricultural bee pollinators have faced mounting threats from ecological disturbance and pan-global movement of pathogens and parasites. At the same time, the area of pollinator-dependent crops is increasing globally with no end in sight. Never before has so much been asked of our finite pool of bee pollinators. This book not only explores the evolutionary and ecologic bases of these dynamics, it translates this knowledge into practical research-based guidance for using bees to pollinate crops. It emphasizes conserving wild bee populations as well as culturing honey bees, bumble bees, and managed solitary bees.

To cover such a range of biology, theory, and practice from the perspectives of both the pollinator and the crop, the book is divided into two volumes. Volume 1 focuses on bees, their biology, coevolution with plants, foraging ecology and management, and gives practical ways to increase bee abundance and pollinating performance on the farm. Volume 2 (also available from CABI) focuses on crops, with chapters addressing crop-specific requirements and bee pollination management recommendations.

Both volumes will be essential reading for farmers, horticulturists and gardeners, researchers and professionals working in insect ecology and conservation, and students of entomology and crop protection.
Table of contents
1: Angiosperms and Bees: The Evolutionary Bases of Crop Pollination
2: Biology of Bees
3: What Makes a Good Pollinator?
4: Economic and Ecosystem Benefits of Bee Pollination
5: State of the World's Bee Pollinators and the Consequences for Crop Pollination
6: Applied Bee Conservation
7: Honeybees: Their Biology, Culture and Management for Pollination
8: Bumble Bees: Their Biology, Culture, and Management for Pollination
9: Managed Solitary Bees
10: Wild Bees
11: The Stingless Bees, Tribe Meliponini
Readership
Suitable for all those involved with agricultural and horticultural pollination systems - agricultural extension pracitioners, bee-supply companies, beekeepers (professional and amateur), insect ecologists, applied entomologists and crop protection scientists
Reviews
The management of some of the species covered in this book is otherwise not well documented in the literature. 42 short chapters cover different crops, useful knowledge for academics, agronomists and those working in the field with bees. - Bees for Development Journal
Keith Delaplane is a professor at the University of Georgia where he has responsibilities in research, graduate student advisement, and public outreach in pollinator management, social evolution, pathology, and conservation. He has won numerous awards including the highest honor for outreach faculty at the University of Georgia, a named professorship, the Walter B. Hill Fellow. In 2014 HRH Queen Elizabeth II recognized him as an honorary Member of the British Empire (MBE) for his research and education efforts throughout the U.K.
Like most websites we use cookies. This is to ensure that we give you the best experience possible. Continuing to use
CABI.org
means you agree to our use of cookies. If you would like to, you can learn more about the cookies we use
here
.
Privacy Overview
This website uses cookies to improve your experience while you navigate through the website. Out of these, the cookies that are categorized as necessary are stored on your browser as they are essential for the working of basic functionalities of the website. We also use third-party cookies that help us analyze and understand how you use this website. These cookies will be stored in your browser only with your consent. You also have the option to opt-out of these cookies. But opting out of some of these cookies may affect your browsing experience.