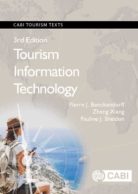 Tourism Information Technology
3rd Edition
By: Pierre Benckendorff, University of Queensland, Australia, Zheng Xiang, Virginia Tech, USA, Pauline Sheldon, University of Hawaii, USA
February 2019 | Paperback | 400 Pages | 9781786393432
February 2019 | ePDF 9781786393456 | ePub 9781786393449
Series : CABI Tourism Texts
Description
The third edition of Tourism Information Technology provides a contemporary update on the complexities of using information technology in the tourism industry. It examines IT applications in all sectors including airlines, travel intermediaries, accommodation, food service, destinations, attractions, events and entertainment. Fully updated throughout and organised around the stages of the visitor journey, the book reviews how tourists are using technologies to support decision-making before their trip, during their travels and at the destination. The book:

- Provides comprehensive and up to date coverage of all key topics in tourism information technologies.
- Covers new areas, such as augmented and virtual reality, robotics, smart destinations, disruptive innovation and the collaborative economy, crowd-sourcing for sustainability, online reputation management and big data.
- Incorporates a wealth of pedagogic features to aid student learning, including key models and concepts, research and industry insights, case studies, key terms, discussion questions, and links to useful websites.

Accompanied by online resources, this book provides a comprehensive and learning-focused text for students of tourism and related subjects.
Table of contents
PART I: Understanding Tourism Information Technology

1: Introduction to Tourism and Information Technology
2: The Digital Tourism Landscape

PART II: Looking and Booking

3: Travel Intermediaries and Information Technology
4: The Internet and the Tourist
5: Social Media and Tourism

PART III: Traveling

6: Mobilities and Information Technology
7: Aviation and Information Technology
8: Surface Transport and Information Technology

PART IV: Staying And Playing

9: Hospitality Information Systems
10: Technology-enabled Visitor Experiences
11: Destination Management and Smart Destinations

PART V: Issues And Trends

12: Sustainable Tourism and Information Technology
13: The Future of Information Technology and Tourism
Reviews
From a pedagogical perspective,the book is constructed as a primary source for students because each chapter includes learning objectives in the beginning and key terms and discussion questions at the end. In addition, the useful sites and case studies complement the presented overview with appropriate examples from the real business world. We appreciate very much the comprehensive approach regarding information technologies, especially the accessible language, the detailed definition of each new term/technology item and the explanation of its role within the digital tourism ecosystem. The numerous figures and charts additionally enhance the visualisation of the text. From a futures perspective, the last chapter identifies 10 trends that would determine the future development and usage of the information technologies. All of them, in line with the previous chapters, are analysed within the traveller experience and the tourism industry. This chapter provides a sound ground for future research on technologies in travel, tourism and hospitality. The book is written in a comprehensive and easy to understand manner. The logical flow and numerous examples and insights make it an excellent source for students, lecturers, researchers and practitioners. - Maya Ivanova and Stanislav Ivanov
Pauline J. Sheldon PhD is Professor Emerita at the University of Hawai'i's School of Travel Industry Management where she also served as Dean. Currently her research specializes in social entrepreneurship and corporate social responsibility in tourism, sustainable tourism, knowledge management in tourism, and wellness tourism. Most recently she has published a second edition of her book Tourism Information Technology (CABI publishers) with co-authors Benckendorff and Fesenmaier. In 2008 she won the UNWTO Ulysses prize for contributions to knowledge in sustainable tourism. In 2009 she was recognized with the International Travel and Tourism Research Association Lifetime Achievement Award, and in 2013 received the Hannes Werthner Lifetime Achievement Award from the International Federation for Tourism and Information Technology (IFITT) for her work in tourism information systems. She has been a Visiting Professor at Vienna University of Economics, Institute of Tourism and Leisure Studies, the University of Balearic Islands in Mallorca, Spain, Hue University in Vietnam, University of Ljubljana, Slovenia, and Bond University in Australia where she won the Dean's Excellence in Teaching Award. Dr. Sheldon has served as President of the International Academy for the Study of Tourism. She co-founded the Tourism Education Futures Initiative (TEFI) with Dr. Daniel Fesenmaier; and chaired the BEST Education Network. She has worked with UNWTO, APEC International Center for Sustainable Tourism, and the World Bank. She is also a teacher with the Art of Living Foundation.
Like most websites we use cookies. This is to ensure that we give you the best experience possible. Continuing to use
CABI.org
means you agree to our use of cookies. If you would like to, you can learn more about the cookies we use
here
.
Privacy Overview
This website uses cookies to improve your experience while you navigate through the website. Out of these, the cookies that are categorized as necessary are stored on your browser as they are essential for the working of basic functionalities of the website. We also use third-party cookies that help us analyze and understand how you use this website. These cookies will be stored in your browser only with your consent. You also have the option to opt-out of these cookies. But opting out of some of these cookies may affect your browsing experience.