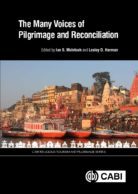 The Many Voices of Pilgrimage and Reconciliation
Edited by: Ian S. McIntosh, Indiana University Purdue University Indianapolis, USA, Lesley D Harman, Formerly of King's University College at Western University Canada, Canada
October 2017 | Hardback | 240 Pages | 9781786393265
October 2017 | ePDF 9781786393289 | ePub 9781786393272
£87.50 | €113.00 | $144.00
Description
Reviewing peace and reconciliation, secular pilgrimages, and international perspectives on sacred journeys, this book offers the reader an opportunity to encounter multiple voices and viewpoints on one of the most ancient practices of humankind. With an estimated third of all international travellers now undertaking journeys anticipating an aspect of transformation (the hallmark of pilgrimage), this book includes both spiritual and non-spiritual voyages, such as journeys of self-therapy, mindfulness and personal growth. It also:

- Provides a multidisciplinary perspective, covering themes such as gender, human rights, equality, the environment, peace, history, literature, and politics
- Reflects the rich diversity and multiple meanings of pilgrimage through an international writer team spanning four continents
- Includes case studies of pilgrimage in action from around the world

An innovative and engaging addition to the pilgrimage literature, this book provides an important resource for researchers of religious tourism and related subjects.
Table of contents
Introduction: The Many Voices of Pilgrimage and Reconciliation
Part I: Peace, Human Rights and Justice
Chapter 1: Pilgrimages and Peace-Building on the Global Stage
Chapter 2: Pilgrimages of Transformation and Reconciliation: Maori and Pakeha Walking Together in Aotearoa New Zealand
Chapter 3: 'Sheaves of Corn in an Autumn Field': The 'Hungry' Walk to Delphi Lodge
Chapter 4: (Re)Walking Stories: Pilgrimage, Pedagogy and Peace
Chapter 5: Pilgrimage, Bhakti and Identity: A Study of Maharashtrian Vari
Part II: Reconciliation Within
Chapter 6: Circling Centre, Finding Our Way Home:Circumambulation Pilgrimages around Iona, Mount Tamalpais and Labyrinths
Chapter 7: Pilgrimage and Reconciliation: Crossing Boundaries to Transcend Them
Chapter 8: A Yogic Journey: Exploration of Yoga Practice and Philosophy
Chapter 9: Pilgrimage Walking as Green Prescription Self-Therapy?
Chapter 10: The Social Self on Pilgrimage: Intercession and Mediation
Part III: Religious and Secular Perspectives
Chapter 11: Let Us Be Human: Wittgenstein and Philosophical Pilgrimage
Chapter 12: The Pilgrimage to the Mausoleum of Sidi Shaykh
Chapter 13: Travel and/or Pilgrimage as Inquiry and Introspection: A Personal Narrative of an Atheist
Chapter 14: The Pilgrim's Two Economies: Greek Convent Pilgrimage and Economic Crisis
Chapter 15: 'My Heart Wouldn't Accept the Advice': Paths to Self and Community in Alevi Poetry
Readership
Researchers in religious tourism and pilgrimage.
Reviews
"Highlights key issues and debates in the study of pilgrimage which encompasses geographically diverse case studies conducted using different approaches and from different disciplinary perspectives. The book is well edited and it is an important contribution to understand challenges and issues in pilgrimage and reconciliation around the world." - Hongliang Yan, Journal of Heritage Tourism, May 2018. - Hongliang Yan, Coventry University
is an Adjunct Professor in Anthropology in the School of Liberal Arts at Indiana University Purdue University Indianapolis, Indiana (IUPUI). He is also the Director of International Partnerships at IUPUI, and the Associate Director of the Confucius Institute in Indianapolis. He is a co-founder of Past Masters International, and the Indianapolis Spiritual Trail.
Lesley D. Harman was Professor of Sociology at King's University College at Western University, Canada. She received her Ph.D. in 1983 from York University, North York, Canada. She was the author of The Modern Stranger: On Language and Membership (Mouton de Gruyter, 1987), When a Hostel Becomes a Home: Experiences of Women (Garamond, 1988), and We Are Never Alone: Healing Lessons from the Camino (Ursus, 2009). She was the editor of A Sociology of Pilgrimage: Embodiment, Identity, Transformation (Ursus, 2014) and co-editor (with Ian S. McIntosh) of The Many Voices of Pilgrimage and Reconciliation (CABI, 2017).
Like most websites we use cookies. This is to ensure that we give you the best experience possible. Continuing to use
CABI.org
means you agree to our use of cookies. If you would like to, you can learn more about the cookies we use
here
.
Privacy Overview
This website uses cookies to improve your experience while you navigate through the website. Out of these, the cookies that are categorized as necessary are stored on your browser as they are essential for the working of basic functionalities of the website. We also use third-party cookies that help us analyze and understand how you use this website. These cookies will be stored in your browser only with your consent. You also have the option to opt-out of these cookies. But opting out of some of these cookies may affect your browsing experience.