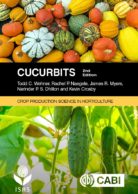 Cucurbits
2nd Edition
By: Todd C Wehner, North Carolina State University, USA, Rachel P. Naegele, USDA ARS, USA, James R. Myers, Oregon State University, USA, Narinder P S Dhillon, World Vegetable Center, Thailand, Kevin Crosby, Texas A&M University, USA
May 2020 | Paperback | 280 Pages | 9781786392916
May 2020 | ePDF 9781786392923 | ePub 9781786392930
Description
Completely updated with new content and full-colour figures throughout, the second edition of this successful book continues to provide complete coverage relating to the production of cucurbits, including cucumbers, gourds, muskmelons, pumpkins, squashes and watermelons. These crops are grown worldwide and represent one of the largest and most important groups of horticultural food plants. This second edition of Cucurbits provides up-to-date, succinct and authoritative knowledge on this variety of crops and reflects on significant advances in the areas of production, breeding and evolution.

This new edition:
- Contains new chapters on abiotic stresses and cucurbits for health
- Includes major updates in research on the evolution, movement and distribution of species
- Explores new genetic resources and breeding advancements
- Delivers current information on methods of improving yield (e.g. grafting) and the management and resistance for pests and diseases
- Has an updated list of the most recent taxonomic names

This book represents a current and comprehensive guide to cucurbits, is highly illustrated and written in an accessible style. It is an essential resource for students, growers and researchers.
Table of contents
1: What are Cucurbits?
2: Crop Evolution and Diversity
3: Breeding and Genetics
4: Major Crops
5: Minor Crops
6: Cultural Requirements
7: Fruit and Seed Production
8: Cucurbits for Human Health
9: Diseases and Nematodes
10: Insects and Spider Mites
11: Abiotic Stresses
Readership
Suitable for growers, as well as students and researchers of horticulture.
Reviews
The authors of the book have remarkable experience in cucurbits and the different topics herein considered, which is a guarantee of its presentation. It could be considered as a guide to cucurbits, being highly illustrated and written in an accessible style, which makes this book suitable for a wide variety of readers interested in the cucurbit family. - Maria Luisa Gomez-Guillamon, Chronica Horticulturae
Dr. Todd C. Wehner is leader of the cucumber and watermelon breeding project at North Carolina State University-Raleigh since 1979. His research has emphasized improved selection methods; recurrent selection for fruit yield, earliness and quality; resistance to chilling, nematodes, potyviruses, and fungal diseases; and germplasm evaluation. His objectives are to provide industry with new traits for the development of improved cultivars, research information, and graduate students who can run field plant breeding programs. He has been an instructor for the Plant Breeding Academy-America at UC Davis since 2006, and also works for PBA-Asia and PBA-Africa. Dr. Wehner was an advisor for production of pickling cucumber in Sri Lanka in 1993, watermelon in China in 1999 and 2008, and Poland in 2004. He participated in expeditions to collect germplasm from China in 1994, the Republic of South Africa in 1996, and Turkmenistan in 2008, and traveled professionally in Israel, Mexico, the Czech Republic, Canada, Thailand, France, Tanzania (Tanganyika and Zanzibar), Turkey, and Kenya. Dr. Wehner has his A.B. in Botany (UC Berkeley), M.S. in Agronomy and Ph.D. in Plant Breeding (University of Wisconsin-Madison).
Rachel Naegele is a research scientist with the USDA ARS specializing in stress response to abiotic and biotic stimuli in plants. Her previous work at Michigan State University identified novel sources of resistance, as well as molecular markers and population structure associated with resistance to fungal and oomycete pathogens. Her current research combines phenotypic, genetic and genomic data to develop applied solutions for horticultural crops.
Dr. James R. Myers holds the Baggett-Frazier Endowed Chair of Vegetable Breeding and Genetics in the Department of Horticulture at Oregon State University. Myers spent 10 years at the University of Idaho Kimberly Research Station where he released 13 dry bean varieties, prior to moving to Oregon in 1996. He works on a number of crops including snap bean, edible podded pea, broccoli, tomato, winter and summer squash. His main interest has been to improve vegetable and field crop varieties for disease resistance, human nutrition and organic production systems. He is director of the Northern Organic Vegetable Improvement Collaborative, a federally funded grant to breed and trial vegetable varieties adapted to organic systems. He is co-editor along with Dr. Edith Lammerts van Bueren of the book 'Organic Crop Breeding'. He is also involved in the Culinary Breeding Network, which brings chef and breeders together to explore the boundaries of plant breeding and cuisine. At OSU he has released several vegetable varieties including 'Legend' and 'Indigo Rose' tomatoes and 'OSU5630' bush blue lake green bean intended for processing markets. He has several more varieties of broccoli, peppers, squash and peas in the pipeline. Dr. Myers has served as editor for the Cucurbita section of the Cucurbit Genetics Cooperative Newsletter since 2008.
Dr. Narinder P.S. Dhillon leads the global cucurbit breeding program of World Vegetable Center. He works on the development of bitter gourd and tropical pumpkin lines and hybrids for the tropics, with emphasis on improved fruit quality and yield, multiple disease resistance and heat tolerance. His project has made available unique traits to the seed industry for the development of improved hybrid cultivars.
Dr. Kevin M. Crosby is a Professor and plant breeder at Texas A&M University. His research focuses on genetics of abiotic and biotic stress resistance, and nutritional quality in melon, pepper and tomato. His duties include novel germplasm development, trait discovery, and teaching 4 classes related to plant breeding, vegetable crops and stress physiology. He has served on more than 30 graduate student committees, and been invited or volunteered to present seminars in eight countries and more than 50 national venues. His project has released more than 20 cultivars and breeding lines to industry over the past 15 years.
Like most websites we use cookies. This is to ensure that we give you the best experience possible. Continuing to use
CABI.org
means you agree to our use of cookies. If you would like to, you can learn more about the cookies we use
here
.
Privacy Overview
This website uses cookies to improve your experience while you navigate through the website. Out of these, the cookies that are categorized as necessary are stored on your browser as they are essential for the working of basic functionalities of the website. We also use third-party cookies that help us analyze and understand how you use this website. These cookies will be stored in your browser only with your consent. You also have the option to opt-out of these cookies. But opting out of some of these cookies may affect your browsing experience.