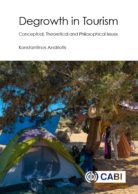 Degrowth in Tourism
Conceptual, Theoretical and Philosophical Issues
By: Konstantinos Andriotis, Middlesex University London, UK
July 2018 | Hardback | 224 Pages | 9781786392787
July 2018 | ePDF 9781786392794 | ePub 9781786392800
Description
The modern-day world faces a hostile climate, depleted resources and the destruction of habitats. The dream that growth will lead to a materialistic utopia is left unfulfilled by a lack of ecological and economic capacity. The only choice is to find alternatives to increased growth, transform the structures and institutions currently shaping the world, change lifestyles and articulate a more credible vision for the future and lasting prosperity. As a reaction to the problems accrued by capitalism, new development approaches such as the concept of degrowth have evolved.

Degrowth in Tourism explores newly-emerging development and philosophical approachesthat provide more equity for host communities and offer a low-carbon future by looking at alternatives to the classic models of development and applying the concept of degrowth in a tourism context. Proposing that we need to shift tourism research from models which prioritize commodified tourism experiences to those that offer alternative decommodified ones, this book:

- Provides topical analysis and illustrates the key themes of degrowth;
- Discusses the relationship between tourism and degrowth from both a historic perspective and through contemporary patterns of activity;
- Includes international examples and case studies to translate theory into practical new approaches.

A comprehensive review of the subject, this book will be of great interest to researchers and practitioners within tourism, development, environment and economics, as well as those specifically studying degrowth.
Table of contents
-: Preface
1: Introduction
2: Development Theories and Paradigms and their Applicability in Tourism: The Need for a New Paradigm
3: Degrowth Alternatives in Tourism
4: Limits to Growth, Social Movements and the Main Principles of Degrowth-inspired Travelling
5: Alternative Travel Lifestyles, Degrowth and Freedom-seeking
6: Impacts of Degrowth in Tourism
7: Moving towards Degrowth-inspired Traveling
Readership
Suitable for researchers and practitioners with tourism, tourism economics and degrowth
Reviews
Have you read this book, or used it for one of your courses? We would love to hear your feedback. Email our reviews team to submit a review.
Dr. Konstantinos Andriotis is a Professor in Tourism at Middlesex University London and in the past he was Associate Professor and Head of the Hotel and Tourism Management Department, Faculty of Management and Economics at the Cyprus University of Technology. He holds an MSc in International Hospitality Management (University of Strathclyde, 1995), a PhD in Tourism Development and Planning (Bournemouth University, 2000) and a Post Doc in Tourism Marketing (Hellenic Open University, 2006). He edits the 'International Journal of Tourism Policy' and the 'Qualitative Research in Tourism Journal'. He is member of the Editorial Board of sixteen journals (including the leading tourism journal Annals of Tourism Research). He is author of seven books and over 40 peer reviewed articles and book chapters. His work has appeared in leading academic journals such as Annals of Tourism Research, Journal of Travel Research, Tourism Management and Journal of Sustainable Tourism. He has an h-index of 29 and more than 3700 citations. He has acted as Chairman and member of the Organising and Scientific Committees of various international conferences and he has given keynote speeches in several conferences. His research interests are in tourism development and planning, alternative forms of tourism and tourism experience.
Like most websites we use cookies. This is to ensure that we give you the best experience possible. Continuing to use
CABI.org
means you agree to our use of cookies. If you would like to, you can learn more about the cookies we use
here
.
Privacy Overview
This website uses cookies to improve your experience while you navigate through the website. Out of these, the cookies that are categorized as necessary are stored on your browser as they are essential for the working of basic functionalities of the website. We also use third-party cookies that help us analyze and understand how you use this website. These cookies will be stored in your browser only with your consent. You also have the option to opt-out of these cookies. But opting out of some of these cookies may affect your browsing experience.