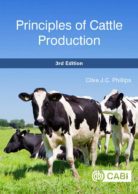 Principles of Cattle Production
3rd Edition
By: Clive Phillips, Curtin University Sustainable Policy (CUSP) Institute, Australia
November 2018 | Hardback | 272 Pages | 9781786392701
November 2018 | Paperback | 272 Pages | 9781786392718
November 2018 | ePDF 9781786392725 | ePub 9781786392732
£87.15 | €112.75 | $143.50
Description
Completely updated and revised, the new edition of Principles of Cattle Production continues to provide an introductory level text for all interested in dairy and beef cattle production systems. This edition presents a vision for a cattle industry that addresses issues about impacts on the environment, the welfare of cattle and the provision of safe and high quality food for an increasingly demanding world population.

The new edition:

- Is expanded to include more on animal welfare, sustainability and production systems in low and middle income countries, including smallholder production systems.
- Has undergone a thorough review of all the existing chapters, with new content on the future role of cattle.
- Contains quality colour illustrations, so that key information can be found at a glance.
- Is beautifully written with many examples and pointers for further information.
- Tackles key issues of sustainability and the requirement for increased production.
- Now contains helpful exercises and other resources for students and their teachers to consider the role of cattle in the world today and in the future.

Principles of Cattle Production 3rd Edition continues to provide a comprehensive yet concise overview for all undergraduate students of animal science, agriculture, veterinary medicine, animal welfare and industry personnel.
Table of contents
1: The Development of the World's Cattle Production Systems
2: Today's Cattle Production Systems
3: Growth and Milk Production
4: Nutrient Requirements and Metabolic Diseases
5: Cattle Feeding
6: Grazing Management
7: Breeding and Reproduction
8: Housing and the Environment for Cattle
9: Disease and Herd Health Management
10: Cattle Welfare
11: Cattle Production and the Environment
12: The Future Role and Practice of Cattle Farming
Readership
Suitable for students of animal science and veterinary medicine.
Reviews
Although the third edition of Principles of Cattle Production looks at cattle production from an international perspective, many of the topics dis-cussed are applicable to farmers and veterinarians in the United States. The text is easy to read and written at a level that will be readily understood by undergraduate students and farmers. The classroom exercise on animal welfare, in particular, is a wonderful resource for teachers to stimulate a productive conversation on critical dilemmas en-countered in real-life cattle production. The breadth of content makes this book a good introductory resource for educating clients and students about all aspects of cattle production. - Elizabeth Brock
studied agriculture at undergraduate level and obtained a PhD in dairy cattle nutrition and behaviour from the University of Glasgow in 1983. He then lectured in farm animal production and medicine at the Universities of Wales and Cambridge, conducting research into cattle and sheep welfare. In 2003 he became the inaugural holder of Australia's Chair in Animal Welfare, at the University of Queensland, and established the Centre for Animal Welfare and Ethics. He was involved in the development and implementation of State and Federal government welfare policies and has published over 150 articles on animal welfare and management in scientific journals and 8 books, as well as editing a book series for Springer on the welfare of animals.
Prof. Phillips was the first professor in animal welfare in Australia, taking up the position at the University of Queensland in 2003. There he established a Centre for Animal Welfare and Ethics in 2005 and devoted his time to developing animal welfare and ethics research and teaching. Prior to emigrating to Australia he lectured at the Universities of Cambridge (1995-2003) and Wales (1984-1995) in the United Kingdom.
His research is concerned with many different animals: livestock during ship transport, dogs and cats in shelters, racehorses and zoo animals and also with our ethical responsibilities towards animals. He is particularly interested in understanding and improving animal welfare in Asia and conducts regular workshops and research projects in China and nearby countries.
In 2010 he established the on-line journal Animals, which focuses on the welfare and ethics of animals and is now the top ranking journal in the field. He also edits a book series on Animal Welfare and Nutrition, published by Springer. In 2009 his book The Welfare of Animals: The Silent Majority was shortlisted for an Australian Museum Eureka prize. He has written and edited fourteen other books, mostly on livestock welfare, behaviour and production, and published over 300 articles in scientific journals. In 2012 he received the Australian Museum Eureka Award for Scientific Research that contributes to Animal Protection.
He currently chairs the Queensland Government's Animal Welfare Advisory Board and previously chaired the UK's Agriculture Ministry Bovine Tuberculosis husbandry review panel. He was the Independent Member of the UK's Milk Development Council and Member of the UK Government's Select Committee to review the zinc-cadmium sulphide dispersion tests conducted by the Ministry of Defence during the Cold War.
Like most websites we use cookies. This is to ensure that we give you the best experience possible. Continuing to use
CABI.org
means you agree to our use of cookies. If you would like to, you can learn more about the cookies we use
here
.
Privacy Overview
This website uses cookies to improve your experience while you navigate through the website. Out of these, the cookies that are categorized as necessary are stored on your browser as they are essential for the working of basic functionalities of the website. We also use third-party cookies that help us analyze and understand how you use this website. These cookies will be stored in your browser only with your consent. You also have the option to opt-out of these cookies. But opting out of some of these cookies may affect your browsing experience.