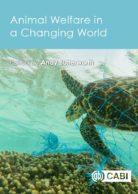 Animal Welfare in a Changing World
Edited by: Andrew Butterworth, University of Bristol, UK
September 2018 | Hardback | 292 Pages | 9781786392459
September 2018 | Paperback | 292 Pages | 9781786392466
September 2018 | ePDF 9781786392473 | ePub 9781786392480
£87.15 | €112.75 | $143.50
Description
Contemporary and challenging, this thought-provoking book outlines a number of the key dilemmas in animal welfare for today's, and tomorrow's, world. The issues discussed range from the welfare of hunted animals, to debates around intensive farming versus sustainability, and the effects of climate and environmental change. The book explores the effects of fences on wild animals and human impacts on carrion animals; the impacts of tourism on animal welfare; philosophical questions about speciesism; and the quality and quantity of animal lives. The welfare impacts of human-animal interactions are explored, including human impacts on marine mammals, fish, wildlife, and companion and farm animals.

Animal Welfare in a Changing World provides:

Concise, opinion-based views on important issues in animal welfare by world experts and key opinion leaders.
Pieces based on experience, which balance evidence-based approaches and the welfare impacts of direct engagement through training, campaigning and education.
A wide-ranging collection of examples and descriptions of animal welfare topics which outline dilemmas in the real world, that are sometimes challenging, and not always comfortable reading.

This is a 'must-read' book for animal and veterinary scientists, ethologists, policy and opinion leaders, NGOs, conservation biologists and anyone who feels passionately about the welfare of animals
Table of contents
1: Habitat Loss: Changing How Animals Think?
2: Whale Entanglement – a 21st-century Challenge in the Ocean
3: The Welfare Effects of PCBs in the Ocean
4: The Fence – the Welfare Implications of the Loss of the True Wild
5: Trophy Hunting and Animal Welfare
6: Carry on Carrion: the Fall of the Scavenger
7: Restoring What We Have Destroyed: Animal Welfare Aspects of Wildlife Conservation, Reintroduction and Rewilding Programmes
8: Intensification – the Pressures of Volume
9: Welfare Challenges: Feedlot Cattle
10: Public Opinion and the Retailer: Driving Forces in Animal Welfare?
11: Vertebrate/Invertebrate – When Do We Start Caring?
12: Animal Welfare at Slaughter – a Level Global Playing Field?
13: Precision Livestock Farming: the Future of Livestock Welfare Monitoring and Management?
14: The Paradoxical World of the Dog
15: Animal Experience of Domestication
16: Better to Have Lived and Lost – the Concept of a Life Worth Living
17: If Fishes Feel Pain, What Should We Do?
18: Anthropomorphism: Faulty Thinking or Useful Tool?
19: Speciesism
20: Longevity and Brevity – Is Death a Welfare Issue?
21: Promises and Challenges of Big Data Associated With Automated Dairy Cow Welfare Assessment
22: Animal Welfare: Information in a Changing World
23: Licensed to Harm
24: Animal Watching in Tourism
25: The Rise of the Inclusive Approach to Change in Animal Welfare
26: Animal Welfare Protection in the Face of Shrinking Public Resource
Readership
Suitable for animal welfare scientists and ethologists, as well as veterinary practitioners.
Reviews
At a time of escalating public awareness of the sustainability challenges facing our society, this book represents an important contribution to the literature on a range of anthropogenic animal welfare problems resulting from our management of domestic animal species and our interaction with the natural world. This book directly supports our roles as custodians of animal welfare, and as advocates of sustainable animal production and management. - Laura Higham
Dr Andy Butterworth MRCVS is Reader in Animal Science and Policy in the Clinical Veterinary School, University of Bristol, UK. Andy teaches and carries out research in the areas of animal disease and production, animal welfare and legislation, behavioural biology, and animal welfare assessment in both farm and wild animals. He is a member of the European Food Standards Agency Scientific Panel on Animal health and Welfare, and chairs the EEER (Ethics, Economics, Education and Regulation) of the Farm Animal Welfare committee in the UK. He is editor in Chief of Elsevier's journal Veterinary and Animal Science, he lectures widely and publishes in books, and the academic and trade press, with over 200 publications to date.
Like most websites we use cookies. This is to ensure that we give you the best experience possible. Continuing to use
CABI.org
means you agree to our use of cookies. If you would like to, you can learn more about the cookies we use
here
.
Privacy Overview
This website uses cookies to improve your experience while you navigate through the website. Out of these, the cookies that are categorized as necessary are stored on your browser as they are essential for the working of basic functionalities of the website. We also use third-party cookies that help us analyze and understand how you use this website. These cookies will be stored in your browser only with your consent. You also have the option to opt-out of these cookies. But opting out of some of these cookies may affect your browsing experience.