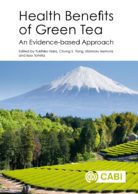 Health Benefits of Green Tea
An Evidence-based Approach
Edited by: Yukihiko Hara, Tea Solutions, Hara Office Inc., Japan, Chung S Yang, Rutgers University, USA, Mamoru Isemura, University of Shizuoka, Japan, Isao Tomita, University of Shizuoka, Japan
October 2017 | Hardback | 260 Pages | 9781786392398
October 2017 | ePDF 9781786392404 | ePub 9781786392411
£110.70 | €147.60 | $184.50
Description
This book provides evidence to support the health-promoting components of green tea for human health. It explores the significance of green tea and its catechins represented by epigallocatechin gallate (EGCG), demonstrating their beneficial effects on diseases including cancer, obesity, arteriosclerosis, diabetes, hepatitis, and neurodegenerative diseases. The present status of human studies and avenues for future research are discussed. It is written by a team of experts from across the globe and makes significant Japanese findings available to international researchers. It is an essential resource for researchers interested in the biochemistry and pharmacology of green tea, and functional foods and beverages.
Table of contents
Part 1: Overall Perspective

1: Efficacy of Tea in Human Health
2: Characteristics of Japanese Green Tea
3: Research on Tea and Human Health in China and the Contribution to the Development of Chinese Tea Industry
4: Studies on Japanese Scientists on the Health Effects of Green Tea
5: Health Related Studies of Tea in Africa
6: Efficient Synthesis of Catechin Probe and Its Molecular Dynamics
7: Bioavailability and Biotransformation of Tea polyphenols

Part 2: Anti-Cancer Effects

8: Tea Catechins in Cancer Prevention and Therapy- Molecular Mechanism and Human Relevance
9: Green Tea Catechins for the Prevention of Colorectal Tumorigenesis: from Bench to Bed
10: Green Tea Polyphenol EGCG Sensing Receptor
11: Clinical Trials and New Drug Development

Part 3: Effects on Obesity, Metabolic Syndrome and Related Diseases

12: Preventive Effects of Obesity by Green Tea and its Components
13: The Effects of Tea Gallolyl Catechins on the Reduction of Body Fat
14: Protective Effects of Green Tea Catechins on Cardio- and Cerebral Vascular Diseases
15: Preventive Effects on Human Obesity
16: Anti-diabetic Effects

Part 4: Other Health Beneficial Effects of Tea Catechins and other Constituents

17: Impact of Green Tea Catechins on Multi-drug-resistant Bacterial Pathogens
18: Effects of Green Tea on Influenza Infection and the Common Cold
19: Immune Regulatory Effect of Green Tea
20: Protective Effects of Catechins on Hepatitis and Liver Fibrosis
21: Effects of Green Tea Catechins on Aging and Dementia
22: Green Tea in the Protection against Neurodegeneration
23: Effect of High-Molecular-Weight Polyphenol (Mitochondria Activation Factor) Derived from Black Tea and Oolong Tea on Mitochondria Function
24: Effects of Theanine and Other Ingredients of Tea on Stress and Aging
25: Green Tea and Oral Health
26: Radioprotective Effects of Green Tea
27: Effects of Catechins on Intestinal Flora
Readership
Suitable for researchers, professionals and students interested in tea and health, from the chemistry, biochemistry, nutrition, agriculture, pharmacology, and medicine perspectives
Reviews
Have you read this book, or used it for one of your courses? We would love to hear your feedback. Email our reviews team to submit a review.
Like most websites we use cookies. This is to ensure that we give you the best experience possible. Continuing to use
CABI.org
means you agree to our use of cookies. If you would like to, you can learn more about the cookies we use
here
.
Privacy Overview
This website uses cookies to improve your experience while you navigate through the website. Out of these, the cookies that are categorized as necessary are stored on your browser as they are essential for the working of basic functionalities of the website. We also use third-party cookies that help us analyze and understand how you use this website. These cookies will be stored in your browser only with your consent. You also have the option to opt-out of these cookies. But opting out of some of these cookies may affect your browsing experience.