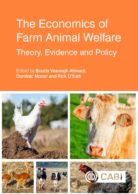 The Economics of Farm Animal Welfare
Theory, Evidence and Policy
Edited by: Bouda Vosough Ahmadi, FAO, Italy, Dominic Moran, Global Academy of Agriculture and Food Security, UK, Richard B D'Eath, Scotland's Rural College, UK
July 2020 | Paperback | 216 Pages | 9781786392312
July 2020 | ePDF 9781786392329 | ePub 9781786392336
Description
This landmark new text charts the latest developments in economic research relevant to farm animal welfare. A range of global experts and key opinion leaders outline the challenges in achieving sustainable livestock production while improving farm profit, climate change and animal welfare, and make policy-relevant recommendations for the future.

This is a theoretical yet practical book that examines:

- the origins of farm animal welfare, cross-disciplinary interactions and the future of the field;
- consumer demand and changing preferences as animal welfare rises up the social agenda;
- the impact political organisations such as the EU and WTO have on animal welfare.

An important resource for policy makers and animal welfare scientists, economists and clinicians, this book provides a thought-provoking yet evidence-based review for all those interested in quantifying and improving farm animal welfare.
Table of contents
-: Preface
-: Foreword
1: Farm Animal Welfare: Origins, and Interplay with Economics and Policy
2: Farm Animal Welfare: Do Free Markets Fail to Provide it?
3: Consumer Demand for Animal Welfare Products
4: People's Preferences in Relation to Animal welfare
5: Animal Welfare and Farm Economics: An Analysis of Costs and Benefits
6: Poultry Breeding for Sustainability and Welfare
7: EU Regulations and the Current Position of Animal Welfare
8: Animal Welfare Measures and the WTO Post EC-Seal Products Case: A Renewed Debate and Research Agenda
9: Farm Animal Welfare Future
Readership
Suitable for animal welfare scientists, policy makers and veterinary researchers.
Reviews
Overall, this is - and will be for years to come - the go-to source for all things related to animal welfare economics. The index at the back is most helpful when trying to find details of specific subjects, and the value of having all the relevant information handy in one place makes this book an easier, more manageable mine of information than any online search. - Birte L Nielsen
[This book] considers important questions at the intersection of economics and welfare, from a European and a farm animal perspective. The 9 chapters of this book provide a thorough overview of the history and current state of economics, welfare science, and European welfare policy. For veterinarians with little training in economics, multiple chapters cover basic economics in a succinct and lucid way. Case studies, such as the economics of switching from sow-farrowing crates to crate-free systems, will be informative for both veterinarians and producers. - Shaw Perrin, Journal of the American Veterinary Medical Association, Jun 15, 2021, VOL 258, NO. 12
Dr Bouda Vosough Ahmadi is veterinarian and animal-health and welfare economist currently working at the European Commission for the Control of Foot-and-Mouth Disease (EuFMD) of the Food and Agriculture Organization of the United Nations (FAO) in Rome. His main research focus is on agricultural policies and economics and policies of animal-health and animal welfare. He currently leads socioeconomic impact assessment studies of livestock diseases at EuFMD/FAO.
is an agricultural economist with a background in veterinary medicine. Since 2008, he has worked within the Policy Analysis Team of the Land Economy, Environment and Society (LEES) Research Group of Scotland's Rural College (SRUC). His main research focus is on assessing the impacts of policies on farm economics and management, and on livestock health
and welfare. Since February 2016, he has been working at the Joint Research Centre (JRC) of the
European Commission.
Professor Dominic Moran is Professor of Agricultural and Resource Economics at the University of Edinburgh. Previously he worked for a period of 18 years at Scotland's Rural College (SRUC), prior to which he was a government economist and in private consulting. His research focuses on applying economics to environmental management and the development of interdisciplinary approaches to resource allocation problems in agriculture and global food security. Most recently, his work has focused on the challenges of reducing greenhouse gas emissions from agriculture and food supply chains, and the problem of antimicrobial use and resistance in agriculture. Dominic has worked in over 30 countries and has published more than 100 refereed journal papers. He has been in continuous receipt of funding from the EU, ESRC, NERC or BBSRC since 2000 for his research on climate change and agriculture, and has supervised 20 PhD students.
Dr Rick D'Eath is Reader in Animal Behaviour and Welfare at Scotland's Rural College (SRUC). As an applied ethologist working on farm animals, his main research interests involve understanding how the farmed environment can modify and sometimes frustrate an animals' motivated behaviours often leading to animal welfare problems. Rick primarily works on pigs and poultry, with a particular focus on questions around feeding and hunger, and interactions between animals which are negative for their welfare, including aggression, tail-biting and mounting.
Like most websites we use cookies. This is to ensure that we give you the best experience possible. Continuing to use
CABI.org
means you agree to our use of cookies. If you would like to, you can learn more about the cookies we use
here
.
Privacy Overview
This website uses cookies to improve your experience while you navigate through the website. Out of these, the cookies that are categorized as necessary are stored on your browser as they are essential for the working of basic functionalities of the website. We also use third-party cookies that help us analyze and understand how you use this website. These cookies will be stored in your browser only with your consent. You also have the option to opt-out of these cookies. But opting out of some of these cookies may affect your browsing experience.