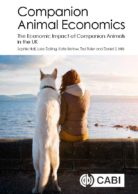 Companion Animal Economics
The Economic Impact of Companion Animals in the UK
By: Sophie S Hall, University of Leicester, UK, Luke Dolling, University of Lincoln, UK, Katie Bristow, Dogs for Good, UK, Ted Fuller, University of Lincoln, UK, Daniel Mills, University of Lincoln, UK
December 2016 | Paperback | 92 Pages | 9781786391728
December 2016 | ePDF 9781786391735 | ePub 9781786391742
Series : CABI Concise
Description
Succinct, highly readable and thought provoking, this important new text is designed to raise awareness of the potential economic impact of companion animals in the UK. It discusses the potential benefits and costs of companion animals to the economy and highlights the need for this matter to be thoroughly researched, given the potential scale of impact and the potential costs of ignoring this matter. The book includes:

- case studies to illustrate the savings to the NHS that might be associated with companion animal ownership;
- links to up-to-date tables and content that might form templates for use in other countries; and
- highly readable information written by expert authors and key opinion leaders in the field.

Inspired by the seminal Council for Science and Society (CSS) Report, Companion Animals in Society (1988), this work updates and extends its evaluation of the economic impact of companion animals on society and lays a benchmark for future development. This pivotal new book is important for policy makers at national and international levels and all those involved in animal welfare.
Table of contents
1: Introduction
2: Methodology
3: Key Features of the Council for Science and Society Report (CSS) 1988
4: Updates on the Economic Impact of Companion Animals to the UK
5: Indirect Costs: Extending the Scope of Economic Value
6: Conclusion: Illustrating the Perceived Economic Impact of Companion Animals
-: Acknowledgement
-: Afterword
Readership
Suitable for health care professionals and policy makers at a local, national and international level.
Reviews
Have you read this book, or used it for one of your courses? We would love to hear your feedback. Email our reviews team to submit a review.
Professor Mills is an RCVS, European and ASAB recognised specialist in clinical animal behaviour, and was the first professor of the discipline in Europe. While his clinical and scientific work has historically focused on the disruptive effect of companion animal behaviour on owners and society (problem behaviour and its management) through his work as a clinical animal behaviourist, he has more recently pursued an interest in assistance dogs and animal assisted interventions through diverse collaborations. His research in this area has included the first longitudinal study of its kind (3 year follow up) examining the effect of the pet dog on families with an autistic child, the effect of reading to dogs in schools and the impact of dogs in the workplace (currently under review). Professor Mills is a well-known international speaker on companion animal behaviour/welfare and the role of animals in society , with around 100 peer-reviewed full scientific research publications, over 40 books and chapters, and over a hundred ISBN indexed conference abstracts. He heads up a large interdisciplinary group at Lincoln with 11 Post Graduate Research students and 3 Post Doctoral Researchers.
Like most websites we use cookies. This is to ensure that we give you the best experience possible. Continuing to use
CABI.org
means you agree to our use of cookies. If you would like to, you can learn more about the cookies we use
here
.
Privacy Overview
This website uses cookies to improve your experience while you navigate through the website. Out of these, the cookies that are categorized as necessary are stored on your browser as they are essential for the working of basic functionalities of the website. We also use third-party cookies that help us analyze and understand how you use this website. These cookies will be stored in your browser only with your consent. You also have the option to opt-out of these cookies. But opting out of some of these cookies may affect your browsing experience.